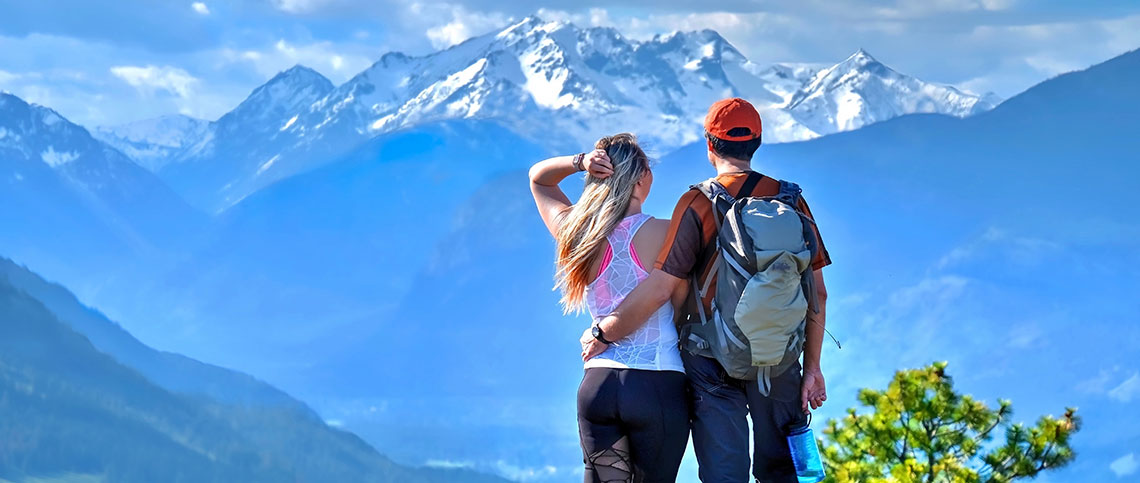 Is Washington State a good place to live? This question has likely crossed your mind if you've considered moving here. The short answer is yes: Washington State is a great place to live!
You may already know some facts about Washington. It's the only state named to honor the first president. It is situated in the Pacific Northwest, is incredibly scenic and offers a high quality of life. But it's so much more. Keep reading as we break down the top five reasons why you should consider living in Washington.
1. If you love traveling, Washington State is the playground you always wanted
Washington is incomparable when it comes to scenic beauty. And there is something to fit everyone's personality.
Over 100 mountains and a dozen byways offer endless possibilities to plan epic road trips. In short, if you want to satisfy your wanderlust, it doesn't get better than Washington. Take, for instance, the Columbia River Gorge region that stretches more than 80 miles along the Washington-Oregon border. It's famous for its dramatic scenery, stunning waterfalls, various ecosystems and numerous recreational opportunities. The Gorge is just one of many beautiful regions listed in our compilation of the "Best road trips in the Pacific Northwest."
If exploring nature is not up your alley, southern Washington is home to more than 200 wineries you can check out. The region is also dotted with metropolises and small towns with a burgeoning art and dining scene. The Salish Sea, another crown jewel of Washington State located close to the Canadian border, boasts a vibrant cultural scene and abundant natural beauty.
From snow-covered volcanoes and lush rainforests to vibrant metropolitan areas and agritourism destinations, there is plenty to capture your attention.
2. You don't have to pay income tax
Paying taxes is a significant expense for everyone. With growing inflation and rising tax rates, you may witness a chunk of your earnings going toward tax payments alone.
But not in Washington State, where there is no personal or corporate income tax. What you earn is entirely yours to spend. This is a huge attraction for folks living in neighboring states, where they have to part with around 10 percent of their income due to state taxes. With a little extra money in your pocket each month, you have options, such as buying a home and putting those funds toward a mortgage payment.
3. There are fantastic employment opportunities
Even though the pandemic impacted job markets across the nation, Washington State is home to Seattle, Spokane and Tacoma—top cities for job and employment opportunities—and offers ample opportunities.
In fact, the hourly wages and yearly salaries of those residing in Seattle are above the national averages, as the Bureau of Labor Statistics reports. Even the minimum wage, at $15 per hour for smaller businesses and $16 for larger organizations, is higher than what people earn elsewhere.
Every tech giant, including Google, Microsoft and Amazon, has a presence in Seattle. If you work in technology, finance or healthcare, there are many openings to explore. Several other hot startups with valuations over $1 billion also have their HQs in Washington State.
Whether it is e-commerce, real estate, machine learning, AI, cleantech or consumer transportation, there are plenty of unicorns where you can shape your career. It's not surprising that Washington State has earned the title of being the second Silicon Valley.
4. It is environmentally friendly
In 2019, Washington State grabbed the honor of being the greenest state in the country, all thanks to soil quality and the use of renewable sources for energy consumption. Various cities have also implemented low-cost, high-impact incentives to give a push to green buildings. Residents of Washington State also take great pride in doing their part for the environment and making it cleaner and greener.
Living in Washington State will help you become a pro at composting, recycling and thrift shopping. If you live in a large metro area, you will also find it easier to opt for mass transit systems or take eco-friendly bikes to travel within the city.
5. There are diverse regions and climates to choose from
Washington State provides a wide variety of settings in which to live. While the vibrant cities in western Washington are an attractive option, the Evergreen State also has plenty on offer if you are looking for a less busy, more peaceful lifestyle. Beach towns located on the west coast provide easy access to all the comforts of city life without the noise or the crowds. If you are seeking a drier climate or more rural experience, head to central or eastern Washington, home to valley towns like Wenatchee, Yakima, Walla Walla, Tri-Cities and Spokane.
Regardless of which locality you wish to live in, what also makes it worth living in Washington is the easy access to home loans, courtesy of Solarity Credit Union. Every homeowner wants a mortgage with a reasonable interest rate and other favorable terms. Luckily, Solarity offers a range of home loan purchase options at competitive interest rates to make borrowing a hassle-free experience for seasoned buyers and first-time homebuyers alike. If you're moving to Washington State, you may find that you can afford a home of your own instead of spending the same amount on rent.
You also get access to online and mobile banking to keep an eye on your checking, savings and loan accounts from anywhere in the world. You can transfer money, check account balances and monitor your spending to enjoy a suitable lifestyle in Washington State.
These are just a few of the reasons why Washington State is a good place to live. Ready to make a move? Connect with Solarity to discuss your home loan options.
What's your Solarity story?
We're on a mission to tell the stories of our members and how they are living their best lives. Do you have a Solarity story to share?