More than a paycheck
When you're evaluating an employer, there are a lot of "extras" beyond the paycheck that are important considerations and help make your life better. Not only do we offer competitive compensation, but we also provide a comprehensive benefits package to keep you happy, healthy and thriving, both in your professional and your personal life.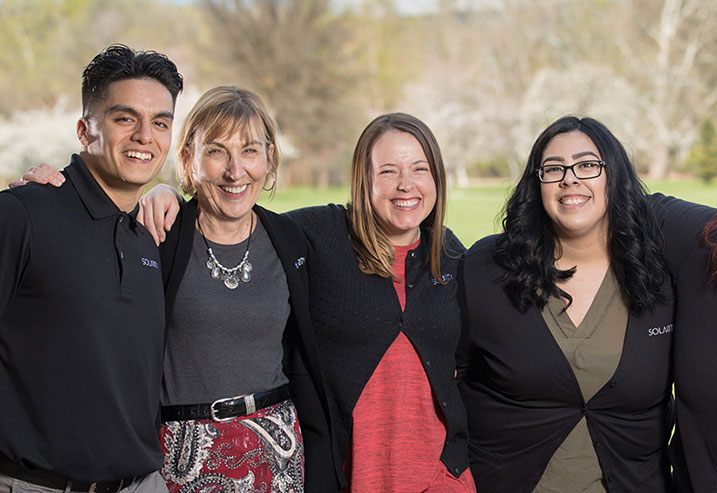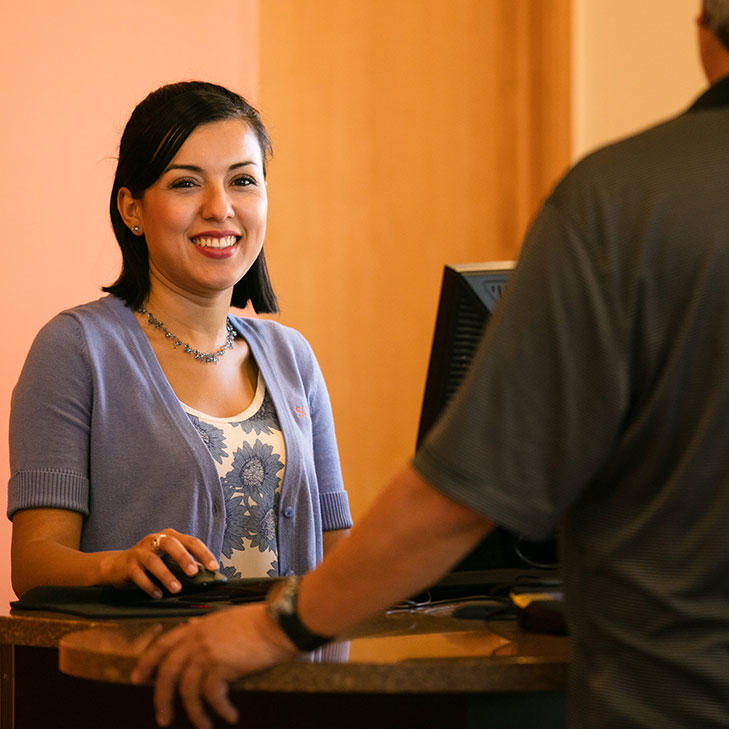 Benefits to enrich your life
Benefits are an important part of our Solarian Culture. We provide comprehensive, high-quality benefits to you and your eligible dependents. You may elect to cover yourself, your legally married spouse or domestic partner and your eligible children up to age 26. Most employees are eligible to participate in our benefit offerings beginning on the first of the month after 60 days of employment.
The medical plan offers comprehensive coverage including routine care, emergency care, mental health and substance abuse services, prescription drug and routine vision coverage. Our medical plans offer 100% coverage for preventive medical care from in-network providers and do not have any pre-existing condition clauses. We offer two medical plans, and one includes a Health Savings Account (HSA).
The dental plan provides comprehensive coverage for basic services, major services and orthodontia through adulthood. The plan includes 100% coverage for preventive services, 70% for basic services and 50% for major services, with a $2,000 annual maximum.
The vision plan provides coverage for eye exams, glasses, contacts and more.
The Health Savings Account (HSA) allows you to set aside pre-tax dollars to pay for eligible healthcare expenses that exceed Solarity's benefit plans.
The Health Care Flexible Spending Account (FSA) allows you to set aside pre-tax dollars to pay for eligible health care expenses that exceed Solarity's benefit plans.
The Dependent Care FSA allows you to set aside pre-tax dollars to pay for eligible dependent care expenses, (i.e. daycare, before and after school care, etc.).
Premiums for medical, dental and vision plans are deducted before taxes through automatic payroll deductions.
Solarity provides a solid foundation of retirement benefits, including a 401(k) plan with a company matching contribution up to 6%. Our retirement program offers financial education resources to help you plan for and manage your financial well-being at all stages of your life – both during and beyond your Solarity career.
Gym reimbursement program
Community involvement opportunities
Employee loan discount
Corporate Discount Marketplace offering savings and deals at hundreds of popular restaurants, hotels, entertainment venues, retailers and more
Solarity's Employee Assistance Plan (EAP) offers access to a variety of confidential services including:
Mental health resources for you and your family
Stress management coaching
Child and adult (elder) care consultation and referral
Debt and financial consultation and referral services
Legal Assistance for common documents like a will or power of attorney
Parenting resources, scholarship programs and personal growth resources
To help protect your financial security, Solarity offers a variety of life and accident insurance for you and your eligible dependents. Solarity provides basic life and accidental death and dismemberment insurance coverage at no cost to you. Other optional life insurance and disability coverages are offered at group rates.

We provide company-paid long-term disability coverage in the event you become ill or are injured and unable to work. We also offer employee-paid short-term disability.

Solarity offers a variety of optional, employee-paid insurance plans including select Short-Term Disability & Aflac policies.

Grow your career here
We invest in the growth of Solarians with on-the-job training and advancement opportunities.


Onboarding
Learn about our culture and core values, get familiar with the organization and learn the ins-and-outs of your position.


Develop your role
As you learn more about your role, work with your manager to develop a success plan through coaching and mentoring.


Become a leader
Take advantage of leadership training and development opportunities to advance in your career and contributions.


Help others grow
Become a mentor and participate in on-the-job training for junior employees to fuel their advancement and benefit the entire company.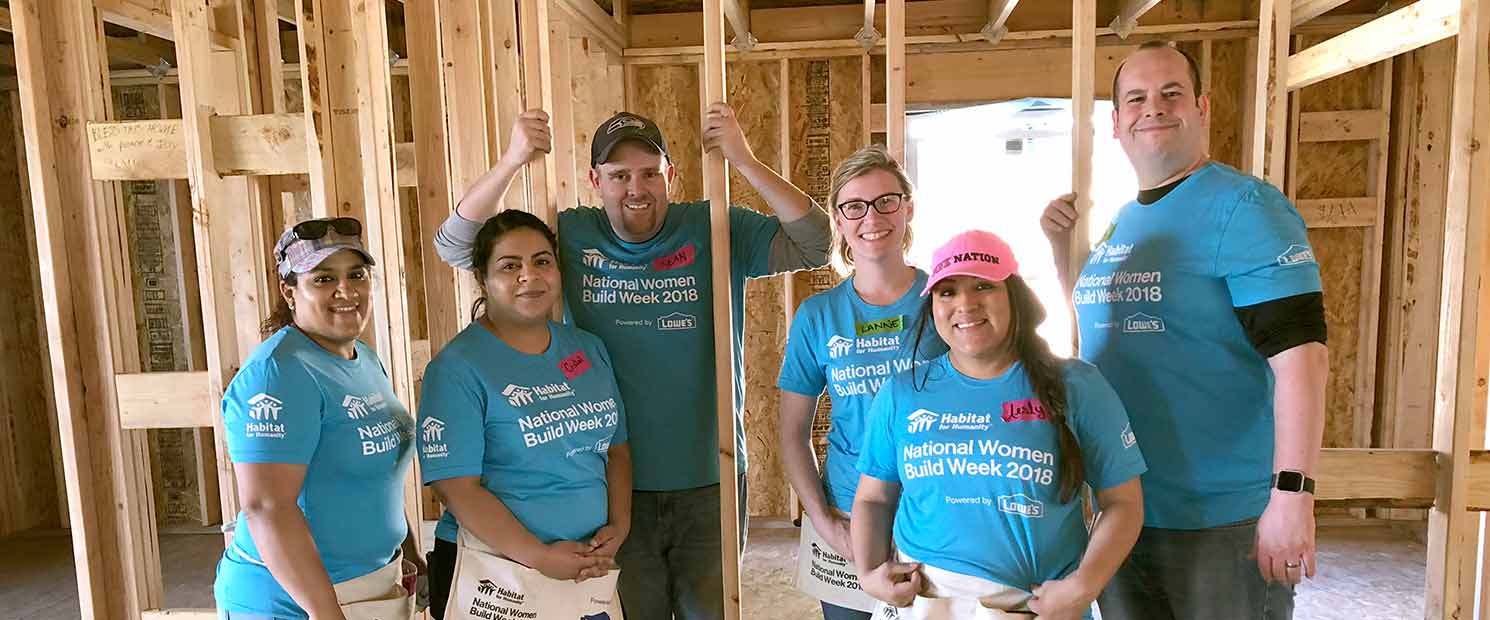 Solarity is a special place
But you don't have to take our word for it. Here's what one of our team members has to say about being a Solarian:

"The wonderful thing about Solarity is that they truly support your desire to find a career that you'll love. I started as a teller, and have since held several titles from back office to branch manager and now vice president of member experience. I've had the opportunity to work with so many different people, build relationships with members and coworkers, and get to have fun while I'm at it! I've never felt stuck in a position that I didn't love, which is hard to say no matter what organization you're part of! Solarity is a place that asks my opinion, lets me be creative, rewards me for a job well done and makes me feel like family. I would never go anywhere else."
- Mandy Olson
Taking care of our employees
Our Employee Assistance Program provides assistance to Solarians and their families with everything from wellness tools to parenting resources to daily living. It's basically a personal assistant you can put in your pocket. Pretty cool, huh? It includes neat features such as:
Help with finding a summer camp or daycare for your child ... or a pet sitter for your furry friends
Identify legal resources for everything from small claims to living trusts
Locate a strictly vegan restaurant for out of town guests
Provide financial resources such as debt counseling or saving to buy a home
Ready to learn more about what makes Solarity a great place to work?
Take time to get to know us. From our culture to our benefits package, we think Solarity is pretty special. We hope you'll think so, too.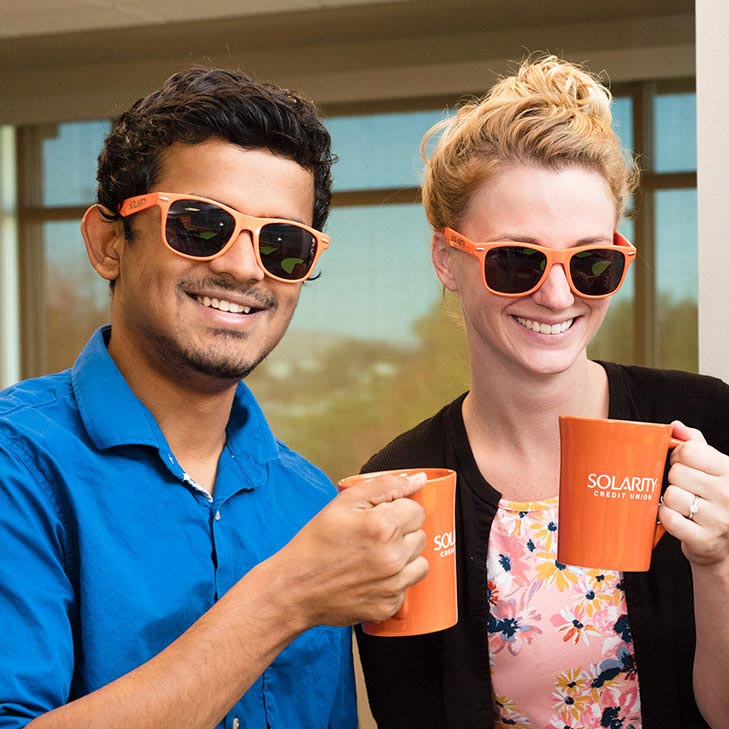 Solarian Culture
When you're choosing an employer, the most important thing you need to be looking for is company culture. If the culture is a good fit, everything else will fall in line.
Culture and Core Values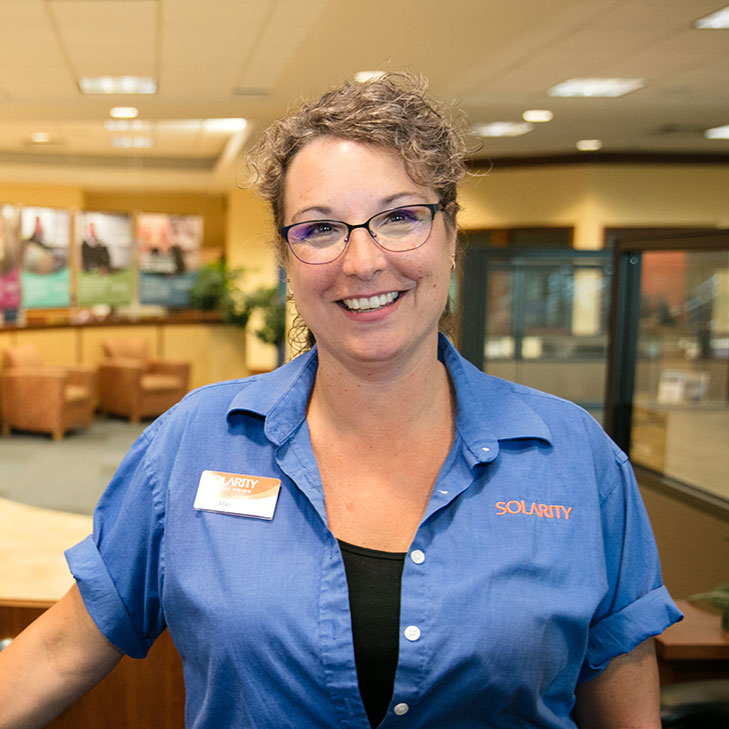 Open Positions
We're always looking for people who share our core values of passion, impact and courage. Explore our current openings and if you see something you like, we hope you'll apply.
View current openings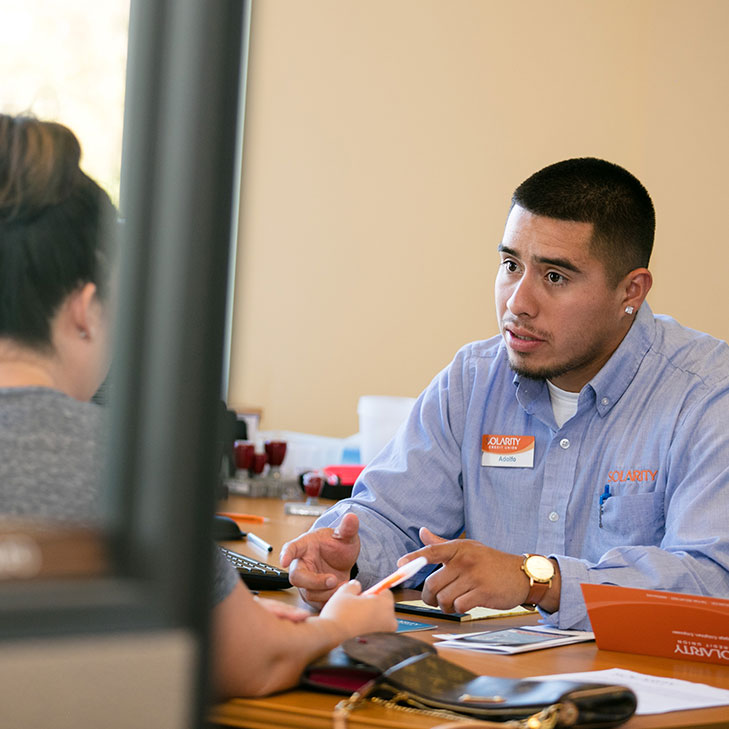 Our Hiring Process
We want the best! Our employees are our most important asset so we take hiring and training very seriously around here. Find out what to expect throughout your journey to becoming a Solarian.
Selection and Training

The Solarity Advantage
Are you passionate about innovation? Do you want to work at a place that values you? Do you love being a part of growth and change? Then Solarity may be the place for you. Apply today!