Washington is full of campgrounds among its lush forests, jaw-dropping coastlines and sandy beaches, and whether you're driving (or towing) an RV or prefer a tent, there's something for everyone. We compiled this list of the best places to camp in Washington state from information sourced from outdoor enthusiasts and the Washington Tourism Alliance.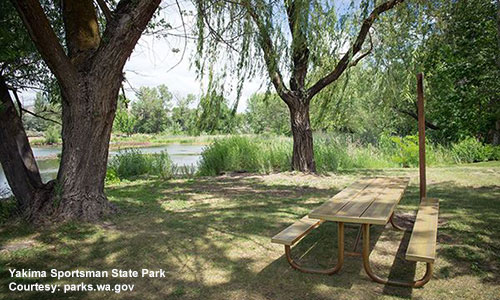 Let's start in Solarity's backyard, where Yakima Sportsman State Park is dubbed a literal "oasis in the desert." Known for attracting more than 130 bird species, it's full of ponds, wetlands and marshes and is a great place to camp, right along the Yakima River. The family-friendly park offers dozens of standard and full-hookup sites with 266 acres to explore including a playground, hiking trails and plenty of picnic areas. Created in the 1940s by the Yakima Sportsmen's Association, this park boasts the importance of preserving our natural beauty. And with wine country and ample breweries a short drive away in the hop capital of the world, there's plenty to do!

Head east of there to the Snake River for a stay at the KOA Lyons Ferry Marina, which offers RV and tent camping as well as cabin rentals. Be sure to reserve a site overlooking the river to catch the sunset. The campground has a boat launch, restaurant, store and ample amenities for all kinds of travelers. Are you a waterfall fan? Palouse Falls State Park is only 15 minutes away; and hiking trails and nearby swimming holes are aplenty, including at nearby Lyons Ferry State Park.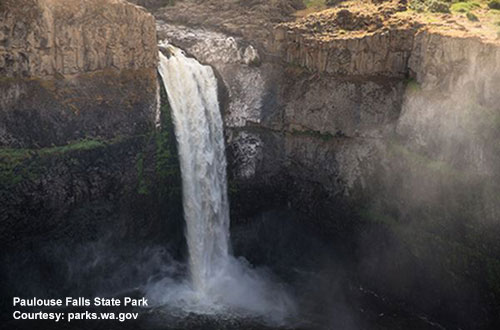 Now let's travel southwest, to the beautiful Columbia Gorge. Home Valley Campground has the gorgeous gorge as its backdrop and boasts rustic campsites suitable for tents and small RVs only. There are no hookups, so it's best for a brief stay. If you prefer the more luxurious route, head west of there to The Resort at Skamania Coves, a family-owned and privately operated pristine location. They offer RV sites and vacation home rentals. Just 20 miles to Hood River, Oregon (to the east), and Oregon's beautiful Multnomah Falls 29 miles to the west, there is so much to explore along the jaw-dropping landscape.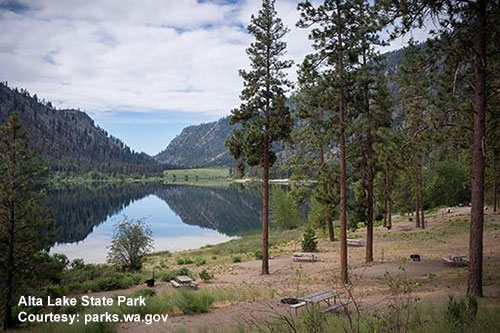 North of there, Alta Lake State Park is a family summertime favorite. Still recovering from a 2014 forest fire, its 174-acre restoration is a thing of beauty. The two-mile-long lake is perfect for trout fishing and windsurfing or paddleboarding in the summer months. There are two miles of hiking trails and a swimming beach. A 30-minute drive southeast of there, you can find Lake Chelan State Park and more than a dozen campgrounds in the area! At Lake Chelan State Park, you'll want to reserve it early as families love to return to the pristine blue lake year after year. Its website states, "Lake Chelan State Park has a long, sandy beach, shaded picnic tables and a calm lagoon." It's a natural draw for swimmers, boaters, sailors, water skiers, windsurfers and, of course, anglers! With 139 acres to explore, visitors get 6,000 feet of shoreline to enjoy.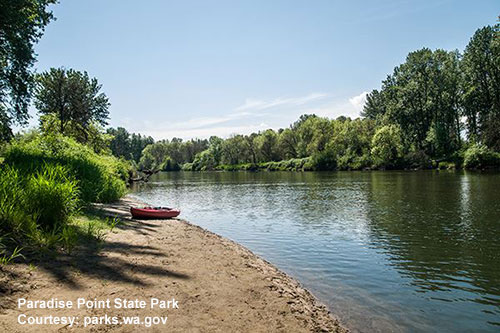 Let's head to western Washington now in Columbia County where you can find campgrounds nestled along some of the state's loveliest rivers. Paradise Point State Park in Ridgefield, Washington is one of these spots. Just 15 minutes north of Vancouver, Washington, the campground is situated right on the Lewis River with both grass and wooded areas. Hike along 2 miles of trails and take a stroll through its apple orchard. While there's no boat launch, there is one at nearby Pekin Ferry campground, which has both RV and tent sites and plenty of fishing!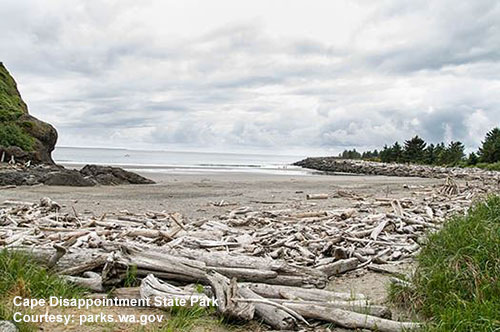 Head further west to the coast and Cape Disappointment State Park will not disappoint. This explorer's paradise is chock-full of history, getting its namesake from Captain John Meares, who failed to find the Columbia River upon approach from the Pacific Ocean. You can also experience the incredible story of Lewis & Clark, who arrived here after their 18-month, 3,700-mile journey from St. Louis. From military bunker ruins to lighthouses, there's so much to take in. With more than 2,000 acres to explore, there's a boat ramp and plenty of camp sites – both standard and with hook-ups. It also has cabins, yurts and vacation homes for rent.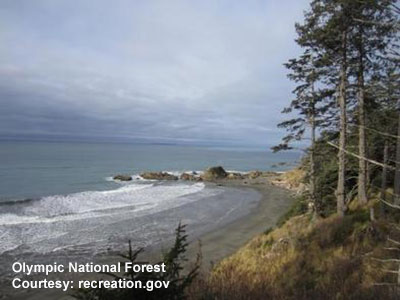 We've saved some of the more obvious beauties for last. Let's head to the Olympic National Forest where astounding vistas await every visitor. Kalaloch Campground is one of the largest in the area and has shoreline access. If you're looking for an ocean view, you'll definitely want to reserve far in advance. The sites are smaller so accommodating large RVs is trickier. Keep in mind, the entire peninsula is a camper's paradise.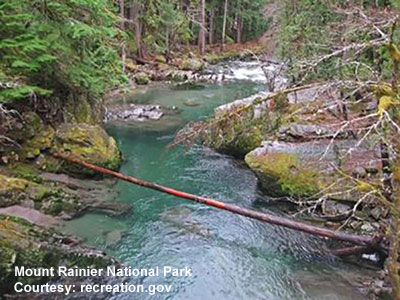 Now to majestic Mt. Rainier (our favorite, though we might be biased since we get to enjoy the view from Yakima), where campgrounds are dotted throughout the scenic landscape. Ohanapecosh Campground, on the southeast side of Mount Rainier National Park, boasts an old growth forest, a snow-fed river and popular hiking trails. There is drinking water available but no electric hook-ups. If you're looking for a less rustic option, Mounthaven Resort could be just the spot for you, as it's just outside the park. It offers cabins, vacation homes, RV sites with full hookups and tent camping.

This is a tiny snapshot of the ample beauty to explore in Washington state. There really is something for everyone depending on what you're looking for. No matter where you wander, enjoy and happy trails!
What's your Solarity story?
We're on a mission to tell the stories of our members and how they are living their best lives. Do you have a Solarity story to share?