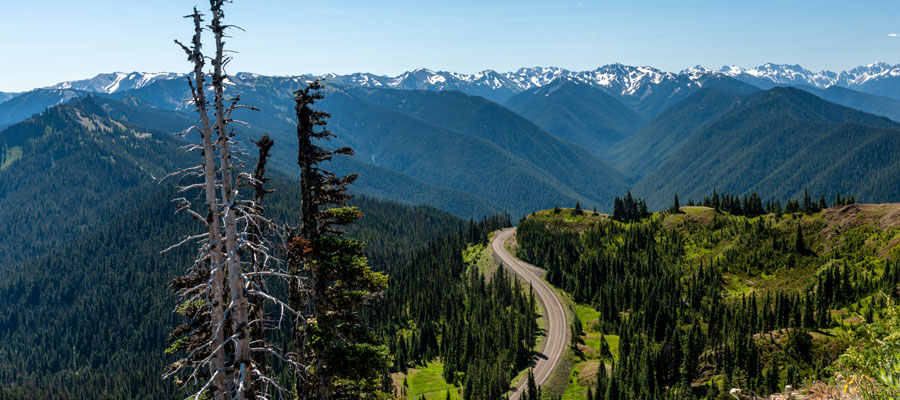 When you are ready to hit the open road, the Pacific Northwest will not disappoint, no matter where you venture. Between the volcanoes, the Gorge, scenic waterways and the coast, this round-up of the best road trips offers something for everyone. While we cannot claim to rank the following locations in order of greatness, they are some of the very best road trips to explore when embarking on a PNW adventure!

Columbia River Gorge (Oregon and Washington)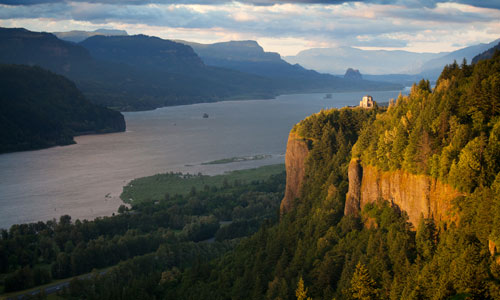 Imagine being on Lewis and Clark's expedition and traveling this incredible stretch of land for the first time. With stunning cliff-side vistas and waterfalls galore, the breathtaking Columbia River Gorge can be enjoyed from both Washington and Oregon. The Evergreen Highway runs along Washington's southern border and the Historic Columbia River Highway is on the Oregon side. There are more campgrounds and hiking trails than you could count. And if a luxury getaway is your preference, there are plenty of hotels along that stretch. But you can also do the whole drive in just a day – it will take some good planning to hit all the spots you fancy. In alphabetical order, some favorites in this round-up of best road trips include:
The Bonneville Dam: You access this from Oregon's side, and it sits 40 miles east of Portland. Built during the Great Depression, it's one of the world's largest hydroelectric systems, a true engineering feat. You can also learn everything you've ever wanted to know about a salmon's migratory journey, and there's a fish hatchery next door.
Cape Horn Viewpoint: On Washington's side, this area is east of Camas. You can park at the Cape Horn Upper Trailhead and hike to the overlook, which delivers a stunning Gorge view. There's a nice loop for a hike here, too.
Cascade Locks and Bridge of the Gods: Connecting Oregon and Washington, this steel truss toll bridge is four miles upriver from the Bonneville Dam. The bridge is part of the Pacific Crest Trail and made an appearance in the popular movie Wild. On the Oregon side, beautiful and quaint Cascade Locks is a great place to stop and look around, or perhaps catch a steamboat.
Hood River: This fun valley town is home to bicycle shops, breweries, wineries, orchards (be sure to check out the Fruit Loop) and lots of water sports! With a beautiful view of the Gorge and the Cascades, it is known as the windsurfing capital of the world.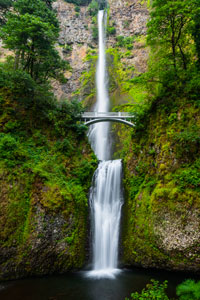 Multnomah Falls: Just a 30-minute drive from Portland, this more-than-600-foot roaring drop is simply stunning. The Benson Bridge, positioned 75 feet up, gets you up close and personal with the falls. If you're more daring, you can take the steep hike to the very top. It's spectacular. There's also a quaint lodge that has a fantastic brunch and a coffee kiosk to warm you up after all that mist. If it's a summer day, enjoy an ice cream
Vancouver: Positioned on the Washington side of the Columbia River, this charming city has views that will wow. It's just 15 minutes north of downtown Portland and has a swanky waterfront district with cool bars and eateries, a 7-acre park and a walking trail that follows the curves of the river.
Oregon Coast

Driving straight through, the Oregon Coast is about an eight-hour trip from the northern tip all the way to the California border. This one made the best road trips list because there are endless places to stop along the route with majestic overlooks, miles of beaches, quaint towns and fishing villages nestled along the journey. Here are some of our favorites from north to south:
Astoria: Let's start at the northern tip! You will be busy exploring the century-old Astoria Column (which was built as a salute to the early settlers for expanding the U.S. to the Pacific Coast), Lewis and Clark National Historical Park or Fort Stevens State Park. The town has wonderful restaurants and breweries, and the Astoria-Megler Bridge is worth the drive. It is the longest continuous truss bridge in North America and passes over the mouth of the beautiful Columbia River.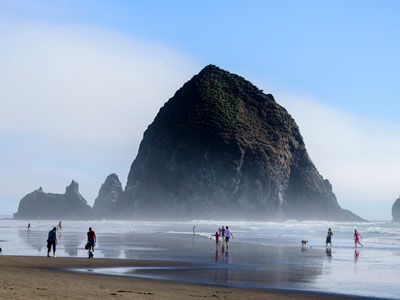 Cannon Beach: A small coastal town with adorable shops and incredible views of the Pacific, it's worth the stop just to see the famous Haystack Rock. Commonly recognized as one of the best beaches in Oregon, Indian Beach in Ecola State Park, part of Cannon Beach, was a film set for scenes in both The Goonies and Twilight.
Tillamook: Come for the cheese, stay for the views. The Tillamook Creamery is a fun place to visit. Delicious cheese samples, anyone? Explore Tillamook Bay's beautiful, historic Cape Mears lighthouse, which dates back to 1890. Be sure to stop by Cape Lookout State Park, just south of the city, where you will see stunning views of the Pacific. There are more than eight miles of hiking and walking trails in this area, and you can camp here, too!
Cape Kiwanda State Natural Area and Pacific City: South of Tillamook, the unique geology of sand dunes and sandstone cliffs make Cape Kiwanda a beautiful spot to explore and enjoy. With a 250-foot sand dune to climb and incredible views to take in, be sure to watch for whales! Pacific City is just south of Cape Kiwanda, and it's an ocean lover's dream.
Newport: This city is located on Oregon's central coast. A favorite stop here is the Oregon Coast Aquarium and Yaquina Bay State Park, home to the 1871 Yaquina Bay Lighthouse. There are plenty of local restaurants to explore, from seafood fare to breweries and bistros. If you walk along the picturesque historic Bay Front, you will probably smell and hear the seas lions before you see them!
Cape Perpetua: Thor's Well and Devils Churn… do we really need to say anything more to entice you to marvel at these natural wonders? Thor's Well, also known as the Drainpipe of the Pacific, is a hole that seems to endlessly swallow seawater. It's impressive. Same with Devils Churn, a narrow inlet with dramatic crashing waves that churns the Pacific relentlessly.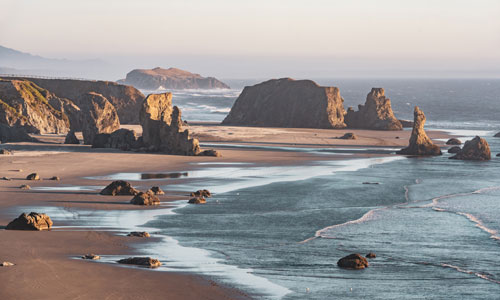 Bandon: This is another beautiful Oregon beach known for its rock formations and sunsets you dream about. Its charming Old Town is full of shops and restaurants with so much variety including cranberry treats, reflecting this area's reputation as the Cranberry Capital of Oregon.
Brookings and Harbor: These towns are located in Oregon's banana belt on either side of the Chetco river, with temperatures sitting about 20 degrees warmer than surrounding areas. Meteorologists call this the "Chetco Effect." Not only do you get to enjoy more of Oregon's stunning coast, but it's warmer, too!
Cascade Loop (Washington)
From Puget Sound to Wenatchee, there's an entire website dedicated to this entry on our best road trips list that circles Washington's iconic mountains. No need to reinvent the wheel. You can build your itinerary and pick the kinds of adventures you want to experience, from horseback riding to hiking to winery touring. There's something for everyone in the car, including places like: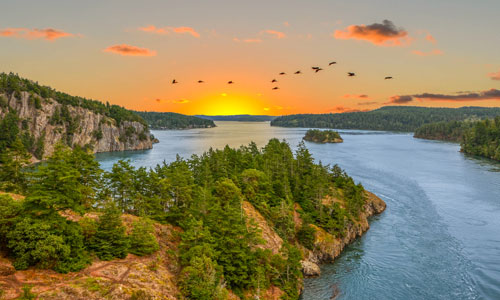 Twisp: Known as the heart of the Methow Valley, this adorable artsy town is the largest in the area and offers a ton of local flair.
Whidbey Island: Sitting in Puget Sound, its rugged terrain includes beautiful beaches, hills and farmland. And did we mention seafood? Yum.
Snohomish: A historic town surrounded by farmlands. Visit antique dealers, boutique shops and get in some wine tasting, too.
Leavenworth: An alpine village in the middle of Washington. Don't be deceived when you feel like you're in a Bavarian village. Take in the adorable shops, restaurants and even some yodeling!
Olympic Peninsula (Washington)

Mountains, beaches and a rainforest – you can find it all in Washington's Olympic Peninsula, which is why it deserves a place on our best road trips list. Be sure to check out these must-stops:
Lake Quinault: Known as the southern gateway of Olympic National Park, glacier-fed Lake Quinault lies in the middle of a temperate rain forest. There are plenty of hiking trails and places to camp. Or stay at the Lake Quinault Lodge, dating back to 1926! This area is known as "Valley of the Giants," and it is home to the largest Sitka Spruce tree in the world. You'll see plenty of wildlife if you take the 31-mile loop around the lake.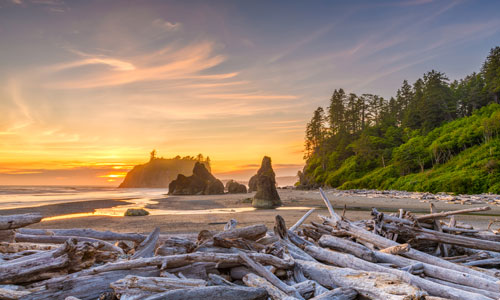 Ruby Beach: Located on the southwest coast of the Olympic Peninsula, Ruby Beach is famous for its reddish sand and dramatic rock formations shooting out of the sea. It's remote yet very popular and busiest in the summer months.
Sol Duc Falls: Speaking of busy, Sol Duc Falls is one of the most popular destinations within Olympic National Park. You have to hike in, but it's a well-maintained path. The water drops nearly 50 feet into a rocky canyon.
Hurricane Ridge: A 45-minute drive from Port Angeles takes you from sea level to nearly 5,300 feet, where the majesty of the Olympic Mountains is on full display in this best road trips entry. This area offers a visitor center as well as stunning views and plenty of hiking trails. The road is open in the summer, and tire chains are a must in winter when it's only open on the weekends.
Port Townsend: Home of Fort Worden Historical State Park, Townsend is a beautiful, small and historic town located on the inlet of Puget Sound. The fort itself was built to protect Puget Sound in the late 1800s and Point Wilson Lighthouse is an active aid to navigation – one of the most important in the state.
Salmon River Scenic Byway (Idaho)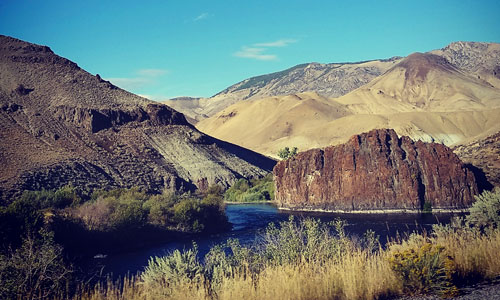 You can do this storied Idaho trip in three hours and thirty minutes, yet you'll want to spend a lot longer because there's so much to see along the way! VisitIdaho.org does a fantastic job laying out the highlights of this best road trip. Some of the neat sites we recommend include:
Main Salmon River: Well, it seems obvious to visit the river, but you can literally get on the river with rafting and kayaking in Riggins, Idaho. And the water may be warmer than you expected!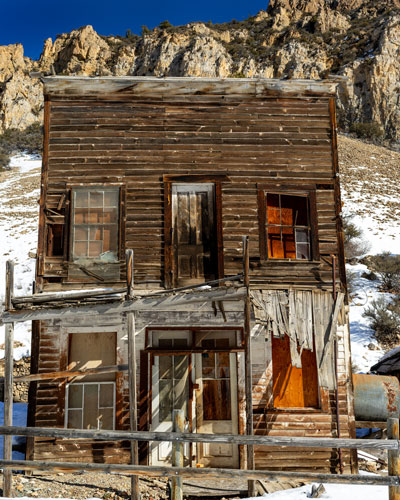 Bayhorse Ghost Town: You may mistake this visit for a trip back in time. Once a lively ore mining community back in the 1860s, Bayhorse is one of three townsites that haven't been touched in more than a century. It now sits in Land of the Yankee Fork State Park and remains preserved with guides available to answer your questions.
Sacajawea Interpretive, Cultural & Educational Center: Their goal is to connect people with the incredible history of this area, particularly the Lewis and Clark Expedition, Sacajawea and her people, the Agai'dika Shoshone-Bannock Tribes. Visit the Interpretive Center from Memorial Day to Labor Day or explore the grounds on two walking trails that are open year-round.
Redfish Lake and Sawtooth National Forest: Camping, hiking, fishing, biking, swimming and boating are just some of the activities people enjoy in this wilderness. Positioned in the heart of Idaho, Redfish Lake is the largest in the Sawtooth National Recreation Area. After a dip in the lake, take a drive along the stunning Sawtooth Scenic Byway.
We hope this list of the PNW's best road trips inspires you to get out and explore our beautiful region. No matter where you adventure, how are you getting there? Need some wheels? Or want to refinance your current loan? Whether road-tripping in a car or an RV, Solarity has you covered with great rates and flexible terms. We love financing your fun!
Explore your options
or
get in touch today
.
What's your Solarity story?
We're on a mission to tell the stories of our members and how they are living their best lives. Do you have a Solarity story to share?