Simple. Fast. Affordable.
Whether you're upsizing, downsizing or looking into a mortgage refinance, our expert Home Loan Guides can't wait to partner with you on this big milestone.1 We make the residential mortgage process fast, easy and straightforward so you can focus on creating memories, not paperwork. We also offer our eSigning Experience, allowing you to close online from virtually anywhere. You can even sign right from your phone!2
Loan options for all stages of home ownership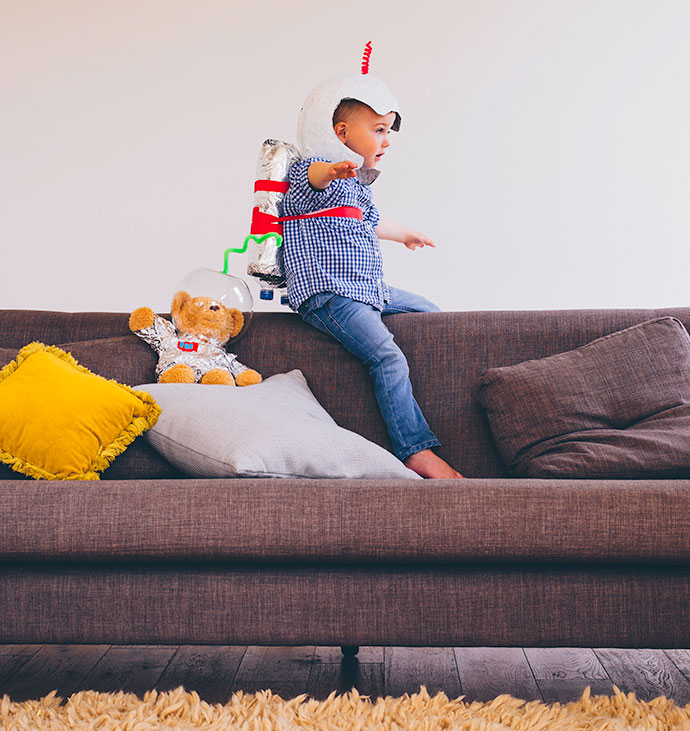 Home loans with a boost
Introducing Solarity Credit Union and the best mortgage experience you'll ever have. We make the home loan process fast and easy. You can apply online in just a few minutes.
Rated 98 out of 100 by thousands of Solarity borrowers, our online mortgage process saves you time so you can focus on the things that really matter.3 And our expert Home Loan Guides are here to help every step of the way.
Home loan options include:
Flexible loan terms to fit your budget and lifestyle
Competitive rates and affordable payment options
Flat origination fee, saving you thousands on closing costs
Convenient e-Signing closing to save you time
Servicing of your loan stays with Solarity – always!
Estimate your loan payment
Home Loan Payment Calculator: Monthly payments, rates and Annual Percentage Rates (APR) displayed here are estimates based on the values you entered and constitute no offering of a home loan. The actual terms you receive may be different depending on your individual circumstances, including but not limited to creditworthiness, property type and loan-to-value ratio. These estimates do not include taxes or insurance so your actual payment may be higher.
The Solarity eSigning Experience
When you choose Solarity's eSigning Experience, you complete the entire closing online, from the comfort of your home or office. You can skip the drive across town and focus instead on this exciting occasion....closing on your home loan!
So be sure to tell your real estate professional or title company you'd like to utilize Solarity's eSigning Experience for your closing.
Sign from anywhere using your phone, tablet or computer
Review your documents ahead of time before signing
Remote Online Notary (RON) certifies the process (no need to leave home!)
Close with your Solarity team and closing partners - all in one place: online
Get your personalized quote
Your expert Home Loan Guide will get to know you and what's most important to ensure you get the home loan that's right for you!
Once you fill out the contact form, we'll get in touch with you right away. Don't worry, there's no obligation for talking with us.
If you'd rather talk to someone now, give us a call:
Or start your application online: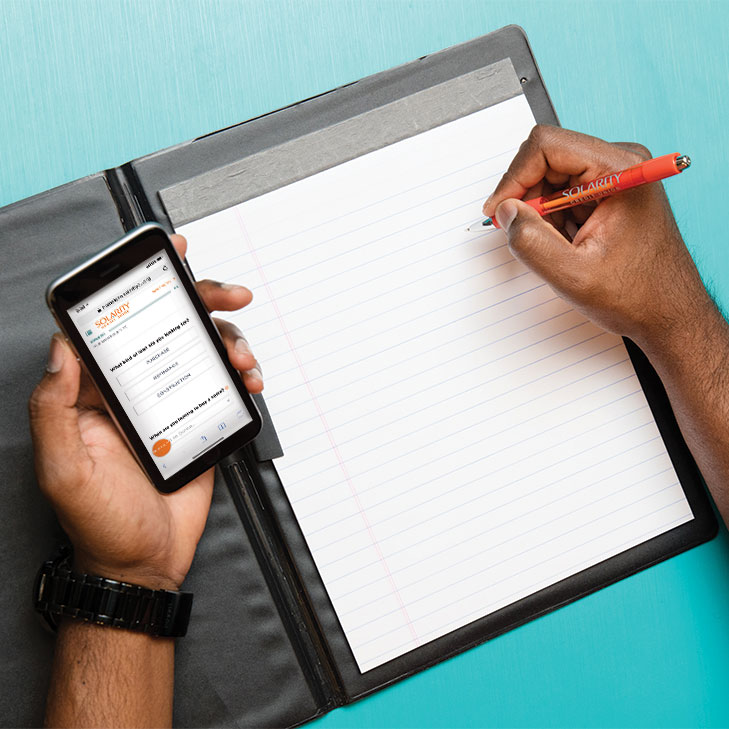 Pre-approval: what you need to know
Pre-approval is an important first step in applying for a home loan. It gives you an idea of what you're likely to qualify for. It helps you figure out how much home you can afford and how much you'll be able to borrow.
Here's what you'll need to start the pre-approval process (full PDF checklist):
Current address
Driver's license and Social Security number
Two months of bank statements
Employment history for the past two years
30 days of pay stubs and the last two years' tax returns
List of current debts
Our members say it best:

The loan was great. I already sent my friend and her husband in like two days after I signed my loan and... I think they actually signed on it last week!


This is the fourth home that I've bought in my life, and this is by far the best experience.


¡Mi cierre se realizó en dos semanas y media! Sucedió mucho antes de lo esperado. Fue emocionante.


Let's talk about your ideal home loan
Applying for a mortgage shouldn't be difficult. We make is FAST and EASY with 3 simple ways to get started:


Online
It takes less than 10 minutes to apply online. Submit your application and we'll follow up with you to discuss your situation.
Get started


Call
Ready to talk to someone right now? Our Home Loan Guides are ready to talk to you, too! Call 1.888.626.1799.
Dial for me


Form
Fill out a contact form and one of our Home Loan Guides will get in touch with you shortly.
Go there now
Common questions about home loans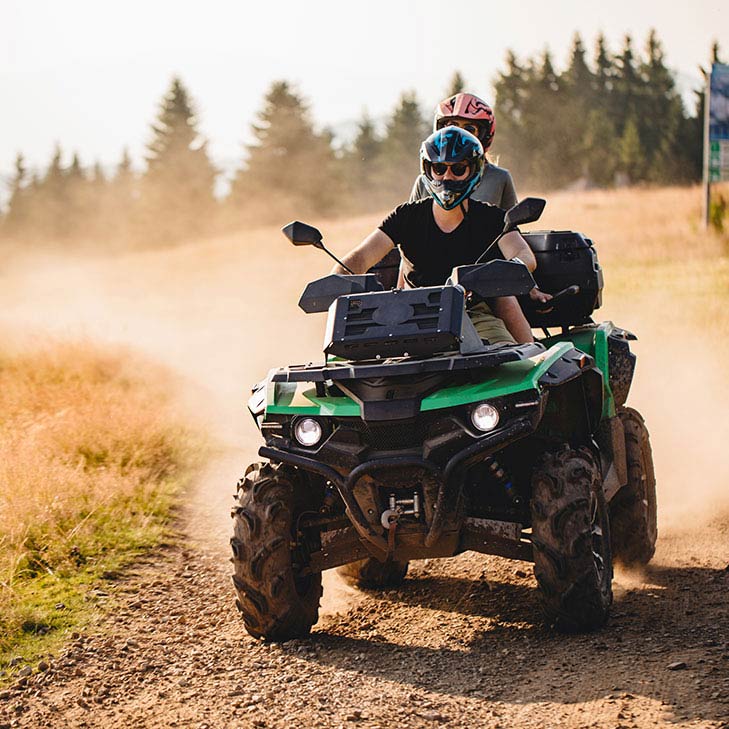 Auto, RV and Motor Sport Loans
Work hard, play hard! When adventure calls, we'll help finance the fun with loans for your auto and recreational needs.
Drive me there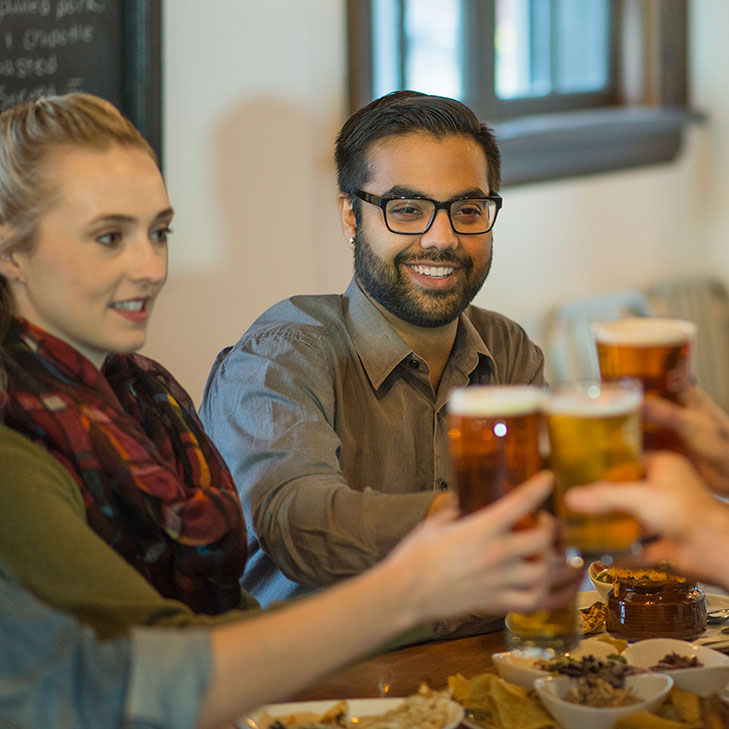 Credit Cards
Payment versatility and convenient access to your available credit with no annual fee or balance transfer fees.
Spend with ease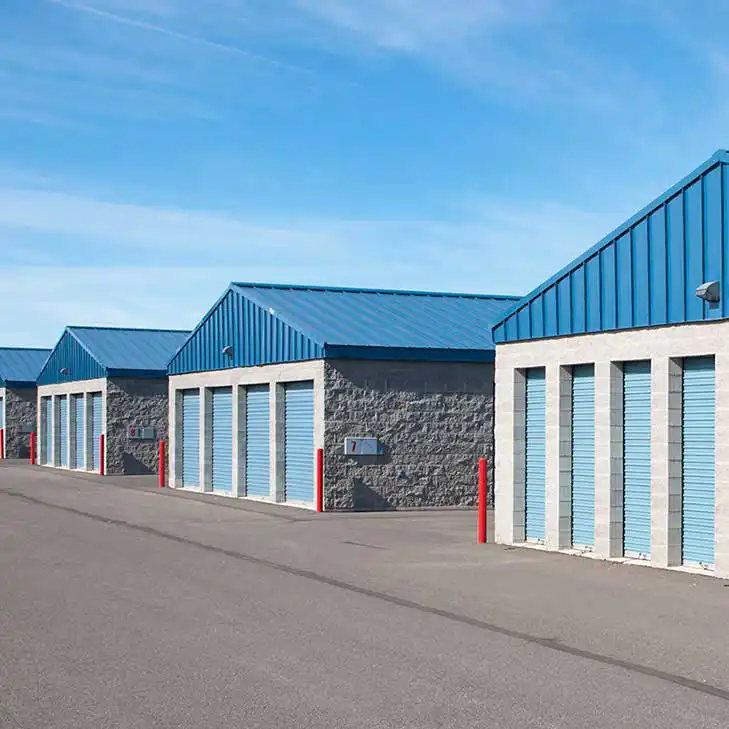 Commercial Real Estate Loans
We take the time to build a true financial partnership that propels your real estate business.
See the Solarity difference
Helpful articles and information
How to get a mortgage
Don't let the idea of getting a mortgage stress you out. With a little preparation, you can easily navigate the process and find a great home loan that works for you. Here are some steps on how to get a mortgage:
Check your credit score: Mortgage lenders use credit scores to determine the risk of lending money. The higher your score, the better, and a higher credit score can mean a lower interest rate on your mortgage. It's a good idea to check your credit score and address any errors or issues before applying for a mortgage.
Start saving for a down payment: A down payment is a percentage of the home's purchase price that the borrower pays upfront. The more you can put down, the less you need to borrow and the lower your monthly payments will be. In the past, 20% was a common down payment amount. Today you can buy a home with as little as 3% down or even $0 down.
Shop around for a mortgage: Compare rates and terms from multiple mortgage lenders, including credit unions. You can apply with different lenders, and each is required to provide you with a loan estimate within three days after you apply. Since all lenders use the same format, the loan estimate is a great way to compare your mortgage options.
Get pre-approved for a mortgage. When shopping for a home, it's important to know how much you can borrow. One of the best ways to do this is through the mortgage pre-approval process. Getting pre-approved for a mortgage can also make you a more competitive buyer in a crowded market.
Gather necessary documents: Before you apply for a mortgage or pre-approval, you will need to provide proof of income, assets and employment history.
Go through the closing process: Once you've found a home and have been approved for a mortgage, you'll need to pay closing costs and sign the closing documents. Your mortgage lender will walk you through the process and make sure everything is in order.
The length of time it takes to get mortgage pre-approval can vary depending on a few factors, such as the mortgage lender you are working with and the completeness of the documentation you provide. On average, it can take anywhere from a few days to a week to get pre-approved for a mortgage. However, it's important to keep in mind that some mortgage lenders may be able to provide pre-approval much faster, while others may take longer. It's a good idea to shop around and compare different mortgage lenders to find the one that can provide a pre-approval in a timeline that suits your situation.
A mortgage pre-approval is typically valid for a period of up to 90 days. This is because a pre-approval is based on your financial information and credit score at the time of application, and these factors could potentially change within a few months. If you don't find a home and secure a mortgage within the pre-approval timeframe, you may need to go through the pre-approval process again. It's a good idea to start the process of finding a home as soon as you have your pre-approval, as this can make you a more competitive buyer in the market.
Types of home loans
When it comes to financing a home purchase, there are several types of home loans to consider. Credit score, down payment, income, location, interest rate and future plans are all key factors that will influence the type of home loan you choose:
Conventional mortgages offer a variety of options, including fixed-rate and adjustable-rate loans. These types of mortgages can be a good fit for those with strong credit and a solid down payment.
A jumbo loan is a mortgage that exceeds the conforming loan limits set by the Federal Housing Finance Agency (FHFA) and may have higher credit and down payment requirements and a higher interest rate.
A USDA loan is a mortgage for low- and moderate-income borrowers in rural areas, offering competitive rates and flexible credit and down payment requirements.
An FHA loan is a government-insured mortgage for those with lower credit scores and a lower down payment, making it a good option for first-time homebuyers.
A VA loan is a mortgage for active-duty military members, veterans and their families, backed by the government with competitive rates and lenient credit and down payment requirements.
First-time homebuyer loans
First-time home buyer loans are mortgage products specifically designed to assist first-time home buyers in purchasing a home. These loans often have more flexible credit and down payment requirements, making it easier for first-time home buyers to qualify for a mortgage. Some first-time home buyer loans are backed by the government, such as USDA loans, FHA loans and VA loans, which can offer additional benefits such as lower down payment requirements and the ability to use gifted funds for the down payment.
In addition to federal programs, there are also a number of state and local first-time home buyer assistance programs that offer grants, low-interest loans and other forms of assistance to help first-time home buyers with the costs of purchasing a home. These programs may have specific eligibility requirements, such as income limits or being a first-time home buyer (defined as someone who has not owned a home in the past three years).
A USDA loan can be a great option for those looking to buy a home in a rural or suburban area who may not have the financial means to make a traditional down payment. The United States Department of Agriculture (USDA) offers government-backed mortgages to help low- to moderate-income households purchase homes in these areas. One of the main benefits of a USDA loan is that it does not require a down payment, making it an affordable option for many first-time homebuyers. To qualify, you must meet certain eligibility requirements, including having a low to moderate income, owning a home in a designated area and demonstrating a willingness and ability to pay back the loan. You must also be a U.S. citizen or a legal permanent resident. There are several types of USDA loans available, each with its own specific eligibility requirements and terms. Overall, this mortgage option can help make the dream of homeownership a reality for many families by providing access to affordable financing options.
How to apply for a USDA loan
To apply for a USDA loan, you must determine your eligibility and find a USDA-approved lender. Gather the necessary documents, including proof of income, citizenship and address of the property you wish to buy, and submit your application to the mortgage lender. If your loan is approved, you can begin the process of purchasing the home, which may include a home inspection and appraising the property. Once these steps are complete, you will receive your loan and can close on your new home. The process may vary slightly depending on the mortgage lender.
An FHA loan, also known as a Federal Housing Administration loan, is a government-insured mortgage designed to help first-time homebuyers and those with low to moderate incomes purchase homes. These types of mortgages are an attractive option because they have more lenient credit and income requirements than conventional loans. They also require a lower down payment, as low as 3.5%.
FHA loans are backed by the Federal Housing Administration. So, if you default on your loan, the FHA will pay the mortgage lender. This makes the loan less risky for mortgage lenders, which allows them to offer more flexible terms and lower interest rates to borrowers.
VA home loans are mortgages offered by the U.S. Department of Veterans Affairs (VA) to help veterans and military personnel afford home ownership. These types of home loans do not require a down payment and have more lenient credit requirements than traditional mortgages. VA home loans also offer competitive interest rates and unique protections for military borrowers, such as the ability to refinance if the borrower is deployed or experiences a permanent change in station. To qualify, individuals must have served in the military or be active-duty military and meet income and debt-to-income ratio requirements. This can be a great option for military personnel and veterans looking to purchase a home, offering flexible credit requirements, no down payment and competitive interest rates.
Mortgage refinance
Mortgage refinance is the process of replacing an existing mortgage with a new one, usually with different terms and conditions. To refinance a mortgage, homeowners must go through a similar process as when they first obtained their mortgage, including submitting an application to a mortgage lender and undergoing a credit check. There are several factors to think about when considering a mortgage refinance, including the length of time you plan to stay in the home, the closing costs associated with the refinance, your credit score and your debt-to-income ratio. It is important to compare rates and terms from multiple mortgage lenders and to carefully evaluate the costs and benefits of refinancing before making a decision. By law, mortgage lenders are required to provide you with a loan estimate which breaks down the cost of doing the refinance. This will allow you to do an apples-to-apples comparison of mortgage lenders to determine the right home loan for you.
There are several situations when refinancing a mortgage may be a good idea. Some common reasons to refinance a mortgage include:
Obtaining a lower interest rate: If interest rates have decreased since you took out your original mortgage, refinancing could help you secure a lower interest rate and lower your monthly mortgage payments. A good rule of thumb is that if you can drop a whole percentage point in your interest rate, it is usually worth exploring a refinance.
Changing from an adjustable-rate mortgage to a fixed-rate mortgage: If you have an adjustable-rate mortgage (ARM), the interest rate can change over time, which can cause your monthly payments to fluctuate. Refinancing to a fixed-rate mortgage can provide stability and predictability in your monthly payments.
Consolidating debt: If you have multiple debts, such as a mortgage and a home equity loan, you may be able to consolidate them into a single loan by refinancing your mortgage. This can make it easier to manage your debt and may help you save money on interest.
Shortening the loan term: If you have a longer-term mortgage, refinancing to a shorter-term loan can help you pay off your mortgage faster and save money on interest. However, keep in mind that a shorter loan term usually means higher monthly payments.
Accessing your home's equity. A cash-out refinance lets you access the equity in your home by refinancing your mortgage and taking out a larger loan. This can provide a lump sum of cash you can use for various purposes such as home improvements, debt consolidation or other large expenses.
The cost to refinance a mortgage can vary depending on a number of factors, including the type of mortgage you have, the type of loan you are seeking, your credit score and the mortgage lender you choose. Some common costs associated with refinancing a mortgage include:
Application fees: Mortgage lenders may charge a fee to process your refinance application.
Appraisal fee: An appraiser may need to assess the value of your home as part of the refinance process.
Inspection fee: Some mortgage lenders may require an inspection of your home to ensure that it meets certain standards.
Title search and title insurance: A title search is a review of the public records to ensure that you have ownership of your home and there are no outstanding claims or liens on the property. Title insurance protects you and the mortgage lender against any errors in the title search.
Underwriting fee: Mortgage lenders may charge a fee for reviewing and approving your refinance application.
Origination fee:
This is a fee that some mortgage lenders charge for processing your loan.
There is no hard-and-fast rule for how soon you can refinance a mortgage. In general, you may be able to refinance as soon as you meet the mortgage lender's requirements for a new loan. However, there are a few factors that may affect how soon you can refinance, including:
The type of mortgage you have: Some mortgage programs, such as the Federal Housing Administration's (FHA) Streamline program, allow you to refinance without a credit check or income verification. However, these programs may have specific requirements that you must meet in order to qualify.
The amount of time that has passed since you obtained your original mortgage: In general, mortgage lenders may be more likely to approve a refinance if you have made timely payments on your original mortgage and have built up equity in your home.
Your credit score and financial situation:
Mortgage lenders typically consider your credit score, debt-to-income ratio and other financial factors when deciding whether to approve a refinance.
All loans are subject to credit and property approval. Not all applicants will qualify. Special terms and conditions may apply.
Message and data rates may apply depending on your cell phone plan. Please contact your wireless carrier for more information.
Solarity's Home Loan Member Experience Survey score from March 2022.