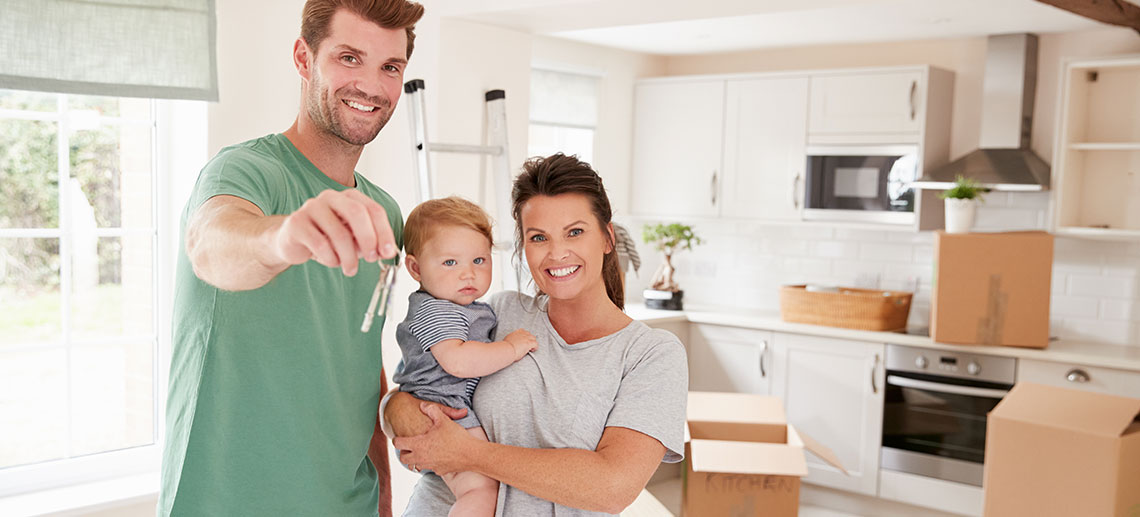 Want to unlock the door to your new home? Solarity Credit Union can help you achieve your goal. We empower homebuyers by offering home loans at competitive interest rates. If you think you may not qualify for a traditional home loan, we could have some creative options for you. For instance, USDA loans are available to low-income and moderate-income borrowers.
Wondering how USDA home loans work in Washington State and whether you qualify for one? Read on for a breakdown of USDA loans and how they could help you purchase your own home.
What is a USDA loan?
The first thing to know is that there are two types of single family rural housing loans available through the US Department of Agriculture (USDA):
Single Family Housing Guaranteed Loan Program

Single Family Housing Direct Home Loan
The Single Family Housing Guaranteed Loan Program helps low-income and moderate-income individuals and families secure financing by incentivizing lenders through loan guarantees should the borrower ever default. On the other hand, the Single Family Housing Direct Home Loan is for low-income and very low-income individuals and families and can be applied for directly through your local USDA Rural Development Office.
To qualify for a USDA home loan, the property must be located in an eligible rural area. If you've already found a property you're interested in purchasing, you can check the Property Eligibility page on the United States Department of Agriculture's website to determine whether the property qualifies. Simply select the tab at the top of the page for loan type and then select the property eligibility tab to plug in the address.
If you haven't yet found a home you're interested in buying, you can contact your local USDA Rural Development Office for leads on eligible properties. Or you can build a new home construction in an approved area.
If homeownership has ever felt like a dream to you, securing a USDA loan could transform that dream into reality. In the process, USDA loans help foster prosperity and create thriving rural communities.
How does a USDA loan work?
So, how does a USDA loan open doors to homeownership? For starters, USDA loans allow up to 100% financing. That means you don't need to have thousands of dollars saved in the bank to put toward a down payment. Since you can finance up to 100% of the appraised value of your home, if the purchase price comes in under the home's appraised value, you can use the extra financing toward closing costs, home improvements or other eligible expenses.
Complete financing allows many homebuyers the financial flexibility they need to be able to purchase their first home. However, the program isn't restricted to just first-time homebuyers. Current homeowners are also eligible to apply.
Some USDA loans have longer loan terms. Whereas most traditional loans are spread out over a maximum of 30 years, the USDA Single Family Housing Direct Home Loan has 33-year loan terms for low-income borrowers and 38-year loan terms for very low-income borrowers. A longer loan term means the amount you owe is spread out over a longer period of time, making your monthly mortgage payments lower.
You may be wondering if you'll be paying more interest over the life of the loan. While that's technically true, USDA loans guarantee competitive interest rates. You may also qualify for payment assistance for the Single Family Housing Direct Home Loan, which could temporarily lower your interest rate to as little as 1%.
With the advantages provided by USDA home loans, the path to homeownership is a much smoother and easier road. Just think of it as taking a shortcut.
Do I qualify?
No money down? Complete 100% financing? Sounds pretty great, but how do you qualify? Since USDA loans are designed for low- to middle-income borrowers, you'll first need to meet income limits for your particular area.
If you're interested in applying for a USDA home loan in Washington State, you can check for the program income restrictions in your area by using this map. It provides a breakdown of the income limits for the Single Family Housing Direct Home Loan. This map provides a breakdown of income limits for the Single Family Housing Guaranteed Loan Program. If you'd like to speak with someone in person about eligibility, you can contact a lender that offers USDA loans, such as Solarity Credit Union.
In addition to meeting income requirements and finding an eligible property or eligible area if doing a new home build, you must also agree to occupy the home as your primary residence. USDA loans cannot be used to purchase second homes or investment properties.
While you must be unable to obtain conventional financing in order to qualify, you should be able to demonstrate an ability to repay the loan. You must also be a US citizen, US non-citizen national or qualified alien who has not been disbarred or suspended from participating in any federal programs.
How do I apply?
If you think you may qualify and you're looking to apply for a USDA loan, you can use the Single Family Housing Direct Self-Assessment Tool to get started. This assessment tool will assist you in determining whether the program is a good fit for you. The tool will prompt you to fill out some information, such as your monthly income, monthly debt obligations and property location to assess whether you may qualify for the program.
Regardless of the outcome of the self-assessment tool, you can fill out an application for the Direct Loan program to receive an official determination of program eligibility. Applications are accepted by your local rural development office year-round. If you qualify for the program, your loan amount will be based on your repayment ability and the area loan limit for the county where the property is located. If you find you do not qualify for the Direct Loan program, visit the team at Solarity to see if the Single Family Housing Guaranteed Loan program is a better fit for you.
Solarity is a USDA home loan approved lender in Washington State. One of our
Home Loan Guides
will review your finances and discuss your options with you. If you're a low- or middle-income borrower who thought homeownership was just a dream, we want to help you make it a reality.
What's your Solarity story?
We're on a mission to tell the stories of our members and how they are living their best lives. Do you have a Solarity story to share?