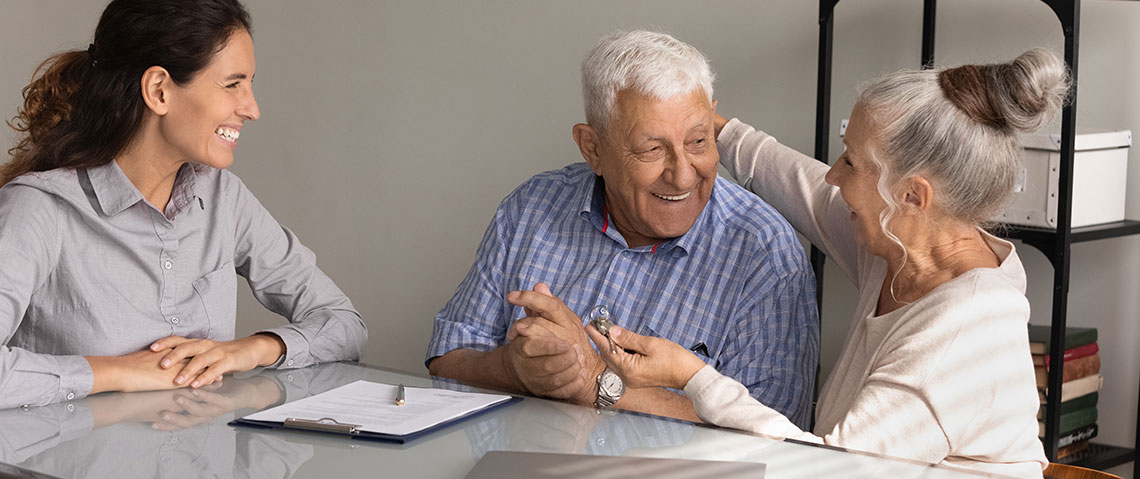 Over the course of your mortgage, your life might change dramatically. Five years after closing the perfect home loan might not be so perfect anymore. You don't have to feel stuck, though. If you've been paying your loan off for a few years now, you may be a good candidate for refinancing.
But when you refinance a home loan, what happens? Refinancing basically lets you convert your existing loan to a new one, paying off your original loan and entering into a new deal with the same or another lender. You re-enter the loan market with your current circumstances. If your finances have improved or your house has grown in value, it's not a bad idea to start shopping around for other options. Refinancing has a number of steps, so let's get into the details. From your home loan experts at Solarity Credit Union, here's what happens when you refinance a home loan.
The Process
Getting your credit score in order
Just as when you obtained your initial mortgage, you need to qualify to refinance. Part of this will involve checking your credit score again, so make sure it's in good shape before you start looking into your refinancing options. You are eligible for one free credit report each year so take advantage of it.
The better your score is, the more favorable the terms of your new loan will be. While you can still refinance with a less-than-stellar credit score, it's hardly worth going through the effort unless you're going to end up with a better deal.
Calculating your home equity
Your home equity is simply the difference between the total value of your home minus what you still owe on your mortgage. All you need to do to determine your home's value is check online home value sites or find a real estate agent to analyze the estimated value of your home. Then subtract the current balance of your loan.
Why is this relevant? Well, if you weren't able to put down at least 20% when you initially took out your home loan, you've likely been saddled with paying private mortgage insurance (PMI) in addition to your monthly payment. If you've repaid enough now that your home equity equals at least 20% of your home's total value, you can avoid paying PMI. You may even end up with better rates and lower fees, as your lender will view it as a less risky loan.
Obtaining a new home appraisal
As part of what happens when you refinance a home loan, like when you obtained your initial one, your lender will order an appraisal of your home to determine its current value. To prepare for this, make your house look gorgeous. Make sure everything is tidy inside and out, and take care of any repairs you can before the appraiser arrives. If you've made any upgrades or improvements to the house since moving in, it's not a bad idea to provide your lender and the appraiser with a list. You want to make the best impression possible, so be sure to put some elbow grease into it.
Shopping around
Before you settle on your new home loan, be sure to survey all the options available to you. Get quotes from at least three mortgage lenders and see which can offer you the most favorable deal. What do the interest rates look like? What fees are associated with the new loan, if any, and will they need to be paid up front or over the term of the loan? Some lenders offer refinances with no closing costs, and some offer no closing costs but have additional fees. Understand all the components of the loan before you agree to anything.
Verifying the details and closing
Once you've found a lender you like and submitted an application, the underwriting process begins. In underwriting, your new lender will verify all your financial information and property details. After everything has been checked out, you can close on your new loan. Your lender will go through the signing with you, outlining the details of everything you need to know. Some lenders, such as Solarity, offer a unique eSigning Experience, making closing more convenient for you.
Note that if any issues come up after closing, you have a three-day grace period to cancel the loan.
The Results
Securing a new interest rate
One of the most common reasons a homeowner chooses to refinance their loan is to obtain a more favorable interest rate. If the market has shifted or your credit has improved significantly since taking out your original loan, a new loan might save you large sums of money in interest. When you refinance your home loan, you have the chance to demonstrate your current financial situation, giving you the chance to show you are a more dependable borrower.
Borrowing money
Some homeowners choose to pursue a cash-out refinance to borrow more than the balance on their loan and take the difference as cash. Depending on how much equity you have, you can use this extra cash for a large expense (such as home improvement, college tuition or even a down payment on a vacation home) at a much lower rate than another loan would offer.
Changing the type of loan
Maybe you first committed to an adjustable-rate mortgage (ARM) but want to switch to a fixed-rate mortgage while interest rates are favorable. Or maybe you want to get out of paying insurance on an FHA loan and move to a conventional option. Whatever you're looking for, refinancing gives you another chance to explore your options and find what works best for you now.
Adjusting the loan term
Finally, refinancing your home loan can give you the chance to change the term. People do this for a variety of reasons. If the monthly payments are too big for your current budget, you may opt for smaller payments over a longer stretch of time. If you're in a better financial position than previously, shortening the loan term and paying more each month cuts back on overall interest. If the current term on your loan isn't working for you, refinancing gives you the chance to recalibrate the schedule to something that works better.
Are you ready to refinance your home? Maybe you have more questions about what happens when you refinance a home loan. Whatever you need, talking to the
refinancing experts at Solarity
is a great place to start.
What's your Solarity story?
We're on a mission to tell the stories of our members and how they are living their best lives. Do you have a Solarity story to share?