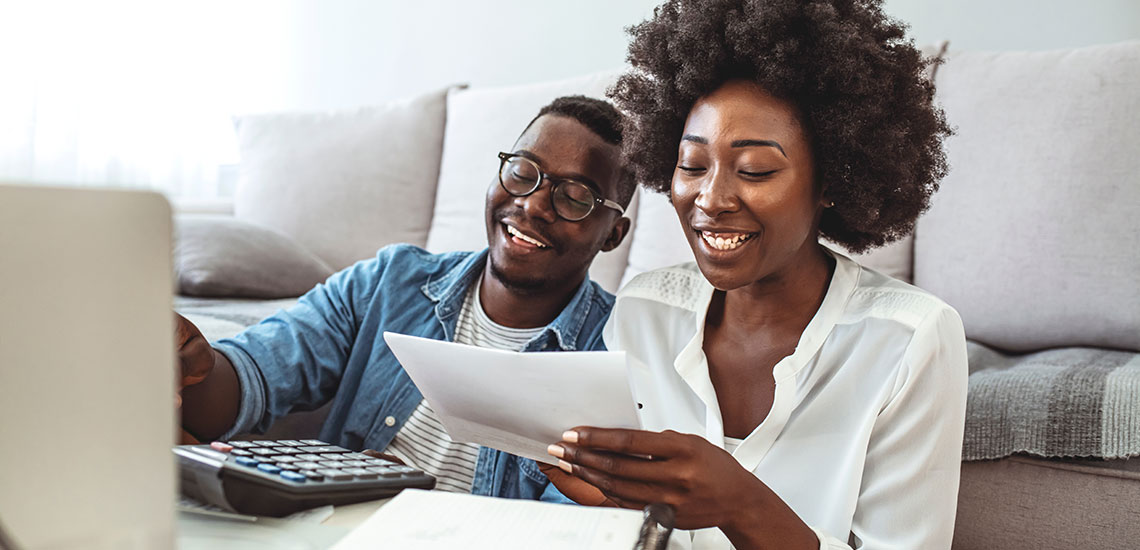 If you've been looking for ways to put more cash in your pocket, you're not alone. Many homeowners wish they had a little more financial flexibility to do things such as make home improvements or pay off other existing debts. While this is a dream for many, most homeowners don't know that it can easily become reality with a cash-out refinance. What's a cash-out refinance? We have the details right here.
Solarity Credit Union offers homeowners the option to tap into their home equity without taking out an entirely new loan. A refinanced loan can come complete with more favorable terms, better interest rates and the ability to use the cash difference between your home loan and your equity for anything you choose.
Read on for cash-out refinance explained in a few steps and find out if this is an option for you.
Step 1 – Have an existing mortgage with equity built up
If you're interested in a cash-out refinance, you'll first have to have an existing mortgage on your home. This process will then allow you to refinance your first loan, which essentially means you'll pay off your original loan with a new loan. You can either do this through your current lender or a completely different lender. It's up to you.
While an existing home loan is vital to refinancing, a cash-out refinance actually requires a little bit more: you also need to have equity in your home. Equity is the difference between what you owe on your mortgage and what your home is currently worth. A cash-out refinance allows you to access this equity via a new, larger loan. When this new loan is used to pay off the smaller old loan, there will be money left over. That remaining balance is yours to use.
This refinancing option is popular among homeowners because it has the potential to really benefit them financially by giving them more access to their assets. If you own a home, you may want to consider this option, but not before asking yourself some pretty important questions.
Step 2 – Figure out why you want a cash-out refinance
There are many reasons why people decide to do a cash-out refinance. When you begin this process, you'll want to figure out why you want to do it. This can vary depending on your specific needs, wants or financial goals. Here are a few examples of why others choose this option.
Cash-out refinancing can be used to help pay off other existing debts. This can include things like car loans, credit cards or student loans. This tactic pays off these debts quickly and avoids any further interest from being charged. Likewise, many people choose to do cash-out refinancing to avoid going into any further debt by paying for things up front rather than taking out a new credit card. This might include helping children pay for college up the need to take out student loans.
Another popular reason people choose a cash-out refinance is so they can have money to make improvements to their homes. Taking out a new loan to pay for home improvements can just further add to your debt, but it can be hard to come up with the cash to fund the improvements you've always dreamed of—or that are necessary. A cash-out refinance can help to bring those dreams to fruition more quickly.
One more reason why people choose this option is that they want to have some cash in their pocket while also changing the terms of their loan. Refinancing may allow you to lower your monthly payment, change your interest rate or take someone's name off of a loan. If you're unhappy with your current loan, or if rates have significantly decreased since you received your first mortgage, cash-out refinance can be a great option.
So ask yourself, what are your reasons for seeking a cash-out refinance?
Step 3 – Understand the realities
A cash-out refinance could be the perfect option for your financial situation, but it's good to have a realistic idea of what that will mean for you. While Solarity can give you more specific information on your financial situation, there are a few ways you can get a roundabout idea of how much cash is available to you through this refinance option.
When trying to figure out how your cash-out refinance will work, you'll first want to know how much your home is currently worth, how much your initial mortgage was for and how much you currently owe on that mortgage. This information will help you figure out how much equity you have in the home. For instance, if your current home is worth $400,000 but your initial mortgage was only for $300,000 and you paid off $200,000 of that, then you'll have built up $300,000 in home equity ($400,000 value – $100,000 remaining on the mortgage).
These numbers can fluctuate depending on whether your house has gained or lost value since you purchased it. Your local credit union will be able to give you more accurate numbers when you apply for a cash-out refinance.
Step 4 – Find a lender you can trust
Now that cash-out refinance has been explained, if you feel confident it's appropriate for you and you know why you want to do it and what it means for your finances, then you'll want to find a good lender to refinance with. Many people choose to do cash-out refinancing with their local credit union because they're known for having lower rates and better customer service. Knowledgeable finance professionals like our Home Loan Guides can help guide you through the process of a cash-out refinance and make sure it's the right financial move for you.
In addition to great refinancing services, there are other benefits of switching over to a local credit union. One of those benefits is having the option to do all your banking in one place. Credit unions offer both checking and savings accounts, which can then be used to set up automatic mortgage payments. All of your banking can then be accessed through options like mobile and online services, which give you the ability to transfer, deposit and keep track of your money conveniently on your mobile device or computer.
Have you made it to Step 4? Are you ready to choose a great lender for a cash-out refinance? Contact the home loan experts at Solarity. We're ready to help you utilize your home equity and start reaching your financial goals today.
What's your Solarity story?
We're on a mission to tell the stories of our members and how they are living their best lives. Do you have a Solarity story to share?