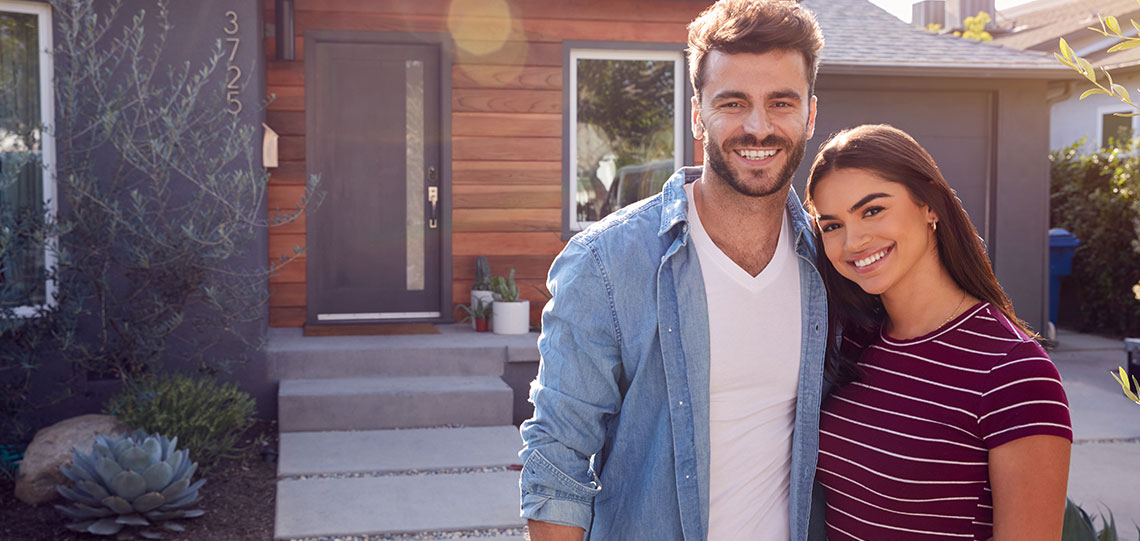 Whether you're already a homeowner, currently working toward homeownership or someone who believes buying a home is out of reach, Solarity Credit Union has home loan solutions that can put you on the path toward owning a home you love.
You may be thinking that you'd like to buy a home but can't afford to make the down payment. If so, you're not alone. Many people struggle to make a traditional 20% down payment. If you don't have thousands of dollars sitting in the bank, that's okay. A lack of savings doesn't have to be a barrier to homeownership.
In fact, there are home loans with no down payment requirement. We'll go over some of these zero-down home loan options so you can decide which one is most suitable for you.
Federal home loan options
The federal government backs several types of home loans that have a low down payment or no down payment requirement at all. First-time homebuyers, for instance, may qualify for an FHA loan that allows borrowers to make a down payment of as little as 3.5%.
Service members, veterans and surviving military spouses may qualify for VA home loans. VA home loans require no money down, have limited closing costs and offer competitive interest rates.
But these loans can have additional restrictions and may not be right for your unique situation. And, you may not qualify. Does that mean you're out of luck? Absolutely not. There are several other options available.
US Department of Agriculture (USDA) loans are a great option for borrowers who are looking to secure 100% financing. There are two types of single-family rural housing loans available through the USDA. While you do not need to be a first-time homebuyer to qualify, you do need to meet certain income criteria.
In order to qualify for a USDA home loan, you must also purchase a property located in an eligible rural area. You can contact the local USDA Rural Development office near you for a list of eligible properties.
If you're based in Washington State, you can also reach out to the team at Solarity. We'll assist you in locating eligible properties and closing on a USDA home loan.
First-time homebuyer loan
First-time buyer loans aren't just available from the government. Some lenders offer proprietary first-time home loans with low- or no-down-payment programs. These options allow first-time homebuyers to obtain conventional home loans with less than 20% down.
Keep in mind that if you do opt for a home loan that requires a low down payment or zero down, you likely will have to pay private mortgage insurance (PMI). This is an additional payment on top of your monthly mortgage payment that insures the lender in case you default on your loan. PMI is typically assessed until you've built at least 20% equity in your home.
Another thing to note when it comes to home loans with no down payment requirement is that the value of your property can fluctuate over time, meaning you may wind up owing more on your home than it's actually worth. We'll walk you through everything you need to know, though, including the risks, so you can decide if a zero-down home loan is the right move for you.
80-10-10 home loan
There's another type of home loan that can help you finance a portion of the down payment through a second mortgage. This is commonly referred to as an 80-10-10 mortgage.
With this type of loan, you finance 80% of the purchase price of your home through a first mortgage while also making a 10% down payment. You then take out a second mortgage, such as a home equity line of credit, to finance the remaining 10%. This enables you to avoid paying PMI on your first mortgage.
Since interest rates tend to be higher on second mortgages, you may need to crunch the numbers to figure out how much money you'll save (compared to paying PMI) to know whether an 80-10-10 mortgage is a good fit for your situation. You must also have enough money saved to make the 10% down payment to qualify for this particular financing scenario.
What's next?

We enjoy building a close relationship with our borrowers and members, and as your loan servicer, we understand that providing consistency is key to strengthening that relationship. It's the same reason our expert Home Loan Guides will provide you with personalized service throughout the loan process, from application to closing.
Give us a call or stop by one of our conveniently located branches. We'll review your personal situation and assist you in deciding which home loan is right for you.
What are you waiting for? If you want to get started,
apply online now
. We'll make things quick and easy so you can focus on resting easily in your new home.
What's your Solarity story?
We're on a mission to tell the stories of our members and how they are living their best lives. Do you have a Solarity story to share?