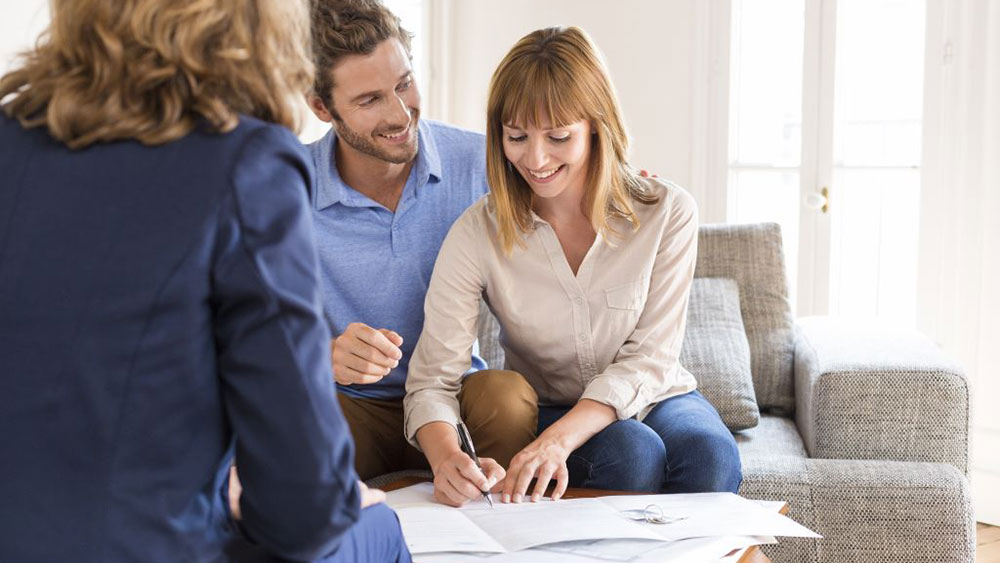 Looking for home loans can be a tricky process. Especially if you are a first-time homebuyer. In many cases, the standard 20% down payment just isn't very feasible. Sure, you could take time to save up for a down payment. But that doesn't have to be your only option. Thankfully, that's where we come in to help. Read on below to find out more information about the more affordable loans offered by financial institutions like Solarity Credit Union.
What are no-down-payment loans?
This type of loan, also known as a 100% mortgage, is exactly what the name implies—a home loan that requires 0% down. It's designed to provide more opportunities for first-time buyers to reach their homeowning dreams.
To qualify for a 0-down home loan, you'll typically have to meet certain income and credit requirements.
The government and some lenders offer 0-down financing options for certain occupations or regions, but these loans are only open to certain eligible borrowers. However, more lenders are offering 0-down home loans. At Solarity, homebuyers can opt for no– or low–down payment options and find a home loan that fits their needs.
If you do receive a 100% mortgage, you'll still have to pay some costs up front. This includes closing costs and certain fees. You may also have to pay for mortgage insurance. However, you'll still be paying a much lower amount than expected. You can find a more specific breakdown of expected closing costs on Solarity's home loan page.
What are low–down payment home loans?
What if you don't qualify for a 0-down home loan? Thankfully, there are still great options out there. Your choices aren't limited to a 0% down payment or a 20% and above one.
There's also the Conventional 97 mortgage, backed by both Fannie Mae and Freddie Mac. This also only requires a 3% down payment. To qualify for the Conventional 97, you need to have a credit score of 620 or higher.
In certain areas, there is a low–down payment home loan available to individuals who work in the service industry, such as teachers, firefighters, EMTs or police. This is known as the Good Neighbor Next Door program. It's backed by HUD. If you qualify for this loan, you could have a down payment as low as $100.
As with 0-down home loans, these aren't your only options. Here at Solarity Credit Union, we have a number of different 0- and low-down loans for our members. This is how we look out for first-time home buyers.
If you don't qualify for one of the loans, there may also be down payment assistance programs available.
There is one thing to keep in mind. You may need to have private mortgage insurance to receive one of these lower–down payment loans. Exact circumstances can vary, but it's usually needed if your down payment is less than 20%. But even with paying for this mortgage insurance, you'd still save quite a lot.
What are some of the benefits that come with 0- or low-down home loans?
To start, you'll be able to search for, and maybe even buy, a home sooner. Since your down payment is little to none, you don't have to take the time to save up for one. Timing is everything when it comes to the housing market.
When you don't have to pay as much up front, you'll also be left with more cash in your pocket. You can put this toward other home-related expenses.
Are there any downsides of a 0-down home loan?
There are a couple of things to keep in mind when you choose 0-down or low-down financing. When you don't have a down payment, you won't have very much equity. This may wind up as a non-issue. But if you want to use your home's equity for something in the future, it could mean you'll have to wait a little longer before those funds are available.
The interest rate for your loan is also likely going to be higher than with a more substantial down payment. And you'll need to pay for private mortgage insurance (PMI) on your loan. This is protection for the lender should you be unable to repay your full home loan amount.
The good news is that low equity, higher interest rates, and purchasing PMI are all temporary. As you make payments, your equity will grow. And as you pay back more of your loan, you'll have the option to refinance for a lower interest rate and be able to drop the PMI. For many, the opportunity to own their own home is worth it.
How do I apply for a home loan?
You'll have to start with the pre-approval process. This will give you an idea of what you can afford, both in terms of home loans and the homes themselves. Being pre-approved for a loan will also give you an edge during the house-hunting process because a seller knows you're serious.
When applying for pre-approval you'll need a current address, your driver's license, social security number, bank statements, recent employment history/proof of current employment and a list of debts.
Here at Solarity Credit Union, we look out for ways to make the home loan and homebuying, process as easy as possible. Not sure which loan is best for you? Reach out to our Home Loan Guides. You can apply for one of our 0- or low-down home loans right from our website. And we also allow you to close with an e-signature. This saves you time and is very convenient because you can do it from anywhere.
Our home loans have a rating of 93 out of 100. We're sure that once you borrow with us, you'll quickly understand what all the fuss is about. You can find out more information on Solarity Credit Union and the different types of loans that we can offer on our website. You'll also find reviews from our members, rundowns of what we offer and plenty of resources to help you on your homebuying journey.
What's your Solarity story?
We're on a mission to tell the stories of our members and how they are living their best lives. Do you have a Solarity story to share?