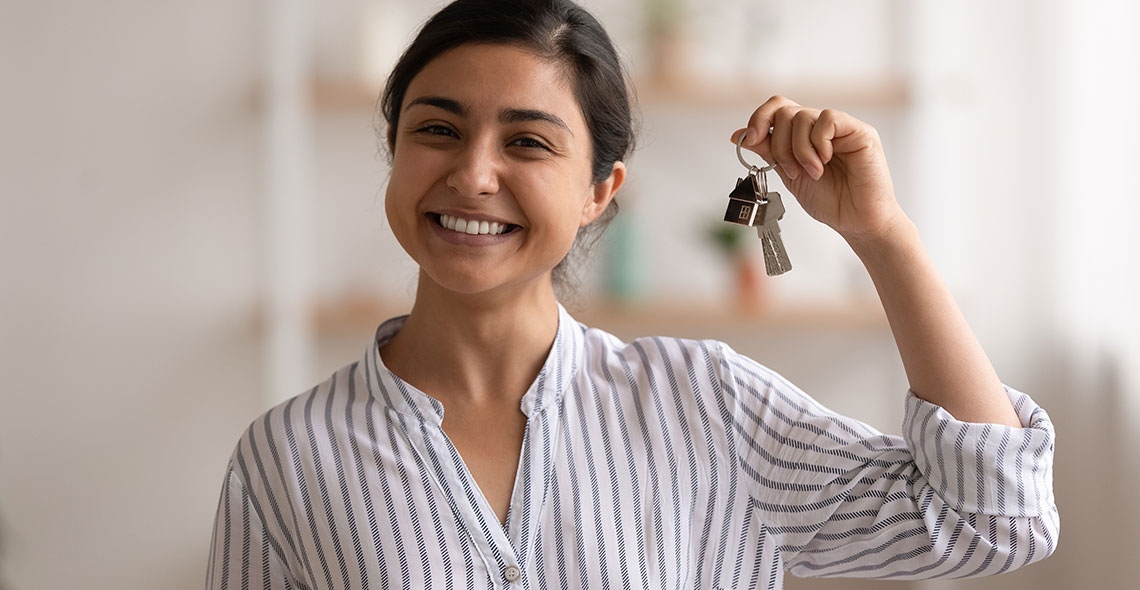 Buying a home is exciting! You found your new home and now it's time to make an offer. How much money should you put down? In a hot market, it's important to make an attractive offer and stand out in a bidding war.
There are several tactics, and it's important to understand how your down payment affects your offer. Does a higher down payment make your offer stronger? Let's explore the different options and how they can impact your offer.
What is a down payment?
Your down payment is different from closing costs. When buying a home, you pay a portion of the purchase price up front. How much you put down affects the type of mortgage for which you qualify. A larger down payment means lower fees and interest over the life of the loan, while the costs of a smaller down payment add up over time: you may pay more in fees and interest.
You can often secure better rates with a larger down payment, but you also need to understand how much you can afford. Paying too little for your down payment might cost more over time, while paying too much may drain your savings. A lender will look at your down payment and determine which mortgage is best. However, be proactive and calculate what you can afford.
Remember, there are other costs to consider: moving costs, monthly expenses and closing costs. Evaluate your income and savings and come up with an amount you are comfortable with.
Benefits of a larger down payment
Does a higher down payment make your offer stronger? In short, yes, you can get the attention of the seller with a higher down payment. In a hot market, there are a lot of buyers making offers, and higher offers don't guarantee you'll beat out the competition. However, demonstrating your ability to obtain a mortgage can be more attractive. You can communicate this to the seller with a larger down payment and by getting pre-qualified with a mortgage lender.
If your offer is lower, your down payment can still make you a better candidate. A higher down payment shows the seller you are motivated—you will cover the closing costs without asking the seller for assistance and are less likely to haggle.
You are a more competitive buyer because it shows the seller you are more reliable. A larger down payment means it's more likely you'll receive a mortgage since you are less risk to a lender. It also means you will own more of the value of your home, and a lower loan-to-value ratio (LTV) may help you qualify for lower interest rates and fewer fees. If you have at least 20% down, you'll also avoid private mortgage insurance (PMI).
Your higher down payment can reward you with additional benefits as well:
Lower monthly payments

Less interest paid over the life of the home loan

More equity in your house, which helps protect your investment

Pay off your mortgage faster—be debt-free sooner!

Secure a mortgage even if you have less-than-perfect credit

Lower closing costs—the lower your LTV, the less risk you are
Will a low-down or zero-down mortgage impact your offer?
What if you can't afford to make a larger down payment? Are there other options available? Can you remain competitive with a low-down or zero-down loan program?
In the current housing market, you no longer need 20% down to purchase a home. With rising prices, many homeowners don't have enough saved. The industry has shifted, and homebuyers can still be competitive with a low-down or zero-down mortgage.
Most first-time homebuyers put down 7% or less. If you are a first-time buyer or cannot afford a larger down payment, mortgages offering lower down payments come in various shapes and sizes, from government-backed loans to zero-down options offered by credit unions.
Should I make a contingent offer?
Some buyers may choose to make a contingent offer. With a contingent offer, you agree to buy a home only if your current home sells. Buyers choose this route if they are unable to make a larger down payment or hold two mortgages at once. However, these offers are less attractive to a seller and may result in a bidding war or in the seller choosing a non-contingent offer.
In a hot market, a seller tends to prefer offers that aren't contingent. They avoid the constraints of deadlines and don't have to wait for you to sell your current home. Additionally, even if your contingent offer is accepted, a seller can still consider better offers, which means you could lose out.
A low-down-payment or no-down-payment mortgage is a great alternative to a contingency, as it will be a more attractive offer and put you in a better position to secure the home you want. Some lenders also offer bridge loans, which let you use the equity in your current home as a down payment on your next home. This is another strategy that can help you avoid a contingent offer, giving you a stronger position as you negotiate.
Choosing the right lender for your mortgage
Mortgage lenders, such as Solarity Credit Union, offer a variety of home loans, including bridge loans and those with no down payments. Take advantage of loan programs enabling you to buy without a large down payment to help you compete in a hot real estate market.
With so many options available, homeownership may be closer than you think. At Solarity Credit Union, we're helping put homeownership within reach for more buyers with our no-down-payment,low-down-payment and bridge loan programs. Our Home Loan Guides are here to answer any questions you may have. Contact us today, and we will connect you with someone who can guide you through the process.
While a high down payment can help your offer, you don't necessarily need to have 20% down in order to qualify for a home loan or secure a new home. When you partner with a credit union, competitive interest rates can make your dollars go further. Talk with a home loan expert; you may be able to afford a home of your own.
What's your Solarity story?
We're on a mission to tell the stories of our members and how they are living their best lives. Do you have a Solarity story to share?