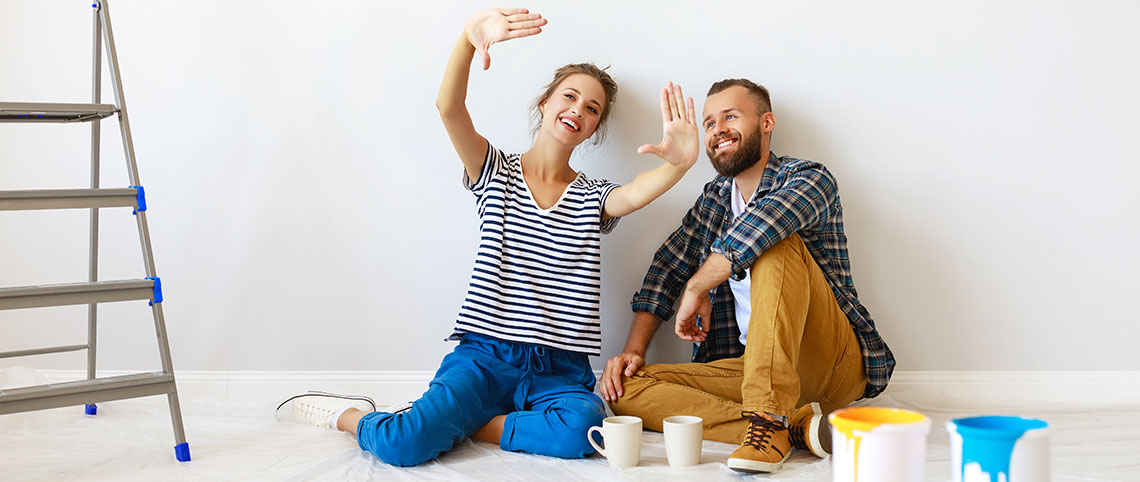 Choosing to update your home is an exciting decision full of possibilities. In some cases, an update might mean it's time to move on to a brand-new place. But what if you'd rather stay in your current home and remodel? Thankfully, there's a great way to get the funds to do so. Home remodeling is one of the top reasons people choose a cash-out refinance. Read on below to find out more information about whether it's the right time to refinance your mortgage.
How much would it cost to sell?
While the exact price will obviously vary, it's good to have a general idea. This can help you choose between buying new or remodeling via a cash-out refinance.
One of the costs you have to consider when debating buying new and moving include how much you will need to pay to sell your current home. This will include hiring a real estate agent and paying their commission, which is typically 5% of the price the house sells for.
Plus, in order to get your house ready to sell, you'll have to pay for repairs and home preparation. The cost of repairs depends on how severe the issues are. Many can get their houses ready to sell with only some minor repairs. But if you need a major repair, such as roof replacement, it's going to cost you.
You will likely have to pay for title insurance as well. This averages around $1,000, but it could vary depending on where you live.
How much would it cost to buy new and move?
In addition to the costs of selling, you'll need to consider the costs of buying a new house. This includes closing costs, which generally range from 3% to 6% of your new mortgage. Plus, you may have to pay for remodeling, new furniture and décor or possibly new household appliances in the new home, for instance.
There are also moving costs. In addition to being a hassle, moving from one house to another can also be pricey. Of course, the range of these costs depends on how far from your current home you are moving. If you're moving somewhere close by, the costs could be as low as $80 to $100. But if you're moving across the country, the costs could be up in the thousands of dollars.
Think about the future too. Depending on where you're moving to, you may have to pay higher property taxes, HOA fees and utility bills than you do in your current home.
Do your homework to ensure you're making the best decision possible for your situation and lifestyle.
What are the pros and cons of buying new and moving?
Pros
If you're unhappy in your current area, moving to a new place could be exactly what the doctor ordered. You can upgrade and find a larger home with the space, layout and features you used to only dream about.
Cons
Moving into a new home will be a major adjustment. You might find that you miss your old home and the memories you made there. You'll also have to deal with the costs and stresses of the moving process.
For more help deciding if buying new is for you, check out some of Solarity's online resources or speak with a Home Loan Guide.
How much would it cost to remodel?
Exact prices for home remodels and improvements vary, but the range is usually anywhere from $19,800 to $73,200.
The price also varies depending on the area of your home you wish to remodel. Building a home addition is usually the priciest project. Remodeling a kitchen or bathroom, which are both very common projects, can range from $5,000 to $50,000.
As part of your remodeling project, you'll have to pay for permits and architectural planning. You'll also be paying for both the labor required and the materials used.
How do you use a cash-out refinance to pay for a home remodel?
Most homeowners don't have the cash on hand to cover larger remodeling costs, but that doesn't mean it isn't an option. You can access your home equity through a cash-out refinance to pay for home improvements. This isn't an option you can put toward buying new, but it's a great source of cash for a home remodel project.
A cash-out refinance works like any refinance: you replace your original home loan with a new home loan with new terms. But in the case of a cash-out refinance, you also borrow against some of the equity you've built up, and the new mortgage is larger than the balance of the original. That additional amount is paid directly to you in cash at closing. It can then be used for any number of purposes, including remodeling your home.
What are the pros and cons of a cash-out refinance and remodel?
Pros
When you remodel, you don't have to deal with the stress moving can bring. Instead, you can enjoy a spruced-up place right inside the home with which you're already comfortable and familiar. You don't have to leave behind memories your home has already given you and your family.
Home improvements also have the potential to increase the value of your home. That means when you're ready to sell the house in the future, your profit could be substantial. A cash-out refinance could be a great investment.
Cons
You'll more than likely have to live in your home at the same time that the remodeling work is being done. This can be a serious nuisance. But remember, it's only temporary, and the results will be worth it.
When is the right time to refinance a mortgage?
The exact right time to refinance a mortgage will depend on each homeowner and their unique circumstances, wants, needs and personal finances. The amount of equity built up in a home also matters, as this affects the amount available for cashing out. That number increases over the years you live there and make payments against your mortgage. The right time for a cash-out refinance also depends on the current housing market and interest rates.
If you have questions about whether this is the right time to refinance your mortgage, turn to our experts here at Solarity. We provide incredible advice and support for all types of home loans, including
refinancing
. And if you decide you'd rather
buy a new home
, we can help with that too!
What's your Solarity story?
We're on a mission to tell the stories of our members and how they are living their best lives. Do you have a Solarity story to share?