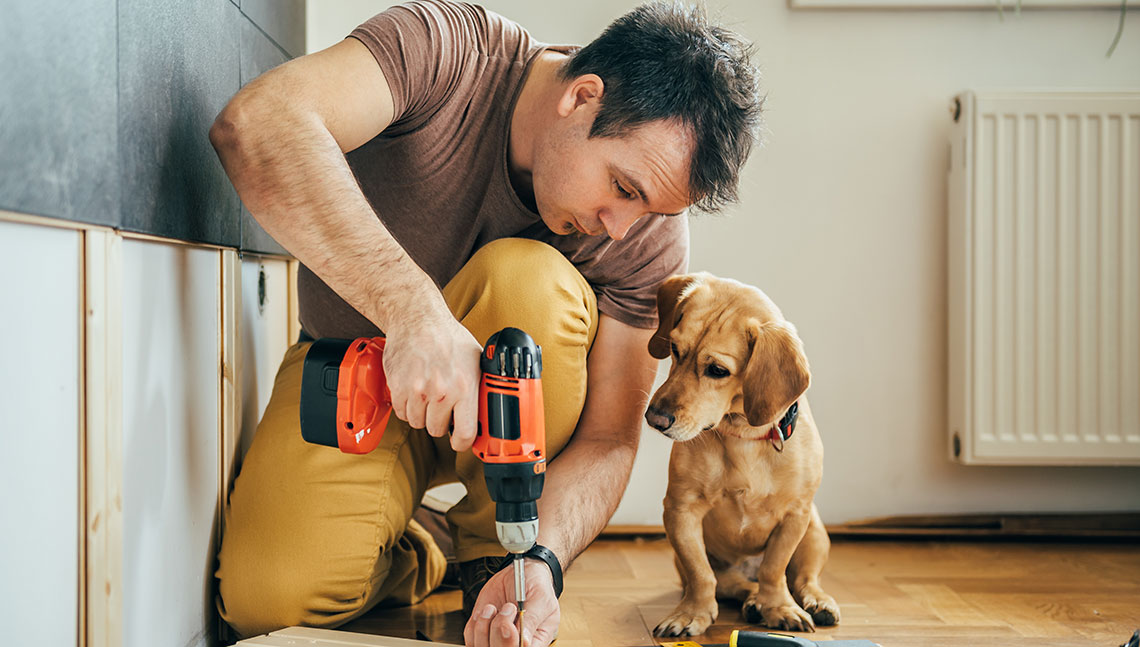 If you're like most homeowners in America, then there's one thing you absolutely want to happen: your home to increase in value. A home is your biggest investment. Just like your stock portfolio or your collection of Beanie Babies, you want your home's value to appreciate. (We may have sad news about the Beanie Babies, though.) While most homes will naturally increase in value over time as communities develop, there's a much faster way to help your home's value to grow: home improvements.
After all, which home do you think will have a higher value, one with a 20-year-old roof that's starting to leak in places or one with a brand-new roof that's impenetrable? Improving your home is a surefire way to boost its value, but doing the sort of improvements that can add real value cost real money. (Changing the lightbulbs in the bathroom is a good idea, but it might not see the sort of ROI on your investment that you're hoping for.)
However, there's one great way to help get the sort of cash liquidity you need: a cash-out mortgage refinance. This article will look at what a cash-out refinance is and what sort of home improvements will add the most value to your Washington house. So come with us and learn how you can use a cash-out refinance for home improvements.
What is refinancing?
In short, refinancing your mortgage means taking out a new mortgage loan with different terms and using the new loan to instantly pay off the previous loan, effectively replacing your first mortgage with the second. With a traditional refinance, the amount of the new mortgage loan is usually equal to the remaining amount on the mortgage, and the purpose is to adjust your home loan to better fit your current situation. In fact, the two of the most common reasons to refinance your mortgage are:
To replace it with a shorter-term mortgage with higher monthly payments. If you get a job with a better salary and can afford higher payments, for example, this will help you pay off your mortgage sooner and, thanks to how compound interest works, will save you money in the long run.

To replace your mortgage with a longer-term mortgage with lower monthly payments. If, on the other hand, you suddenly find yourself with unexpected expenses (say, having twins instead of a single child), you can do the opposite. This mortgage will take longer to pay off—and will cost you more over time—but on a month-to-month basis, it'll leave more money in your pocket.
In both cases, you'd take out a new mortgage that (more or less) is equal to your remaining balance. But there's a third common method of refinancing your mortgage, and it's what we're going to talk about.
What is a cash-out mortgage refinance?
Let's say you have about $300,000 remaining on your mortgage. If you take out a new mortgage for $300,000, nothing really changes. But what if you take out a new mortgage for $400,000 instead—letting you pay off your first mortgage entirely and then some? The lending institution will give you the remaining amount—in this case, $100,000—in cash.
This is called a cash-out refinance because it lets you take cash out, borrowing against the value of your home. And it's a great way to get liquidity fast for something like home improvements.
It's true that it doesn't come without some level of risk. Since your mortgage has gone up, so will your monthly payments, and you may be paying off your mortgage for longer. So, to ensure that your new mortgage is worth it, you'll want to make sure to make improvements guaranteed to raise your home's value by the biggest margin. But what home improvements should you use your cash-out refinance to make?
Which home improvements add the biggest value for your cash-out refinance?
You'll definitely want to get the biggest bang for your buck, but how can you do that? Here are some handy ways to improve your home's value as much as possible.
1. If it's broken, fix it
Let's start with the obvious: if there's something broken in your home, such as a leaky roof, damaged flooring, or mold growth, it should be your first priority. The health of your home strongly impacts its value. These renovations and repairs aren't "sexy," but they're necessary.
2. A new coat of paint
A fresh coat of paint can do wonders in livening up both the interior and exterior of your home, making it more appealing to appraisers and buyers. What's more, if you're able to paint your home yourself—at least the interior—this can be one of the most cost-effective renovations a cash-out refinance can buy. If you have to hire painters because you can't do it yourself, it will be less cost-effective but still a great way to boost the value of your home.
3. Get cookin'
The kitchen is one of the most important rooms in the home, and a good kitchen can make a home sale as easily as a bad kitchen can break it. Modernizing your kitchen's look and functionality will be very effective in attracting homebuyers.
4. Wash up
After the kitchen, many home shoppers rate the bathroom as one of the most important rooms in a house. Nobody wants to be doing their business in an ugly, cramped bathroom. Improving the comfort, look and feel of your bath and shower are home improvements where your cash-out refinance can really matter.
5. The little things
Let's be honest: when was the last time you were home shopping, looked at a garage door and went, "Oh yeah, that's it, that's the house for me. What a great garage door"? We're betting it's just shy of, oh, never. And yet, according to Zillow, a new garage door has the highest ROI of any improvement made to your home. Who would have guessed?
While they may not be the first improvements to come to mind, small upgrades such as new windows (great for improving heat retention and energy efficiency), landscape work or new siding carry great benefit in improving the value of your home in the long run.
If you want to know how you can do a cash-out refinance for home improvements with your Washington home, don't wait.
Contact the experts at Solarity Credit Union
to find out how we can help make your home-sweet-home even sweeter.
What's your Solarity story?
We're on a mission to tell the stories of our members and how they are living their best lives. Do you have a Solarity story to share?