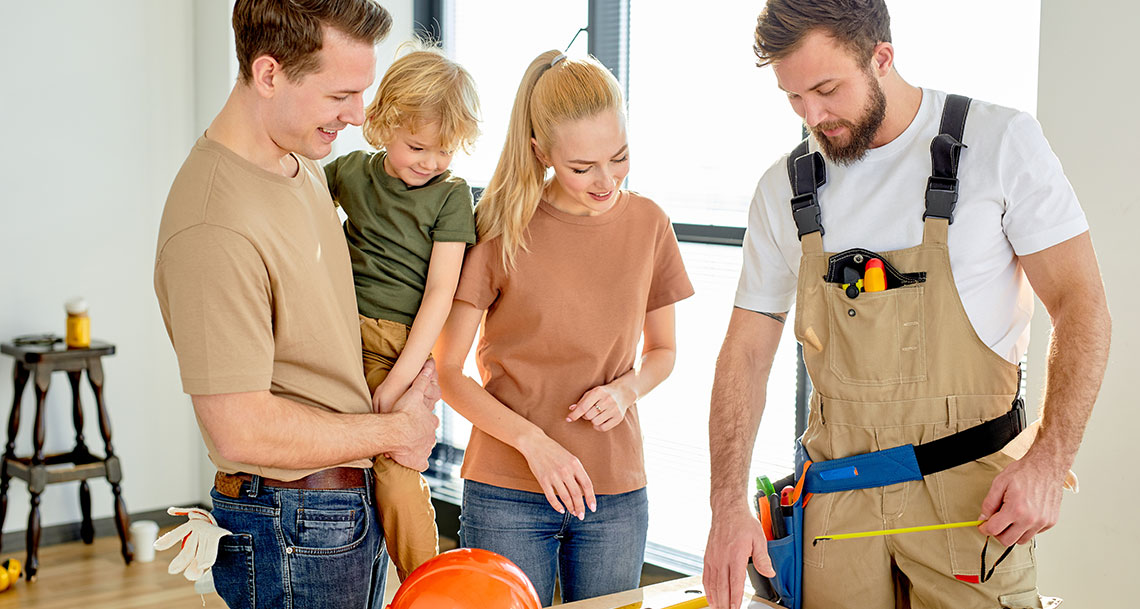 At some point in their lives, most people start dreaming of buying a home—who doesn't want a place to call their own? The needs and requirements of homeowners change over time too. Even if you bought your forever home and love it, trends evolve, needs change and you may want to upgrade or restyle parts of your home. Or, if your family is growing, you might need to rethink bedrooms, bathrooms or other areas.
You may want to add value to your house by making it even more attractive. Perhaps you can picture exactly what you want in your mind—a home makeover can be really exciting! However, when it comes to financing your ideal renovations, it can feel like there's a big gap between vision and reality.
We assure you, it doesn't have to be that way—you can refinance to remodel. A cash-out refinance on your home loan can be a quick and simple way to get the cash to pay for your project. Solarity Credit Union can help make that happen. We take the time to understand all your financial needs so you can start planning your renovation.
How a cash-out refinance works
A cash-out refinance is a way of refinancing your mortgage that allows you to convert home equity into cash. Simply put, home equity is the current market value of your home minus any loan balances. With a cash-out refinance, you take out a new mortgage, for a greater amount than the balance of the previous one—you then receive a cash payment for the difference.
What this means, in short, is that you can get cash now for the value that has already built up in your house. No need to save for years; you can start on your home upgrades right away.
So, what changes would you like to make in the coming weeks and months? Here are five home upgrades you can do right now when you refinance to remodel. They will also add value to your property.
1. Kitchen makeover
Kitchens go in and out of fashion fast. They get used a lot too, so they don't look showroom-new forever. And when your growing family includes more mouths to feed or growing bodies to nourish, you may need more storage space and a bigger refrigerator.
Remodeling Magazine publishes an annual Cost vs. Value report, with estimates for how much you can hope to recoup on your remodeling investments. When you update your kitchen, your potential ROI is 53% to 71%. That's a great value.
Prospective buyers look for kitchens that are functional and attractive. Think soft-close drawers and cabinet doors and elegant, energy-saving light fixtures. Faucets, countertops and appliances are also important elements of your remodeled kitchen and add value to its usability as well.
2. Bathrooms
Bathrooms, too, are spaces in your house that take a lot of abuse and can start to look dated and worn. Aim for clean, bright and uncluttered. Lighting is important here, so new fixtures are worth it. Updated flooring, new plumbing fixtures (sinks, toilet and tub) and a new coat of paint all make a huge difference. And don't forget the ceiling. That's what you see when you relax in your new bathtub.
It's also an opportunity to repair any problems. Traces of dampness or damage on cabinet doors or walls can be remedied, and even if you don't replace the shower or flooring, it's a good idea to regrout.
3. Adding a deck
A wooden deck looks great and is a definite aesthetic bonus for your home. It's also relatively cheap to build per square foot while adding extra outdoor living space and the resulting value. In an area like Washington State, where wood decks are highly valued, you may recoup more than 100% of the cost.
If you already have a deck, remember, the outside of a house is the first thing people see. An update wouldn't be remiss. Replace worn or broken boards, and refinish them with a clear sealer or stain that lets the beautiful, natural wood grain show through. A deck is also valued as an extra—and excellent—space to entertain guests.
4. Curb appeal
While we're on the topic of the outside of your house, there are a few, simple changes you can make to greatly improve the curb appeal of your home. Start with your yard. If you struggle to keep your lawn in shape, artificial turf can be a durable option for perfect grass all year. Prune trees and shrubs and add a little mulch around them for that well-tended look. Add pops of color with a tidy flower bed by the front door or geraniums on the deck to impress your visitors.
Look at your home's exterior with fresh eyes and note items that need to be repaired or replaced. With a new garage door, you'll recoup 93.3% of your investment, according to Remodeling's report. Make sure the driveway leading up to your garage looks good too—otherwise, it may spoil the effect. And don't overlook your front door. You might be surprised at how a new door can change the look of your home for the better.
5. Improve your home's energy ratings
A home that uses energy efficiently, keeps out drafts and is well insulated can have a big impact on livability and comfort.. And it might also save you money each month on energy bills.
Houses can lose a lot of heat through the attic and roof, as well as around doors and windows. Make sure your roof is properly insulated and that there are no big gaps in door frames. Upgrading your windows is certainly an investment, but replacing them will boost your home's energy ratings and has long-term benefits. Energy Star–rated windows will optimize the way your HVAC system performs and will significantly reduce your consumption of electricity, oil or gas.
If you refinance to remodel your home, you'll be able to make your living space more comfortable and your house more appealing to potential buyers down the road. If you've been wanting to remodel your home but were worried about the expense, a cash-out refinance could help make it all possible. With our flexible terms and competitive rates, at Solarity, we make refinancing simpler. Start by speaking with a
Home Loan Guide
or filling out a
refinancing application online
today.
What's your Solarity story?
We're on a mission to tell the stories of our members and how they are living their best lives. Do you have a Solarity story to share?