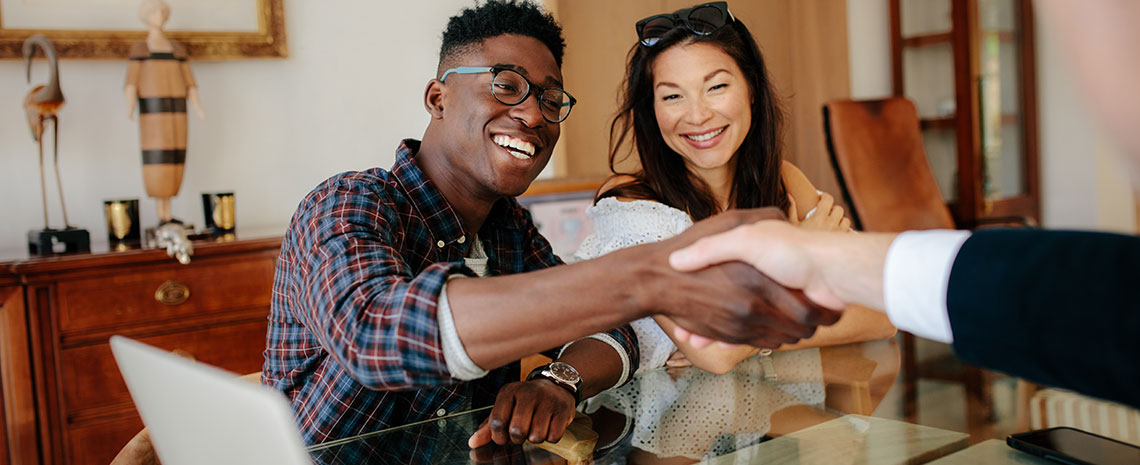 Ready to buy a new home but not sure how to go about getting a home loan? At Solarity Credit Union, we know it's important to have as much information as possible before making major financial decisions. So, if you've ever felt lost trying to figure out home loans, you're in luck. As the experts, we're happy to help. Here's how you can qualify for home loans in Washington State.
What are the general requirements to qualify for home loans in Washington State?
Before you apply for Washington State home loans, you need to gather the necessary information and documents. Once you have all of this ready, you can apply for a home loan and submit the info to a lender. The lender will then verify what you've provided and, if necessary, ask for additional information/documentation.
Here's what you'll need to start:
Identification. You'll need to be able to prove your identity, so have those types of documents ready. These can include your driver's license, passport, Social Security number or other official forms of photo ID.

Housing history. Your rental or homeownership history is also required. You'll need your current address and the addresses of anywhere else you've lived in the past two years.

How you plan to use the purchased property. You will also need to let a potential lender know what type of property you intend to use the loan for. That means specifying whether this is intended to be your primary residence, a vacation home, a rental or something different.
You'll also need to provide certain personal financial information, including proof of income, bank statements, the prior years' tax returns, existing loan details and more. A lender will let you know exactly what's required and may even provide a checklist. Let's take a closer look at these requirements.
Financial information
When you're looking to get a Washington State home loan, you'll need two months of current financial statements ready. Be prepared to disclose debts and assets as well and if you've ever filed for bankruptcy. Assets include retirement accounts, IRAs, checking/savings accounts, stocks, bonds and similar accounts.
If you make monthly debt payments, list the balances, payment amounts and the names of the lenders. While this information will be available in your credit report, it's helpful for your lender to have this up front in order to talk you through the numbers of what you may be able to afford.
Proof of income
You'll need proof of income for the past 30 days. Usually, this means your two most recent pay stubs. It's important to show the lender that you regularly have money coming in and will continue to, allowing you to make monthly repayments toward the loan.
You'll also need to show proof of income for the past two years. Employment and income history can be shown by providing the past two years of W-2s. If you're self-employed, provide the past two years of tax returns as well as corresponding schedules. Proof of income also includes overtime, commission and funds from second jobs or side hustles.
But employment isn't the only proof of income to provide. Let your lender know if you receive any of these:
Alimony and/or child support

Military benefits

Investments

Social Security
Debt-to-income ratio (also known as DTI)
Your proof of income and list of debts will help the lender determine your debt-to-income ratio (DTI). That is, the percentage of your debt compared to your income. DTI is another way to let a lender know you can reliably make monthly payments. It also gives them an idea of what percentage of your income goes to certain charges and therefore what will be available to go toward loan payments.
How do you calculate your DTI ratio? Add up all of your regular, fixed monthly expenses, divide that by your pre-tax income and multiply the number by 100.
Lower DTI numbers are better. Every lender has different requirements, but for most, to qualify for a Washington State home loan, your DTI ratio should be 45% or less.
Credit score
As part of the process, your lender will run your credit score. Credit scores are an indicator of financial standing and creditworthiness. A higher score shows you are a reliable borrower who is responsible with money and therefore are more likely to pay it back. A low score can demonstrate financial inconsistency and habits of overspending and not reliably making payments on time.
Generally, you should have a credit score of 630 or more. But if yours is a little lower, you may still qualify for a home loan. Look at government-backed loans and talk to lenders to explore your options.
You can also improve your credit score. If you don't need a home loan immediately, taking the time to improve your score before you apply for a loan can make a big difference.
What can I do to improve my credit score or lower my DTI ratio?
There are a number of steps you can take to improve your credit and increase your credit score. These include:
Make your payments on time and in full

Save more and spend less

Keep your credit card balances low

Pay off as much debt as you can
These steps, especially paying off debts, should help to lower your DTI, as well. To further improve that ratio, you can also try to increase your income. This could mean asking for a raise, working overtime or starting a second job.
How getting pre-approval for home loans in Washington State makes things easier
Before trying to qualify for a home loan, present all the information above to get pre-approval from your lender. This will benefit you in two ways. First, it will give you an idea of how much house you can afford with your current finances. This will allow you to shop for houses in your price range. Being pre-approved also shows sellers and real estate agents you're a serious and qualified buyer., Apre-approval can be the difference between your offer getting accepted on a house or not.
Solarity Credit Union's Home Loan Guides for Washington State
At Solarity, we believe in making homeownership more accessible for more people. This includes our efforts to make the whole process easier to understand. Solarity's Home Loan Guides are here for you every step of the way. When you speak to one of our Guides, they will go over your finances and goals, which will give you a better idea of how the process works, what your monthly payments could be and more. Get in touch with us today, and we'll connect you with the perfect expert.
You can find more information about Solarity and the types of home loans in Washington State we have available by
exploring our website
. Once you've followed the steps outlined above, you can easily apply online for pre-approval for a home loan and get started on your homebuying journey.
What's your Solarity story?
We're on a mission to tell the stories of our members and how they are living their best lives. Do you have a Solarity story to share?