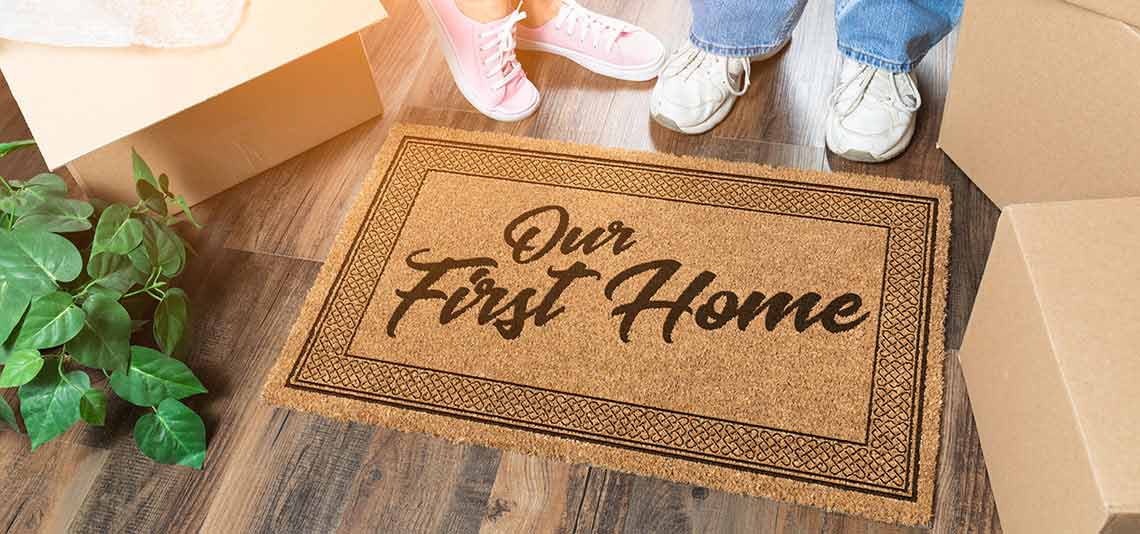 Buying your first home is a big step, and you might be wondering whether or not you're ready. Well, don't wonder any longer. Solarity Credit Union has your back. If you are a first-time homebuyer in WA, here are a few things you should consider to determine your readiness.
1. Renting vs. buying
There are pros and cons to buying a home vs. renting a home or apartment. Presumably, if you're already renting, you know that you can fit at least that monthly cost into your budget. If you're renting, you also have the flexibility of moving somewhere else when your lease is up, rather than being tied down to one particular property. When you're renting, you also have a landlord or technicians to make repairs and perform maintenance for you. As a homeowner, you get to handle those things for yourself, and you can't as easily leave a house if you decide you want to live somewhere else.
Homeowners may have financial responsibilities in the form of property taxes and insurance, but they also build up equity in their homes. This can help you generate wealth over time. Homeowners also gain intangible benefits, such as pride of ownership and a sense of stability.
You may not be able to make any changes to personalize your rental, such as painting walls or making modifications to fit your aesthetic and lifestyle. As a homeowner, you can replace windows, add fireplaces and knock out walls if it suits you. If you've considered the pros and cons of how renting vs. buying fits into your life, and if buying comes out on top, continue on.
2. What do you have now?
If you're ready to move on in the process, it's important to first take stock of what you have right now. This includes your savings, debts, credit score and how stable your income is. For instance, if you're considering changing jobs, or if your hours vary from week to week, it might be good to wait until you have more consistency in your paycheck or until you have a little more saved up. That regular income is important, whether you're renting or buying, but the ramifications of not paying your mortgage on time can be severe.
Your credit score can also be a huge factor in the interest rate you get on your loan. Just a 0.25% difference, for example, can add up, especially if you apply for a fixed-rate loan and consider the amount of interest you'll pay over the life of the loan. Your credit score reflects your history of paying your bills on time. If you have a high credit score, that demonstrates to banks and credit unions that you're more creditworthy, so you'll likely receive a better interest rate. A credit score of 740 or higher is considered excellent credit, and a score between 700 and 739 is considered good credit.
A low debt-to-income ratio is also an important factor and means that there's less risk for your lender. If you don't have to spend money paying down your debts and paying on your mortgage, a lender will feel more confident about giving you either a larger loan or a better interest rate. So pay down those other debts as much as you can first.
It also doesn't hurt to check whether you qualify for any programs that help with home buying (especially first-time home buying), such as no-down-payment programs, VA loans, Federal Housing Administration (FHA) loans or USDA-backed loans. Solarity's Home Loan Guides can walk you through the options and help you decide which is right for your situation.
3. How much house can you afford?
Here's where you figure out your budget. There are many organizations that provide calculators for this purpose (including Solarity), so feel free to play around with the numbers based on your credit score, the size of your down payment and the term of your loan.
You also want to be aware of your lifestyle and cost-of-living expenses, such as groceries, entertainment, gym memberships and dining out. If you feel most comfortable in an urban setting where everything costs a bit more, you might not want to pick a house 20 miles outside of town.
Transportation should also be factored in. If you plan to live in an area where you can walk everywhere, you won't have to spend as much money on gas, parking fees and general wear and tear on your vehicle.
4. Where do you want to live?
Of course, if you like the area where you live, it's a great idea to walk your neighborhood and see what houses might be for sale. But you may want to choose a neighborhood that will shorten your daily commute or allow you to walk or ride a bike to work. If you have children or are planning to start a family, look at the schools in any areas you're considering. Nearby amenities should also be considered. Do you have medical needs that require regular visits to the doctor? Are there grocery stores nearby? Is there a dog park so you can take Fido on his daily walks?
You're the architect of your life, so you can decide what areas to focus on. Make sure to take into account your goals, your lifestyle and what you want your community to look like. If you've found a neighborhood you like, walk around and talk with the neighbors. Ask if there are any homeowner's association fees or perks to living in the neighborhood; ask about drawbacks as well.
5. Starting the process with Solarity
With Solarity, being a first-time home buyer in WA is a breeze. We offer low-down-payment and no-down-payment options to help buyers get into their own homes sooner and a fully online process, from application to closing. Plus, you won't have to go through the journey alone. One of our Home Loan Guides will work with you throughout the entire process. This is just one of the ways we make securing a mortgage as straightforward as possible.
Getting pre-qualified is a great place to begin, as it shows you're a serious buyer and can give you an edge in this competitive market. To start, you'll need your current address, driver's license, Social Security number, two months of bank statements, employment history for the past two years, 30 days of pay stubs, the last two years' tax returns and a list of your current debts, if any. Once you have your pre-qualification letter, you get to start the fun part—shopping! And when you've found a home you love, you only have to make an offer and then close on your new home.
If you'd like to learn more about your options as a first-time homebuyer,
contact us
or
apply online
. Our expert Home Loan Guides would love to answer your questions or help you get started on your journey to homeownership.
What's your Solarity story?
We're on a mission to tell the stories of our members and how they are living their best lives. Do you have a Solarity story to share?