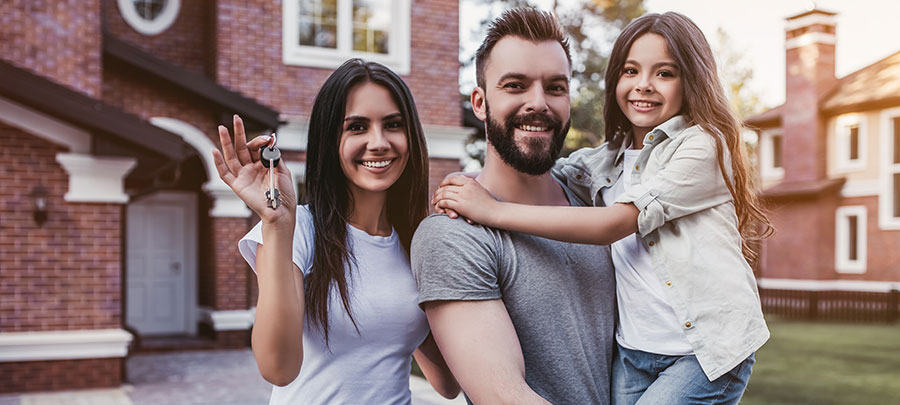 Shopping for a new home is exciting! Shopping for a home loan might seem a little less so. There are so many lenders that advertise that their home loan rates are the best and their fees are the lowest, so how do you know which loan will be best for you? Especially if this is your first time searching for a home loan, you may be wondering where to start your mortgage shopping journey to find the best home loans in Washington State.
Most homebuyers start shopping for home loans online. This is a great way to get a broad look at all the different options out there and to start comparing the numbers. But how do you distill all this information down so you can find a home loan with great interest rates and low fees? Our home loan experts at Solarity Credit Union list below five pro tips for finding the best home loans in Washington State.
1. Decide what type of mortgage loan is best for you
There are many different types of home loans available, and before you start shopping around for a great interest rate and low fees, you should consider which home loan type best fits your needs. Do you want to pay off your home loan fast with as little interest as possible? Maybe you want a lower monthly mortgage payment and would rather pay a little more interest over a longer period of time. By asking yourself these questions early on, you'll be more prepared to pick a better home loan that matches your financial situation.
Consider whether you're seeking a conventional mortgage or a low- or no-down-payment option. While you might not be eligible for a government-backed zero-down loan, lenders such as Solarity Credit Union often make these types of loans available to all qualified borrowers.
You should also consider how long you will need to pay your loan off. Loans with longer terms will have lower monthly payments over a longer period of time. This can be a great option for borrowers who can only afford lower payments, but it will add to the amount of interest paid over time.
Also, consider if you prefer a fixed- or variable-rate mortgage. Having a variable rate typically means there will be lower interest for the first few years, but these mortgage types will have varying interest rates throughout the life of the loan, based on the current housing market. Fixed-rate mortgages tend to be a safer bet, as your interest rate will remain the same for the whole term of the loan.
Deciding on the loan type early on will make it easier to choose a home loan when you are ready to start the process.
2. Shop mortgage rates with multiple lenders
Once you have decided on what loan type best suits your homebuying needs, the next step is to shop around for mortgage rates. You can start this search online, but be aware that your actual interest rates and fees can be vastly different than what you see advertised by lenders online. Interest rates are based on the credit scores of the borrowers, and the advertised interest rates are typically the best-case scenario for those borrowers who have perfect credit and zero debt.
To narrow it down, consider asking friends and family which lenders gave them a positive experience. If you are currently working with a real estate agent, often, they will have great suggestions for reliable lenders in the local area to get quotes from. Using your personal network can be a great way to find leads on lenders that not only offer great rates but personalized customer service, which can provide you with peace of mind during the loan approval process.
Once you have picked a few lenders with rates that seem decent, reach out to each lender for actual quotes based on your financial situation. At Solarity, an expert Home Loan Guide can provide you with a personalized quote. Make sure to get several quotes from various lenders before making a final decision.
3. Check your credit score
One of the main factors in being approved for a mortgage loan is your credit score. It's a good idea to be proactive in this area and request a credit report before starting the home loan application process. That way you can review what's on the report and dispute any misreported negative activity. You can get one free credit report each year at annualcreditreport.com.
Your credit report is what is used to rate your FICO credit score, which is then used to determine your creditworthiness when borrowing for a mortgage loan. This can affect the interest rate you receive or even whether you receive a loan at all.
Taking time to fix any mistakes on your report and strengthen your credit score before applying can go a long way in helping you obtain the best home loan in Washington State. Making on-time payments and having a low amount of debt are two of the major contributing factors in a healthy credit score.
4. Get pre-qualified for a mortgage
Being pre-qualified for a mortgage loan helps when house shopping, as it shows homeowners and real estate agents that you are creditworthy and able to close on the house quickly. This can be especially helpful when more than one buyer is interested in purchasing the home you want, as it gives you the competitive edge.
5. Consider your local credit union
Be sure to consider your local credit union as a potential mortgage lender, especially if you have built a relationship over time. Credit unions like Solarity Credit Union offer favorable interest rates and personalized customer service that is unmatched anywhere else. At Solarity, our Home Loan Guides, online applications, and eSigning Experience make the loan process quick and painless. For the best home loans in Washington State,
contact Solarity Credit Union today
.
What's your Solarity story?
We're on a mission to tell the stories of our members and how they are living their best lives. Do you have a Solarity story to share?