Purchasing a vehicle is exciting! Whether you did your research for months before buying or simply walked onto a lot and found "the one," it's fun to be driving something new (or at least, "new" to you). After the test drive, negotiations and payment details have been handled, it might be tempting to think you're done. In fact, there are several more important steps that still need to be addressed.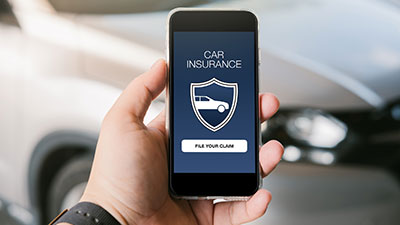 1. Insure it. If you have other insurance in place already, such as existing auto, homeowners or renters insurance, you can start with your current agent to get a quote on adding your new vehicle. Or now might be a good time to shop around to see if you can find a better deal. In fact, financial experts advise you to shop around at least once a year. Make sure you know how much insurance coverage you need. If you financed the vehicle, you'll be required to carry full coverage protection including liability, comprehensive and collision. A qualified insurance agent can help ensure you're getting the right coverage as required by your lender. Failure to get adequate coverage can be costly, as it can put your loan in jeopardy or your lender could add force-placed insurance, which is significantly more expensive than insurance you purchase on your own. If you financed your vehicle through Solarity, you'll need to upload your proof of insurance to State National Insurance Company. No one plans to get into an accident, but if it happens, you'll certainly be glad you spent time looking for the right coverage to protect your investment.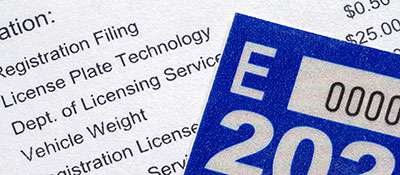 2. Register it and transfer the title. The Washington State Department of Licensing (DOL) requires all residents to title and register their vehicles. When you purchase from a dealer in Washington, they typically handle this paperwork for you and issue you a temporary registration and tags until the official ones arrive a few weeks later. However, if you purchase from a private owner or an out-of-state dealer, you may need to take care of this yourself, and you only have a short window of time – 15 days – before you risk a fine.
3. Figure out the maintenance schedule. While it may seem a bit tedious, peruse your owner's manual and scan it for important information about your vehicle. You don't need to read it cover to cover, but be sure to take note of features you didn't know about and other details, such as how often you should be changing the oil. The owner's manual should also include a maintenance schedule with recommendations about how often you should have vital systems repaired or replaced. If you bought a used car, check your odometer to see if there are any service milestones coming up. And if you have a new car, it's a good idea to stay on top of required maintenance so you don't void the warranty.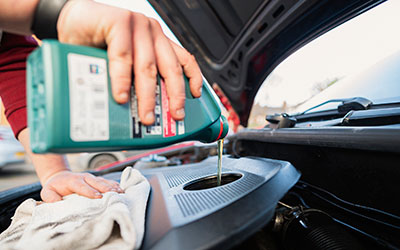 4. Get familiar with your car's features. Here are a few things to check out before you make any extended excursions:
Location of your gas tank and what type of fuel you should be using
How to open the hood and where to put important additives such as oil and wiper fluid
Location of the headlights and any special features such as auto-on or daytime run lights
How to adjust the speed of your windshield wipers and manage the cruise control settings
How to change the climate control settings and features like heated or cooled seats (this goes for backseat passengers, too)
How to set and disarm the alarm system and any additional attributes, such as an interior motion sensor
Location of the spare tire and jack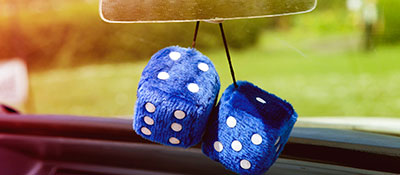 5. Personalize it. Now it's time to make it your own! Save your seat and mirror preferences (if your car has memory settings for each driver) and input your favorite radio stations. Connect your phone and make sure you have a charger on board. Stock up on personal and emergency items such as an umbrella, jumper cables, first aid kit, flares, flashlight, reusable shopping bags, bottled water and non-perishable snacks. Don't forget gum, mints and fuzzy dice for the mirror (hey, we don't judge!).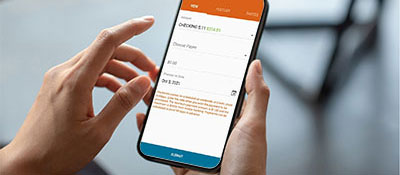 6. Schedule your loan payments. You'll likely find out fairly quickly when your first auto loan payment is due. Put your future payments on autopilot by scheduling automatic payments. You can do this through your financial institution's online bill pay feature or through recurring automatic ACH transfers (also known as a PAT or pre-authorized transfer). This set-it-and-forget-it approach comes with a lot of benefits, including peace of mind that you'll never be late with a payment, which helps keep your credit score healthy and ensures you don't run into trouble with your lender.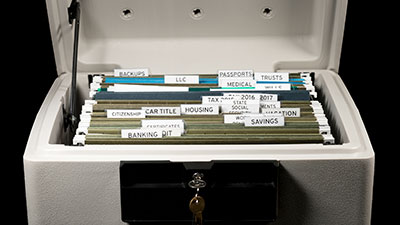 7. Save your paperwork. A vehicle is a big investment, so you'll want to keep all of your important documents together and someplace safe so you can find them easily. This includes insurance information, loan documents, registration information, warranty agreements, the bill of sale and your title (once your loan is paid in full). It's also a good idea to keep maintenance records when you have service or repair work done.

Find a place inside your car for your proof of insurance and registration. And consider a fireproof safe or other secure location for documents you keep at home. As a backup, you can also scan and save them to the cloud for extra security and peace of mind. You might not need these documents right away, but down the road, you'll be glad you know exactly where to locate them without having to tear the house apart in a frantic search.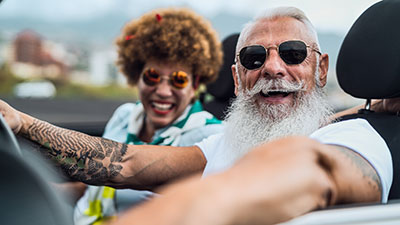 8. Give it a name. If you're someone who names your vehicles, you'll want to pick a doozy for this new addition to your life. Whether you use color as the basis for its moniker or think outside the box to pick something completely unexpected, make sure whatever you choose reflects both your and your car's personality. Find inspiration here or use this handy car name generator.
No matter where you are in your car-buying or financial journey, Solarity is your partner for the road ahead. When you're ready for your next vehicle, RV, boat or other motorized sport vehicle, get in touch with us for the financing you need to fuel your next adventure!
*All loans subject to approval.
What's your Solarity story?
We're on a mission to tell the stories of our members and how they are living their best lives. Do you have a Solarity story to share?