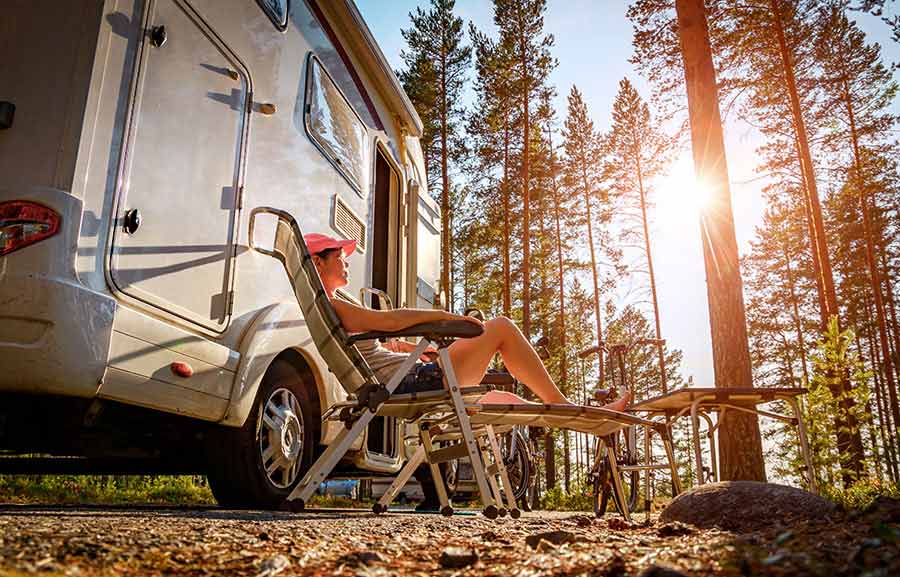 There's something magical about owning an RV, camper, boat or other seasonal toys (jet skis, anyone?). To help you get there and back again safely, we've put together a list of things to check before you hitch up and hit the road.
Test appliances and other luxuries
Depending on what you're hauling or driving, it's a good idea to double-check certain items while you're still at home. If some of your appliances work with both electricity and propane, test them both ways. These items include:
Air conditioner: does it blow cold air?
Furnace: will it keep you warm?
Water heater: does it light easily?
Stove and oven: do they both ignite?
Refrigerator: double-check that it is working and set it to gas before you hit the road.
Every faucet: ensure the water pump is working on both electricity and battery.
Toilet: give it a flush or two.
Awning and pull-outs: fully extend both. Add lubrication if necessary.
Lights: replace burned-out bulbs (and grab extra batteries for your flashlights).
Water storage: to sanitize the water tanks, use a chlorine-free system cleaner and follow the directions carefully. This can take 12 hours or longer, so start early.
If something isn't working, it's a good idea to check the gas line and connections or flip the breaker switch (a good old restart can often do the trick).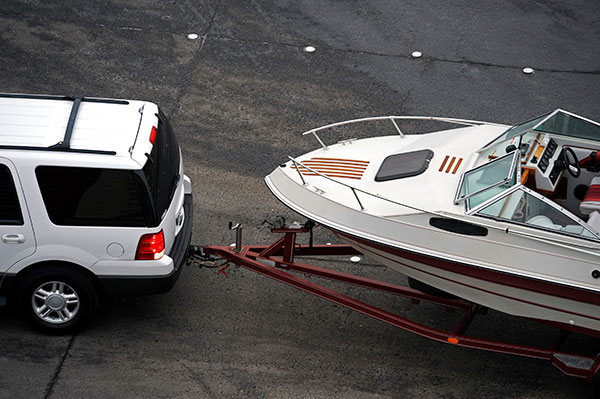 Safety features: check and then check again
Are all the indicators on your trailer working? These include turn signals, as well as backup and brake lights. If your battery hasn't been charged in a while, trickle-charge it overnight, which ensures the battery will last longer. Additionally, test your smoke and carbon monoxide detectors, check that the fire extinguisher is fully charged (even if it hasn't been used, it may need to be recharged) and pack a first-aid kit.
An emergency roadside safety kit should accompany every trailer, whether it's a camper, boat or set of jet skis. Your safety kit should include flares, a flashlight and a bright-orange or yellow safety vest in case you get a flat or have another roadside emergency.
Think highway safety
Hauling a trailer or driving an RV safely at highway speeds starts with a quick check of some vital components. Be sure to check the following (or have them professionally inspected) before heading out on your next adventure.
Tires: check the air pressure and tire tread on both your trailer and towing vehicle. If you need air, add it. Proper air pressure helps your RV or trailer handle more weight. To check your tire's tread, perform the penny test by placing a penny with Lincoln's head down into the tread. If you can see the top of Lincoln's head, you may need new tires.
Spare tire: Is your spare tire accessible and inflated? Also, make sure you have the proper lug wrench for your RV or trailer.
Brakes: have the brakes on your trailer and towing vehicle inspected by professionals.
Wheel bearings: one of the most important, yet often overlooked, parts of any trailer or RV are the wheel bearings, located inside the wheel hub assembly. When wheel bearings aren't providing friction-free movement from the wheel to the axle, your trailer wheels can seize-up and stop spinning. If they lock up on the highway, it can be very dangerous. To avoid an unpleasant situation, double-check that those bearings are adequately greased. Unsure what you're looking for or how to do it? Take it to a professional for an inspection and repacking.
Plan ahead
Try to arrive at your destination before dark. This will make setting up camp for the night a lot less stressful and a lot safer. Plus, bring along all the tools you'll need. This could include duct tape, hex wrenches, a set of Allen wrenches, zip-ties, a multi-tool screwdriver, hammer and rubber bands. Pro tip: pack all your gadgets in clear boxes – it makes the hunt a whole lot easier!
Add some adventure to your life
Solarity can finance any toy: RVs, motor homes, campers, fifth wheels, horse trailers, boats, snowmobiles, ATVs, motorcycles, dirt bikes or jet skis (what did we miss)? We have loans to fit a variety of budgets and lifestyles, and our team partners with you to help finance your weekend fun! Learn more today!
What's your Solarity story?
We're on a mission to tell the stories of our members and how they are living their best lives. Do you have a Solarity story to share?