Lyn and Steve decided to live the simple life in retirement - opting for adventure and going wherever the road takes them. With an RV loan, they purchased a camper that allows them to move freely, exploring our beautiful land. Solarity is honored to help our members finance all of life's adventures.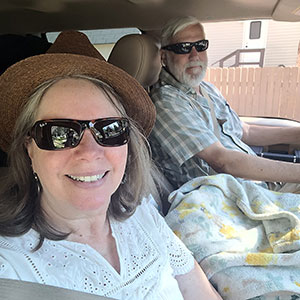 "When we retired, we just thought, you know, what do we want to just stay here? And we're like, no, we want to you know, travel and see the world," Lyn explains. "We purchased with our (RV) loan a new camper, Cirrus 820."

We spent a week just traveling over in eastern Idaho, and up in the Salmon River went to Stanley, Idaho and just kind of moved around," Steve says, as they got to know their new rig.
Lyn adds, "It's given us a lot of versatility. And we're able to just see the world, you know, see the U.S. a little bit."

Yet their grandson always brings them back home.

"We are here six months out of the year, and we see him a lot. And then Zoom, we Zoom meetings with him when he's not around. And he's, you know, it's been great," Steve says with a big smile. And Lyn chimes in, "And we're hoping to take him on adventures as well!"

For now, they have an adventure pal from Solarity - a Sasquatch stuffed animal that we sent to every member who got an RV loan with us in the summer of 2023.

"Yeah, that's Cyrus. Yeah. So he travels with us! Everybody that we've met through Solarity is very friendly, and even checking in on us to see how things are going. So that has been really lovely for us," Lyn says. "And we're just really excited to continue our adventure and we suggest that anybody that can maneuver their life into a situation like this that they won't regret it."

Safe travels, Lyn and Steve!
What's your Solarity story?
We're on a mission to tell the stories of our members and how they are living their best lives. Do you have a Solarity story to share?