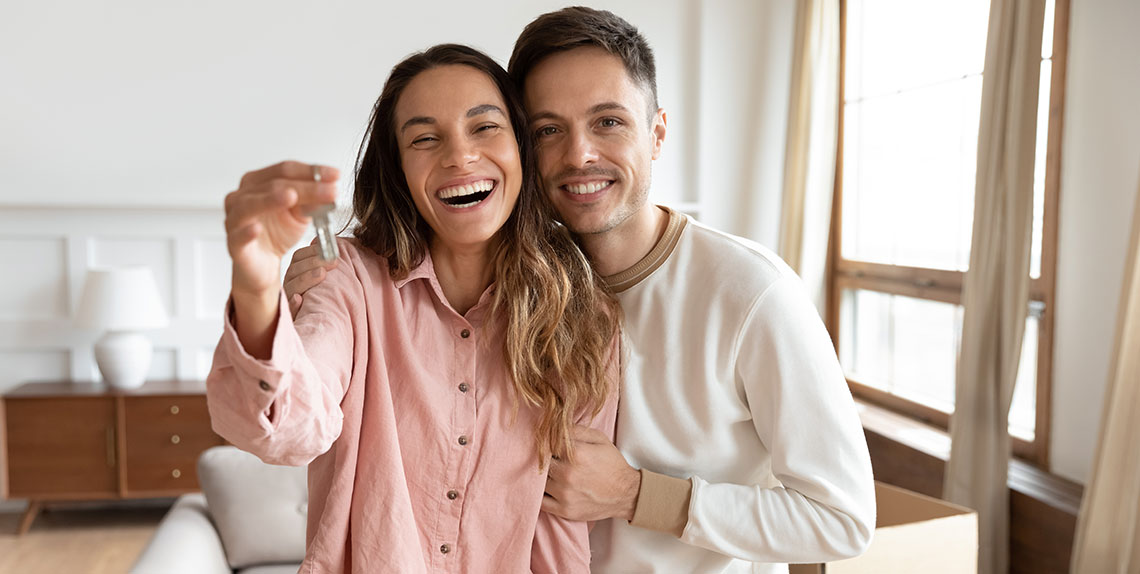 You're ready to buy a new home! There's a lot of planning and prep involved, and you can't wait to get going. So you're probably wondering where to start.
Solarity Credit Union understands exactly what goes into buying a new home. We've been helping our borrowers close on their own homes in the Pacific Northwest for decades. We'll let you know exactly where to start when buying a home and how to get on the path toward homeownership.
Create a budget
First, determine if it makes financial sense to buy a new home. Will you save more money by owning your home, or is it actually to your benefit to continue renting? Typically, it's a better investment to own your own home, as you immediately build equity. It is a big investment and you should take into account home property taxes, insurance premiums, maintenance expenses, homeowner's association fees and potential home repair costs.
Home expenses
According to the 1% rule, you should set aside 1% of your home's value each year for home maintenance and repairs. Based on this rule, if you buy a home valued at $250,000, you will want to ensure that you have $2,500 set aside annually for home repair costs. Of course, this amount may vary. For instance, if you are looking to buy an older home, you may need to set aside more money for repairs than you would need to for a modern home outfitted with new appliances.
Don't forget your mortgage payment
When budgeting for a home, take into account what you want to pay for your monthly mortgage payment will be, plus the additional money you'll need to have on hand for these other home expenses. A mortgage calculator like Solarity's is a good place to start to get an estimate of your potential monthly payment. Play around with the figures until you find a mortgage you can afford and still have enough cushion left over for other common home expenses.
Mortgage payments usually include insurance and taxes as well. Home insurance and property taxes will also vary depending on factors such as property type and the location where you reside. But according to Bankrate, the average homeowner's insurance cost in the United States in 2022 is just under $1,400 a year for a $250,000 policy.
In Washington State, the average county tax rate is 0.93%. Sticking with the example of a home valued at $250,000, that means paying $2,325 annually in property taxes.
Adding that total amount to the estimated annual cost for home repairs, we wind up with a total amount of $6,225 a year. Dividing that total by 12, you come to a monthly amount of $518.75. So you'll want to make sure you have an extra $520 or so in the family budget each month for these expenses.
Saving
You've worked out a budget and determined how much home you can afford. Excellent! Now it's time for the next step—saving for closing costs and a down payment toward your new home.
Depending on the loan and property type, borrowers typically can expect to put down a down payment anywhere between 3% and 20% of the home purchase price. Sticking with our $250,000 example, if you put down 20% toward your purchase, you will need to have $50,000 in savings for your down payment. Yet Solarity Credit Union offers zero-down home loans, which are ideal for well-qualified buyers and allows borrowers to buy a home with no money due at closing except for standard closing costs.
There are all kinds of options, including closing with as little as 3%—$7,500 in our example—or less. If you opt for one of these loans, most lenders require you to pay PMI (private mortgage insurance) until you have at least 20% equity in your home.
If you're starting to get nervous about the costs of homeownership, stop worrying. This is where Solarity can help you out. We believe that homeownership should be an option for everyone, and Solarity's expert Home Loan Guides work hard to turn that dream into an achievable goal. We offer low-down-payment and no-down-payment loans so that you can get into a home sooner than you imagined.
Shopping around
Now comes the fun part. You've done the hard work of budgeting, saving and planning. Now you get to embark on the adventure of finding your new home.
Think about where you would like to live. Write down the three features most important to you, such as location, yard space and an open floor plan, just to name a few. If you have kids, for instance, you may want to find an area that has top-rated schools. Communicate your priorities to your realtor, get pre-qualified to show sellers you are serious, and then let the fun house hunting begin.
Selecting the right lender
Now that you know where to start when buying a home, you're ready to find the right lender. While you're looking at properties to find your new home, meet with several lenders to find out what each one has to offer. Then request a pre-qualification or pre-approval letter from your top few lenders to compare interest rates, closing costs, lender fees and loan terms.
If you live, work, worship or attend school in Washington State, you're in luck. Solarity Credit Union serves the needs of our fellow community members. We offer personalized support and service, an online closing option and, perhaps best of all, we will never transfer your loan to another lender. We promise that your loan will always be serviced by Solarity.
Ready to take another step on the path toward homeownership? We're ready to help lead the way. Contact Solarity to get a
personalized quote
and connect with one of our expert
Home Loan Guides
. We are so excited to help you make owning a home happen.
What's your Solarity story?
We're on a mission to tell the stories of our members and how they are living their best lives. Do you have a Solarity story to share?