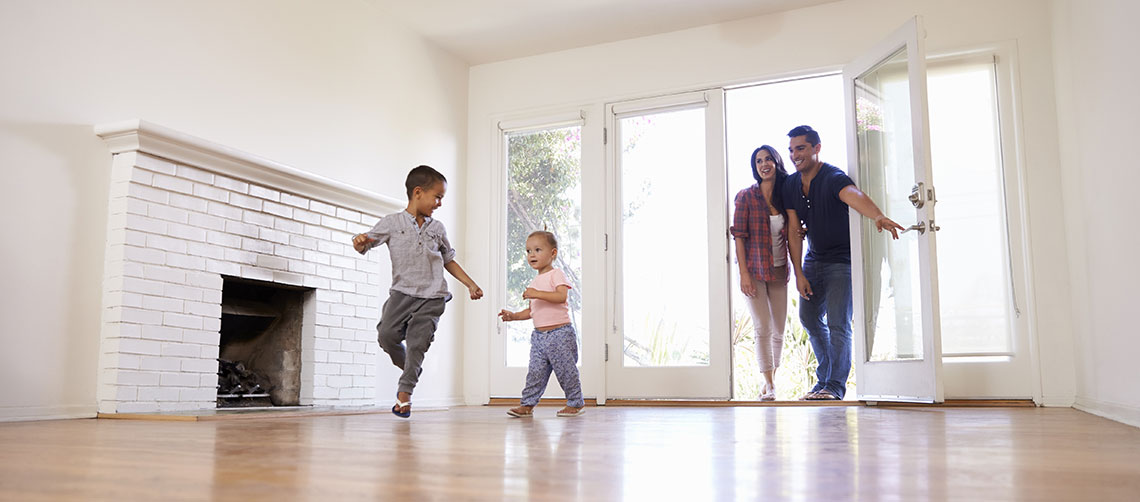 Buying a new home is exciting, especially with how hot the market has been. After gathering your financial information and pre-qualifying for your home loan, you'll be faced with a lot of decisions about where exactly you want to start your new life. One of those decisions will be whether you should find an existing home or look into a newly built home.
The debate of new construction vs. an existing home is one that many people face, and the final decision will differ depending on your personal preferences. Are you looking to move in right away? Do you want a home with a more modern design? Or a home that falls within a certain period of design. You'll have to decide on those answers and a few others before you move forward. With the help of Solarity Credit Union, you can secure your financing and be that much closer to whichever type of home you're dreaming of.
Here are a few of the benefits of both new construction and existing homes.
Benefits of an existing home
An existing home is simply a house that is already built and that has typically been occupied by another family before you buy it. They tend to also be built in an established community. Many people who apply for home loans choose to go with an existing home, as the loan process can be simpler, but that is just one of the many benefits of this option.
Location
A notable benefit of buying an existing home is location. You can choose the home based on the location or choose a location and wait for the perfect home to hit the market. Existing homes also offer more options to be closer to the things that are important to you, as long as you're flexible about which existing home you'll be buying. Since there are fewer areas in which to build anew, you're likely to have fewer neighborhoods to choose from. Because of this, new-construction homes are typically built farther away from everyday conveniences, which also makes travel times longer.
Price
The price of an existing home will likely be less expensive than a new-construction home, which can easily sway many homebuyers. You'll pay extra for all the new material put into a new construction home, especially when the price of supplies is high. The materials in an existing home were bought and paid for long ago so this won't be a problem. If you're looking to save money, an existing home is usually the way to do it.
Saves time
Once you've been approved for a mortgage, you'll likely want to move as soon as possible. The closest you can get to this is to move into an existing home. Depending on how long it takes to close and complete inspections, you could be in your new home in a matter of weeks. This is a major benefit of buying an existing home, as it's the fastest way to get settled and moved in.
If you're investing in a new-construction home, it may not be quite ready for you when you're ready to move in. Delays are common in construction, and you might find yourself waiting for the home to be completed before it is yours.
Benefits of new construction
New-construction homes are typically built on large pieces of land that take a little time to turn into a community. But once established, these homes come with some major benefits, one being that they are completely brand new and no one else has ever lived in them. Here are a few other benefits that come with this option.
Lower maintenance and utility bills
Lower bills are an appealing perk to most homebuyers. That extra money can be spent in a variety of ways, and buying a new-construction home can be the answer to saving a few extra dollars each month through lower maintenance and utility bills. Nearly everything is brand new in a recently constructed home and working at its peak performance. That means you won't have to shell out money for repairs for years or pay for features that are past their prime. Plus, newer appliances and materials tend to be more energy efficient, which means lower utility costs.
Much of your house will also still be under warranty, meaning that if a major problem does occur, it's likely to be covered by the building contractors or equipment manufacturers.
Fewer potential hazards
With new construction comes brand-new materials that are up to current health and safety standards. For example, new homes won't have any risk of lead-based paint, which was common in homes built before the 1970s. New construction is also less likely than older homes to have mold or mildew issues, which can seriously affect residents' health. Modern building standards also have stricter requirements regarding the quality and safety of the materials used to build a home.
Which is better?
The decision between buying new construction vs. an existing home truly depends on your personal preferences, which is why it can be hard to say which is better.
If you want to move into your new home quickly, have fallen in love with a specific location, don't mind the extra potential maintenance issues and want to pay less up front, then you'll probably lean toward buying an existing home. Existing homes are convenient and come in a wide variety of styles and price points.
On the other hand, if you're looking into a forever home with all the latest green technology and never-before-used appliances, you'll be drawn more toward new construction. With this option, you can feel good knowing that everything is brand new and will be in good working condition for a lot longer.
How to be ready for the homebuying process
Whether you choose new construction or an existing home, be sure you're prepared to make an offer. With the assistance of Solarity Credit Union, you can get
pre-qualified for a home loan
quickly and easily. Solarity offers buyers the ability to
apply for home loans online
while providing flexible loan terms to fit your lifestyle and budget. There are even
no-down-payment
and low-down-payment options for
first-time homebuyers
. Pre-qualification before you start your search can increase your chances of finding and buying the perfect home, new or existing.
What's your Solarity story?
We're on a mission to tell the stories of our members and how they are living their best lives. Do you have a Solarity story to share?