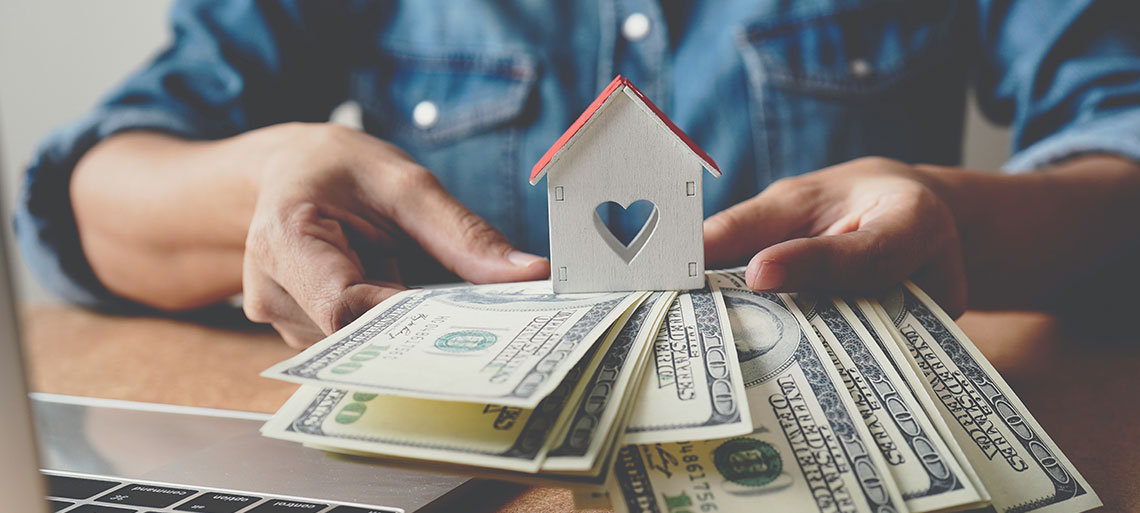 Your home is an investment. Sometimes, though, you need access to the equity you've built to help cover a large or unexpected expense. Cash-out refinancing is one of the tools that help homeowners access the equity they've accrued without selling their homes. If you have a big expense coming up—college tuition, a medical procedure, home improvement or the need to consolidate debt—a cash-out refinance might be the right choice for you. Here are some things you should know before you decide:
1. A cash-out refinance replaces your existing loan
A cash-out refinance replaces an original home loan with a new loan for a larger amount, and borrowers are able to pocket the difference. Let's say your child is about to attend their first semester of college. You calculate that between helping with tuition, books and a new laptop, you'll need around $20,000. If your home is worth $250,000 and you still owe $100,000, that means you currently have $150,000 in equity. With a cash-out refinance, you could replace your $100,000 loan with a loan for $120,000. You'd then have $20,000 in cash, and your mortgage payments would begin going toward your new loan.
2. Interest rates are important
Since a cash-out refinance replaces your current home loan, you need to weigh the costs and benefits. Some of the best reasons to choose to refinance are:
The interest rate is lower today than it was when you took out your original loan
Your credit score is better now than when you purchased your home
If these things are true for you, refinancing your home could result in a lower interest rate on your new mortgage. In some cases, if you're getting a better rate and your credit score has improved, you may see only a small rise in your monthly costs, even after you've taken the cash withdrawal.
You also have the opportunity to change the terms of your loan. That may mean shortening or lengthening the term of the mortgage, moving to a variable interest rate or removing your private mortgage insurance (PMI). There are a lot of opportunities to make the terms of your new loan work better for you and where you are today.
3. A cash-out refinance takes time
Applying for a cash-out refinance is a very similar process to buying a home. This means the same or similar costs and timeline will apply. Most home refinancing takes one to two months to complete. Along the way, you'll need to provide various financial documents. It's smart to collect your proof of income and tax records before you begin the process. You should also double-check your credit report and make sure your credit score is accurate. There are some lenders, such as Solarity Credit Union, that may be able to speed up the application process for you.
However, if you need cash right away, you might be better off pursuing a home equity line of credit, or HELOC. HELOCs work more like credit cards and can give you faster access to your equity without replacing your original home loan.
You may also need to pay refinancing costs—if your lender doesn't have no-closing-cost refinancing like Solarity. Fortunately, you'll have the option to roll the costs of refinancing into your new loan if you wish. Just make sure that you include the time and cost of home refinancing before you make a decision about whether a cash-out refinance is right for you.
4. Cash-out refinancing gives you a lump sum
If your plans require you to pay for something all at once, cash-out refinance might work well for you. A lump sum can be useful, for instance, if you're trying to consolidate debt. If you have credit card debt with a high interest rate and you can negotiate better terms for yourself on a refinance, you could give yourself a lot of help getting out of debt. You could actually pay off your credit cards and, if you're able to nab a better interest rate than on your original loan, lower your overall monthly costs in the process.
If you intend to use a cash-out refinance to consolidate debt, it's important that you have a plan in place to make sure you can avoid accruing more debt in the future. You may want to meet with a debt counselor before you apply for refinancing. Remember, a cash-out refinance is a loan that uses your home as security. You'll want to make sure you're not putting yourself at unnecessary risk.
5. Equity is necessary
Most cash-out refinancing is capped at an 80% loan-to-value ratio (LTV). In the example above, where you have $150,000 in equity on your $250,000 home, you cannot exceed a loan balance of $200,000, or 80% of the value of the home. In other words, the value of your home limits the amount of money you can take out.
Maybe you haven't lived in your home for long. If that's the case, you probably haven't built a great deal of equity yet because you haven't paid down a significant portion of your mortgage. If that's the case, it may not be worth the time and cost of refinancing just yet. A refinance calculator online can help you determine whether you have enough equity in your home and whether the value of your home is high enough to make refinancing worthwhile.
6. The decision to refinance is personal
Cash-out-refinancing isn't the only way to access cash for a large or unexpected expense, but it's a great option if:
You need to access funds all at once rather than over time

Replacing your home loan will be beneficial to you—if you're able to lock in a better interest rate, change the term of your loan, switch from an adjustable to a fixed-rate loan or remove your PMI, then a cash-out refinance should work well for you

You have substantial equity in your home and your home has not depreciated since you purchased it
Ultimately, you'll want to ask yourself whether cash-out refinancing seems worth the time and cost. If you have any questions, a
Home Loan Guide
from Solarity can help you look at your options and determine what's best for you.
What's your Solarity story?
We're on a mission to tell the stories of our members and how they are living their best lives. Do you have a Solarity story to share?