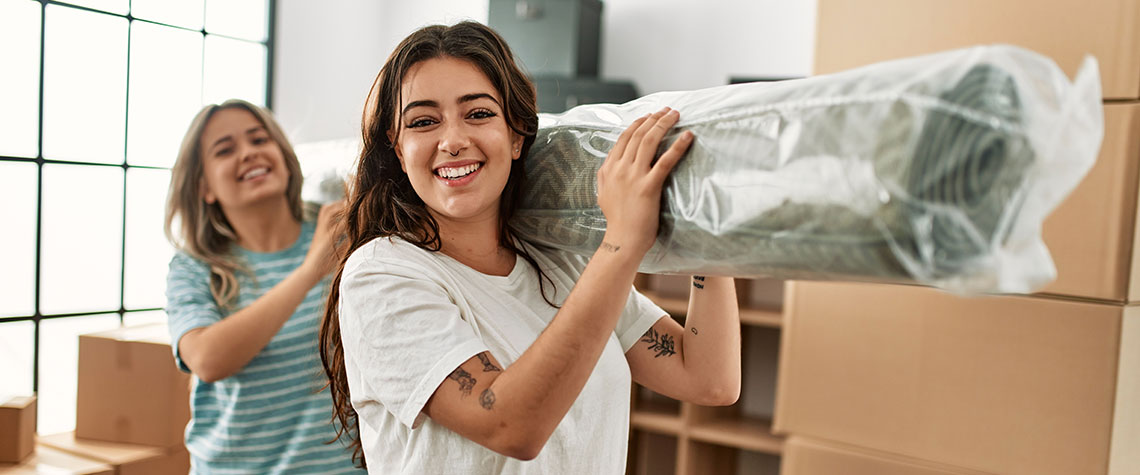 Homeownership has long been part of the American dream. For many people, homeownership appears to be out of reach.
Poor credit, below-average household income or a large down payment requirement often serve as barriers to homeownership. It leads some to believe that rather than being part of the American dream, homeownership is just a dream. This is not necessarily the case.
Credit unions are known for thinking outside the box to find the right home loan solutions for their members. If you cannot afford a large down payment on a home, there are many options to buy a house with one of the following no-down-payment home loans.
What's special about no-down-payment home loans?
Traditionally, buyers have been expected to provide a down payment of 20% to secure a home loan. This down payment is meant to decrease the lender's risk if a borrower was to default. This would mean the homeowner is less likely to stop making payments if they've already invested money in the house. Yet saving 20% of a home's purchase price can be a lot of money, in the tens, if not, hundreds of thousands of dollars. Hopeful owners could spend years saving and still not come close. Enter no-down-payment home loans.
A no-down-payment home loan is just what it sounds like: a home loan with zero down payment required. This option makes the homeownership dream more achievable for more buyers, and there are many ways to qualify. Read on for more about the most common no-down-payment options.
VA loans
If you're a veteran, we have good news for you. As someone who served our country, you may qualify for a home loan that requires no money down. Surviving spouses may also be eligible to apply for a VA home loan. While VA loans are offered through private lenders, the Department of Veteran Affairs has more information on benefits and eligibility requirements.
FHA (Federal Housing Administration) loans
FHA loans are government-backed loans available to first-time homebuyers. Not only do FHA loans allow borrowers to put down as little as 3.5% toward their home purchase, but they also have less strict credit score requirements than most conventional loans. If you've been turned down for home loans in the past because of poor credit history, try applying for an FHA loan.
If you're not a veteran or a first-time homebuyer, you may be wondering what no-down-payment home loan programs are available for you. You have a couple of options, both of which require no money down.
USDA loans
Sometimes income can be a barrier to buying a home, but USDA loans are designed specifically for borrowers with low to moderate incomes. USDA loans aren't restricted to just first-time homebuyers. Current homeowners are also eligible to apply.
There are two types of single-family rural housing loans backed by the US Department of Agriculture (USDA): the Single Family Housing Guaranteed Loan Program and the Single Family Housing Direct Home Loan. But in order to qualify for either, you must purchase a single-family home located in an eligible rural area. These loans are issued by private lenders, such as Solarity Credit Union.
One advantage of USDA loans is that they allow you to finance up to 100% of the appraised value of your home. That means no down payment is required. But it also means that if you purchase a home for less than its appraised value, you can use the extra funds toward closing costs, home improvements or other eligible expenses.
In addition to 100% financing, some USDA loans also have longer loan terms, making them even more affordable for homebuyers who need a low monthly mortgage payment. While most traditional loans are spread out over a maximum of 30 years, the USDA Single Family Housing Direct Home Loan has 33-year loan terms for low-income borrowers and 38-year loan terms for very low–income borrowers.
A longer-loan term lowers your monthly mortgage payment since the amount you owe is spread out over a longer period of time. USDA loans also come with competitive interest rates, making them an ideal option for borrowers on a fixed income or tight budget.
Get started
It's easy to get started with the pre-approval process and it only takes a few minutes. Our expert Home Loan Guides will do the math with you with no obligation to apply. Should you decide it is within your budget, from pre-approval to closing, we make the entire home loan process quick, convenient and easy. Thousands of Solarity borrowers gave our online mortgage process a score of 98 out of 100.
If you're ready to get started with your home loan application, gather the following documents together: your driver's license and Social Security number, two months of bank statements, two years of employment history, two years of tax returns, your prior month's paystubs and a list of your current debts. Now you're ready to apply. Once you're finished, you'll have a decision in just a few minutes. As we said, we make things quick and easy.
Have some questions along the way? One of our expert Home Loan Guides is available to help. They'll assist you throughout the process and provide you with personalized service based on your individual needs.
Homeownership may be well within your reach. Whatever obstacle or barrier you feel is standing in the way of owning your own home, we can help you overcome it. Work with us, and we'll help get you home as soon as possible.
What's your Solarity story?
We're on a mission to tell the stories of our members and how they are living their best lives. Do you have a Solarity story to share?