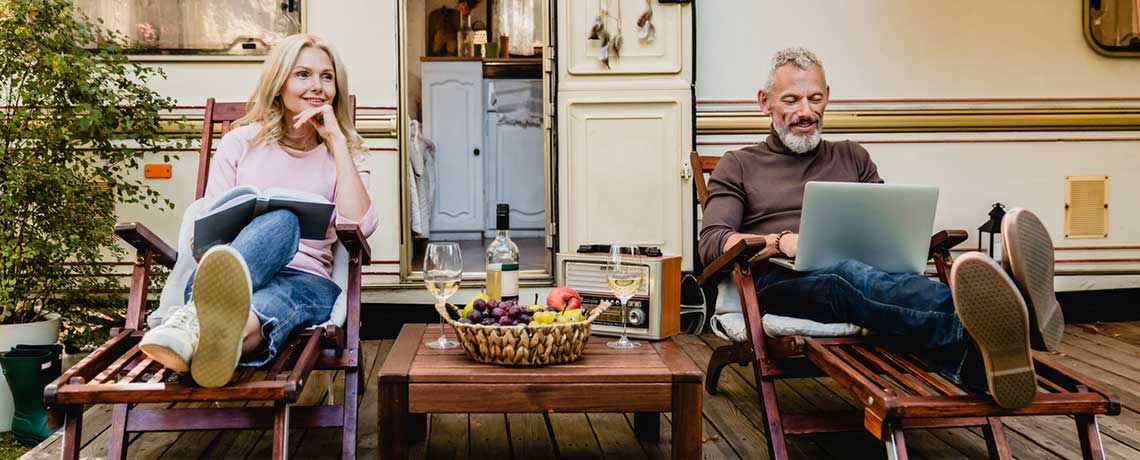 Refinancing a loan at the right time can save you money. This is especially true if your financial situation has changed from when you originally took out the loan. Often, you can refinance for better rates and secure new loan terms that better fit your lifestyle.
When looking into RV refinancing, there are a few things to consider. How soon can you refinance an RV loan? When is the right time to refinance and when should you reconsider? Read on to discover if refinancing is the best option for you and how to find the best deal for your new loan.
How refinancing an RV loan works
Before delving into the particulars of how soon you can refinance, it's important to understand how refinancing a loan works. Much like a home loan, refinancing your RV pays off the original loan and replaces it with a new loan. You have the option to refinance with your current lender or shop around for a new lender offering better rates and loan terms.
When you are ready to move forward, fill out an application with your chosen lender to see if you qualify. Since refinancing involves applying for a new loan, your financial situation will be reevaluated. The better your credit score, the better your rate options will be. In addition to your credit history, lenders will evaluate your income, debt-to-income ratio, employment history, fixed expenses and any liquid assets.
When is a good time to refinance an RV loan?
Borrowers may choose to refinance for several reasons. If your credit score was lower when you initially secured a loan, it's possible that you could qualify for a lower rate today. Lenders consider lower credit scores higher risk and charge higher interest rates to protect themselves in case the borrower defaults on a loan. Borrowers with high credit scores communicate financial stability and typically qualify for loans with lower rates and better terms. Debt, income and missed payments affect your credit score as well. If your financial situation has improved and you now have a higher credit score, it could be a great time to refinance for better rates and terms.
Loan interest rates also fluctuate depending on the market competition and economic cycles, increasing or decreasing as a result. When interest rates are lower, you can consider replacing your higher-interest loan with a lower-interest loan.
You should also consider refinancing your loan if it will lower your monthly payments or improve your loan terms. Depending on your lifestyle, you may prefer a loan with shorter or longer repayment terms. If you prefer lower monthly payments to free up your finances for other expenses, refinancing can be a great option. Look at your lifestyle and financial goals to decide what terms can help you achieve your goals. If you want to pay off your loan early, look for a loan without penalties for early repayment.
In short, if your credit score has improved, rates have decreased or you want different loan terms, it's a great time to refinance.
How soon can you start refinancing?
How soon can you refinance an RV loan? If you have recently purchased your RV, you will have to wait until the car title has been transferred to your name. A title transfer can take 30 to 60 days. Once this period has passed and the title is in your name, you can refinance your RV loan.
Even though you can refinance your loan as soon as 30 to 60 days, it may be wise to wait at least 12 months. Each lender has different terms, but many require 12 months of payments before borrowers are eligible for refinancing. Lenders look at payment history to assess whether you are a risky borrower or not. If you have at least 12 months of payment history showing timely payments, you are more likely to qualify for better rates.
When is refinancing not the best option?
Lenders look at several factors when determining eligibility. How many months are left in your loan term? What is the condition, age and mileage of your RV? What is the remaining balance of your loan? If your RV loan term is almost over, your RV has greatly depreciated in value or you have paid off half of the interest, you may want to reconsider. Ultimately, refinancing should save you money. If refinancing is going to cost you more over the life of the loan, it might not be the best option.
Shop around and compare rates versus fees. Are there penalty charges? Loan fees? Refinancing fees? If the new interest rate is not low enough to offset these fees, you may end up paying more for your RV.
Finding the right RV loan
If rates are low and your finances are in order, you might decide it's a good time to refinance. You can refinance with any lender, including a bank or credit union. When comparing lenders, look for loan options with fewer fees and penalties. Make sure to look for loan terms that fit your lifestyle and budget. Do you want to pay off your RV quickly? If so, look for loans that don't penalize for early repayment. Do you need more time to pay off your loan? Make sure you choose a loan with longer loan terms.
At
Solarity
, we make financing your home-away-from-home easy, and our affordable loan options are as flexible and convenient as your recreational needs. Look into lowering your monthly payments or interest rate with our
RV loan refinancing
options today!
What's your Solarity story?
We're on a mission to tell the stories of our members and how they are living their best lives. Do you have a Solarity story to share?