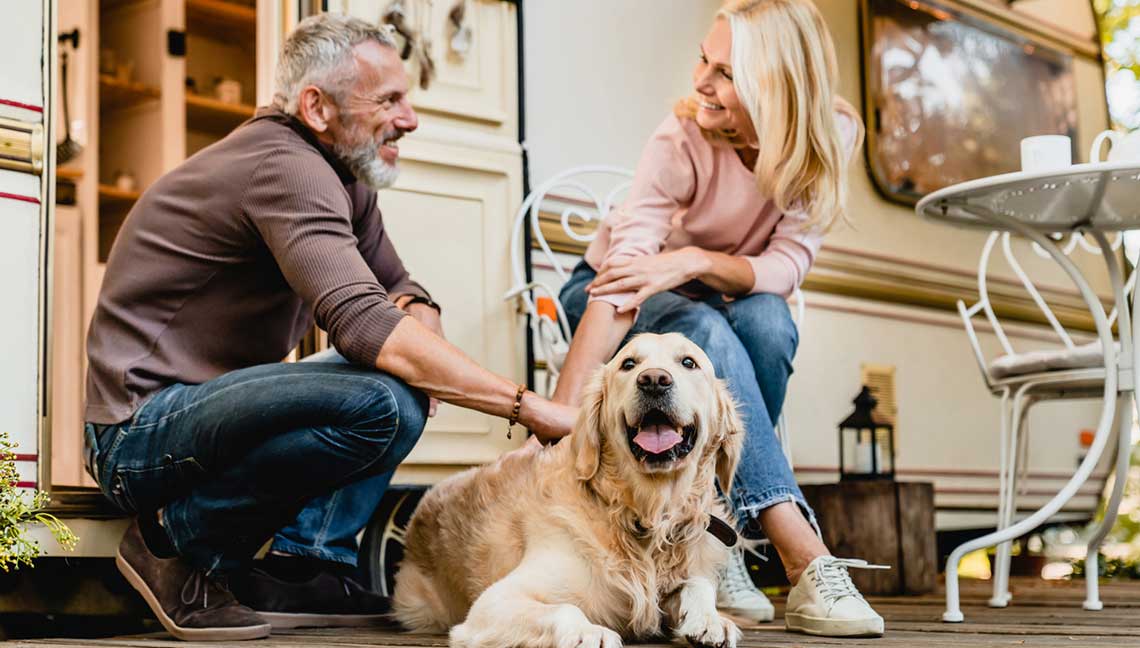 Tired of your familiar stomping grounds? Itching to get away for a sweet escape from the norm? If you find the thought of an extended road trip exhilarating, then a recreational vehicle (RV) may be just what you need. Because RVs are essentially living spaces on wheels, they offer their owners the unique experience of traveling the country with all the comforts of home. No more risky AirBnB stays where what you see in photos isn't always what you get in person – your RV can be tailored to suit your own unique preferences. But while you may save on hotel stays and airfare in the long run, the price tag attached to your dream RV could lead you to wonder how you can afford it. That's where RV loans come in.
What exactly is an RV loan?
An RV loan helps finance the purchase of a new or used RV, motorhome or camping trailer that someone cannot afford to buy outright. RVs don't fall under the standard car category and are generally a pricier purchase, so the specific category of RV loans exists to assist consumers with what is a life-changing purchase for many.
How do RV loans work?
The process of applying for an RV loan is not all that different from any other loan. To begin, the prospective borrower must submit a loan application. The lender then reviews the application. The borrower's credit largely determines their loan eligibility and interest rate, but lenders also take into account the borrower's net worth, income, housing and employment.
Some key points to keep in mind when it comes to RV loans:
Interest rates are usually fixed, meaning your payments will remain the same for the duration of the loan, regardless of whether the loan is to be repaid in two or 20 years.
RV loans do require a down payment. The rate usually falls between 10% and 20%.
Some lenders require RV inspections, which can vary between $200 and $1,200.
Where to apply for an RV loan
When it comes to where to apply for an RV loan, there are two main options: financing directly at the RV dealership or getting a pre-approved loan from a credit union or bank.
Applying at the dealership: Visiting a dealership, landing on your chosen RV and then discussing financing options with the dealer can be a fairly straightforward way to apply for an RV loan. That said, some buyers can also feel pressured to agree to financing terms that are not in your best interest. The dealer may also try to sell you add-ons or extended warranties that you may not necessarily need or want.
Getting pre-approved: Financial institutions such as credit unions and banks also offer RV loans. One major benefit to this method is you can get pre-approved for a specific loan amount and rate to purchase your RV before you even set foot on the lot. Telling the dealer the amount you are approved for can also give you bargaining power, as the dealer may be willing to lower the price of an RV by several thousand dollars to meet your pre-approval rate and loan amount.
Unsecured vs. Secured RV loans
As with auto loans, RV loans are often secured by the vehicle itself. These secured loans use the RV as collateral to guarantee the loan. This means that if a borrower fails to meet the monthly payments, the lender could repossess the vehicle. With unsecured loans, the borrower does not need to offer up the RV or any other assets as collateral. This makes it a higher-risk loan for lenders, however, so they usually charge higher interest rates.
To sum things up, owning an RV is a fantastic way to enjoy the freedom of travel while taking the comforts of home on the road. While the cost of purchasing an RV might seem prohibitive at first, RV loans provide an excellent solution for financing the purchase of a new or used RV, motorhome, or camping trailer. With fixed interest rates and flexible repayment terms, an RV loan can make your dream of owning an RV a reality. With a little research and planning, you could soon be on your way to exploring the Pacific Northwest and beyond in your own RV.
What's your Solarity story?
We're on a mission to tell the stories of our members and how they are living their best lives. Do you have a Solarity story to share?