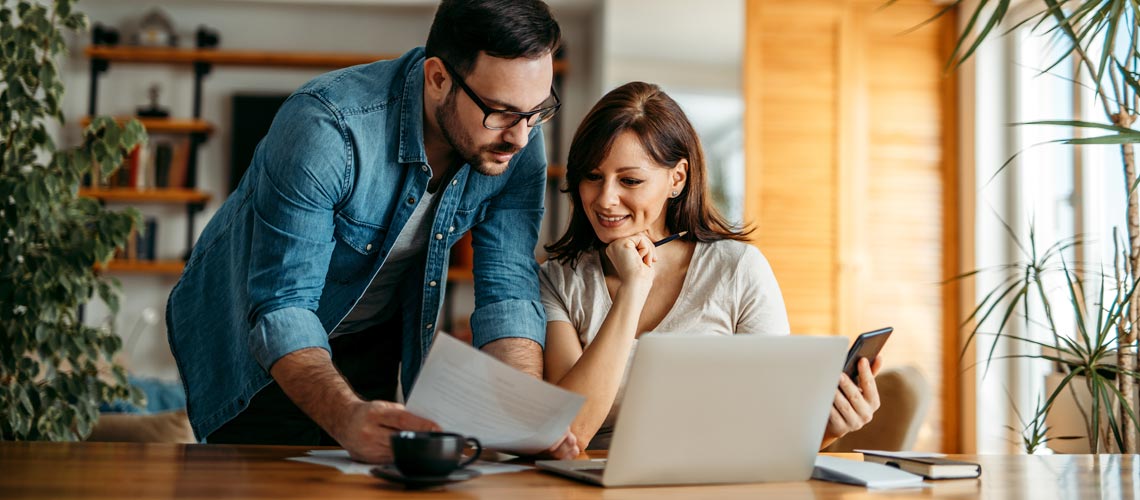 When you're thinking about buying a home, one of the most important steps is figuring out how much house you can afford. This will typically lead you to look for a financial institution, such as Solarity Credit Union, that can help you understand your finances and offer to lend you the money needed to buy the home. The amount of money you borrow is known as a mortgage loan. The amount of money offered will vary from person to person, and knowing how much you qualify for will help you narrow down your housing options.
Some things that lenders consider when looking over your loan application are your income, debts and credit history. Knowing this information and gathering it all before you apply for a mortgage is the best way to help your lender figure out how much you can afford. Here are a few more things to consider when you're asking, "How much mortgage will I qualify for?"
Income
One of the biggest factors in figuring out how much mortgage you qualify for is your income. Financial institutions want to see that you have steady work and are making an income that reflects your ability to pay back your loan. You can access your yearly income information by looking at your taxes from previous years. These are documents lenders will ask to review, so getting them in order before contacting a lender will save you time.
Lenders typically want your payments to equal around 30% or less of your yearly income. Figuring this number out based on your unique income level will give you an idea of how much mortgage you may qualify for. Lenders will also want to see that you're able to maintain employment, and having been in one position for a few years may also contribute to better mortgage loan opportunities.
Credit score
Another thing that financial institutions take into consideration for potential mortgage loan applicants is your credit score. This number will let the lender see how successfully you've handled credit in the past, which hopefully includes a history of making on-time payments. Having your credit score in tip-top shape can make a difference in how much of a loan you qualify for, so it's important to maintain and build your credit score.
Credit scores can range from 300 to 850 and the closer you are to 850 the better. This number changes depending on how you use and maintain your credit. For instance, if you make on-time credit payments for years, your score will improve. It will also increase as you begin to pay off previous loans.
Before you apply for a mortgage loan, you should know your credit score. You can pull this information for free, once a year, through one of the three major credit bureaus: Experian, Equifax and TransUnion. These agencies can tell you your score as well as offer you tips for how to improve it. These may include consistently making your payments on time, making larger payments to cut down debt and not borrowing more credit than you can pay off each month.
Monthly debts
Financial institutions like to know you're in a good position to pay back your loan in the agreed-upon time frame. Despite your income level, lenders will also look at your monthly debts to determine how much money they can offer to lend you. Gathering that information beforehand will help the lender easily figure out how much mortgage you qualify for.
Monthly debts can consist of a few different things. Common ones are car loans, credit cards and student loans. These debts are reoccurring for an extended period and, therefore, directly reduce your monthly take-home pay. If your monthly debts are substantial, it can affect how much money a lender is willing to offer you for a mortgage. This is known as your debt to income ratio. Lenders want to make sure you are borrowing what you can afford to pay back.
If you're in the beginning stages of looking for a home loan, it can be helpful to decrease your monthly debt payments. This can be done by paying off any outstanding balances. Try to make larger payments on your car loan or credit card for a few months. For example, before applying for a mortgage. When lenders see you aggressively paying things off and having less debt in your name, it can increase the amount of mortgage for which you qualify.
Buying options
The amount of mortgage you qualify for can also be impacted by the type of real estate you're intending to buy. For instance, first-time homebuyers are typically offered special incentives to make it easier for them to become homeowners, such as low- and no-down-payment programs. Likewise, your mortgage options may be different depending on if the residence you're trying to buy is your primary residence or a vacation home. Investment properties are another type of real estate that may make a difference in how much mortgage you qualify for. Having details about what you're intending to buy as well as what other properties you own all play a role in helping lenders determine your loan amount.
Loan options
When you begin your search for a mortgage, you'll notice you have many options from interest rate and loan terms to points and lender credits. There's a lot to consider, and Solarity's expert home loan guides can help you explore your loan options with no obligation to apply.
Want to learn more?
When it comes to mortgage loans, many people find it beneficial to become credit union members before applying. Credit unions, such as Solarity Credit Union in Washington State, are known to offer lower interest rates for mortgage loans, which can help you to save money down the road. You'll also benefit from things like personalized and friendly service, checking and savings account options, credit cards, auto and RV loans, as well as mortgage refinance options.
What's your Solarity story?
We're on a mission to tell the stories of our members and how they are living their best lives. Do you have a Solarity story to share?