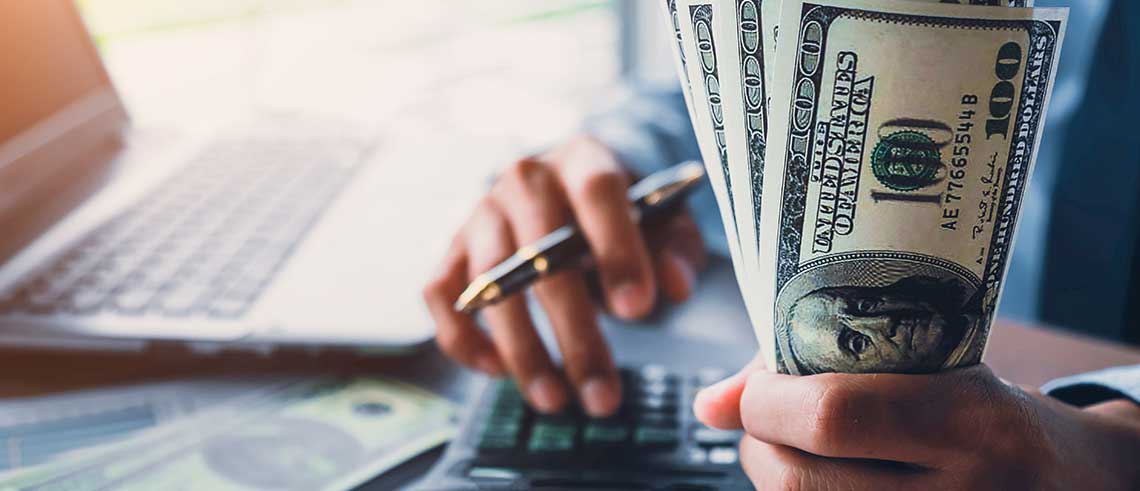 Your financial security matters no matter where you bank. You want to know that your money is safe in the hands of your financial institution, which is why it's good to understand how they are insured. Federal insurance provides an extra layer of protection for your money should you need it. You've probably heard that banks are usually insured by the FDIC, but are credit unions federally insured?
The short answer is yes. However, they are insured by a different independent government agency called the National Credit Union Administration (NCUA). This makes credit union accounts just as safe as those at banks. Your money will be protected if something happens to the credit union.
To give you even more peace of mind, read on for additional information about how credit unions are federally insured.
Why aren't credit unions FDIC insured?
It may be confusing to hear that credit unions aren't covered by the FDIC since the Federal Deposit Insurance Corporation typically insures financial institutions, but the reason for it is very simple. The FDIC doesn't work with credit unions. But that does not mean credit unions are any less safe or that they aren't insured at all.
On the contrary, credit unions are protected through the NCUA, which provides a separate insurance fund specifically for credit unions. The NCUA offers credit union account holders many of the same protections offered by the FDIC, meaning that when you choose a credit union for your banking needs, you can feel secure.
What is the NCUA?
The NCUA is the entity that insures local credit unions such as Solarity Credit Union. It's an independent agency of the U.S. government that was created to regulate and supervise credit unions exclusively. In this agency, there is a three-member board that's appointed by the president and then confirmed by the Senate. The selected board members are diverse, as they belong to different political parties and serve six-year terms. The NCUA has been around for more than 50 years and has become a well-established and trusted independent agency in America.
There are specific criteria that credit unions must meet to qualify for NCUA deposit insurance. Credit unions have to contribute one percent of their shares to the National Credit Union Insurance Fund to participate in this insurance program and gain membership. They must also get a state or federal charter.
How much does NCUA insurance cover?
When a credit union is a member of the NCUA, its depositors are insured by the NCUA for up to $250,000 for each account type and protected in case of credit union failure. The FDIC insures bank deposits for the same amount.
While the standard NCUA insurance amount is $250,000 per depositor per insured credit union, there are ways for credit union members to increase their insurance coverage above this amount. An excellent option is to use a method called "structuring." Basically, this means opening multiple accounts, with different types of ownership, such as a single account, joint account, trust account, corporation/partnership account and self-directed retirement account (IRA). Check out this video provided by the NCUA for more information.
Each account type is insured separately, so having multiple accounts with different ownership types can increase the amount of coverage.
How to get deposit insurance for more than $250,000
While the basic deposit insurance coverage is $250,000, there are ways to structure your accounts to maximize your NCUA insurance. For example, this chart created by the NCUA shows how a family of three could be insured for up to $2,500,000.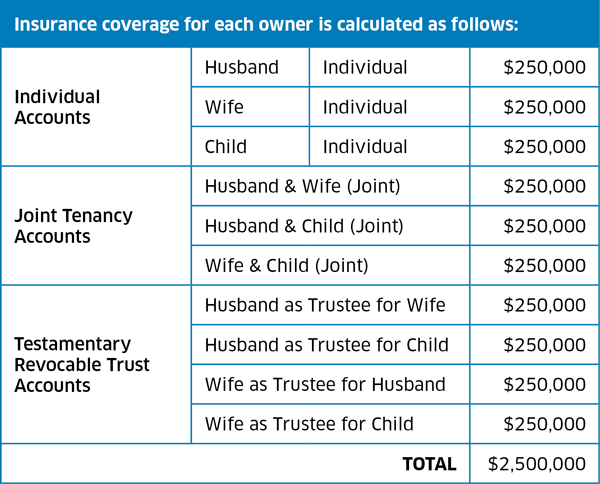 Source: NCUA
What are the similarities between the NCUA and FDIC?
When it comes to the FDIC and NCUA, there are more similarities than differences. Firstly, both are independent federally owned agencies. This means that while they are owned by the government, they're also responsible for taking the necessary measures to keep credit unions and banks running smoothly. They are equally trusted and equally capable of providing insurance to financial institutions.
As we've discussed, another similarity between the NCUA and FDIC is the amount that they insure. This means your money is just as safe, whether you deposit it with a bank or a credit union.
These agencies are also on the same page when it comes to accounts that they don't insure. These include accounts such as stocks, bonds, mutual funds, treasury bills, annuities, life insurance policies, safe deposit boxes and so on.
What are their differences?
The biggest difference between the FDIC and NCUA is the financial institutions they insure. The FDIC only insures banks while the NCUA only insures credit unions. It's fairly straightforward.
The FDIC and the NCUA also differ slightly when it comes to what accounts they insure. Deposit accounts such as checking, savings, money market, certificate and individual retirement accounts are all covered by both agencies. These are the most standard and widely used deposit accounts utilized by customers of banks and credit unions. The FDIC does consider a few more accounts to be deposit accounts, such as cashier's checks, money orders or select prepaid cards from FDIC-backed banks.
Who should you bank with?
If your banking decisions are based on which institution is better insured, then you'll be happy to know that banks and credit unions are insured in a very similar way and both by federal agencies. Your money will be safe at either type of institution. Because they have this in common, you can expand your criteria when choosing a financial institution.
Along with having peace of mind that your money will be safe, there are a few other benefits that come with banking at a credit union. Local credit unions offer superior customer service, are member-centered, are often based in or around your area and can offer you a wide variety of financial products and services, from checking and savings accounts to home and auto loans. They're also incredibly quick and easy to join.
Checking and savings accounts, loan options, credit cards and more are offered at credit unions like Solarity Credit Union. You'll also enjoy conveniences such as online and mobile banking, which lets you gain more control over your finances by being able to access your account from any device that has an internet connection.
Get in touch with us
to find out about becoming a member of Solarity today.
What's your Solarity story?
We're on a mission to tell the stories of our members and how they are living their best lives. Do you have a Solarity story to share?