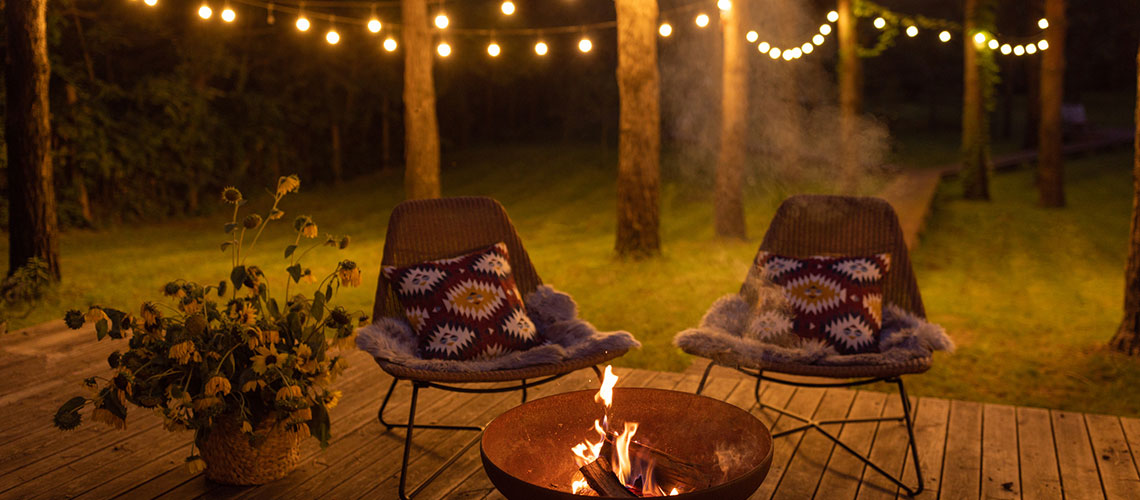 Your yard is an extension of your home, providing an opportunity to connect with nature and create memorable experiences. Whether you have a spacious backyard or a small balcony, transforming it into a relaxing, welcoming space is achievable with a few key elements and design ideas. Simple changes could allow you to enjoy your outdoor area longer by making it more cozy even during cooler months. Keep reading to discover how you can maximize the potential of your outdoor living space to create an oasis where you can relax, entertain and enjoy the tranquility of nature.
1. Define the Space: Start by defining the area you want to transform into your outdoor living space. It could be a patio, deck or even a corner of your garden. Clearly defining the space lets you plan the layout and design accordingly.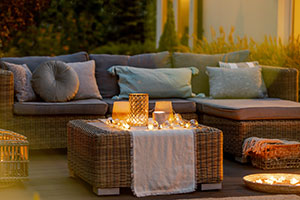 2. Comfortable Seating: Invest in lounging options that encourage relaxation and socialization. Opt for outdoor furniture made with weather-resistant materials such as wicker, teak or aluminum. Cushions and pillows in vibrant colors or patterns add warmth, comfort and visual interest. Consider incorporating a mix of seating options such as lounge chairs, sofas and ottomans to accommodate different activities and preferences.
3. Integrate Shade: During the hottest parts of the day, no one wants to sit in the direct sun. Extend the use of your outdoor living area by adding shade elements into your design. Trees, umbrellas, retractable awnings, pergolas and shade sails are all excellent options to consider. Besides sun protection, shade can also add a cozy and intimate feel to the area.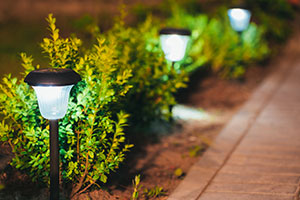 4. Exterior Lighting: Strategically placed outdoor lighting enhances the appeal of your outdoor space and extends its functionality into the evening hours. Consider a combination of lighting options to create a harmonious balance between practicality and ambiance. Pathway lights guide guests and illuminate walkways, while string lights or lanterns add a magical touch to outdoor dining and lounging areas. Spotlighting specific landscape features, such as trees or architectural elements, adds depth and visual interest. Additionally, solar-powered lighting provides an eco-friendly and cost-effective solution.
5. Outdoor Cooking and Dining: Enhance your outdoor experience by including a cooking and dining area. Install a grill, cook top or outdoor kitchen if space permits. A dining table and chairs provide a comfortable, designated spot for meals and gatherings. Add a shade structure or an umbrella to create a cozy entertaining environment.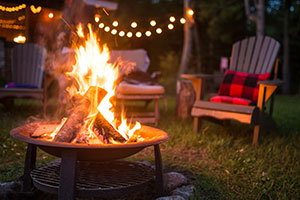 6. Outdoor Firepit: A firepit is often the centerpiece of any outdoor living space, creating an inviting atmosphere. It provides warmth, ambiance and a focal point for gatherings with family and friends. Choose a firepit that suits your style, whether it's a traditional wood-burning pit or a convenient gas-powered option. Incorporate comfortable seating around the firepit to encourage conversation and relaxation. A firepit has the added advantage of keeping the chill at bay on cooler evenings.
7. Incorporate Nature: Add natural elements to bring life and warmth to your outdoor space. Potted plants, flowers and small trees can create a relaxing, outdoor oasis that invites guests to linger. Natural materials such as stone, wood or bamboo can draw people in and reinforce the feeling of being in nature.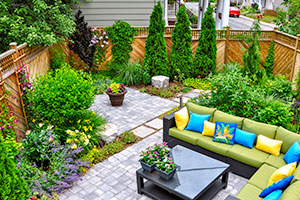 8. Privacy and Screening: Create a sense of privacy and seclusion with fences, trellises, privacy screens or tall plants. These elements can help block unwanted views, reduce noise and create a more intimate space. You can also use outdoor curtains or pergola drapes for additional privacy and a touch of elegance.
9. Textiles and Accessories: Finally, add cozy accessories to complete the space. Outdoor rugs, throw blankets and decorative pillows can instantly transform your outdoor area into a comfy retreat. Choose weather-resistant fabrics and materials that can withstand the elements.
By incorporating a few key features, you can transform your outdoor living space into a haven of relaxation and tranquility. Remember to regularly maintain your exterior areas by cleaning furniture, refreshing cushions and tending to plants. Additionally, adapt the design and accessories according to the seasons to make the space inviting year-round.

Creating a cozy and inviting outdoor oasis lets you extend your living area and enjoy the beauty of nature. With careful planning and attention to detail, you can create a comfortable space that reflects your personal style and enhances your overall outdoor experience.
What's your Solarity story?
We're on a mission to tell the stories of our members and how they are living their best lives. Do you have a Solarity story to share?