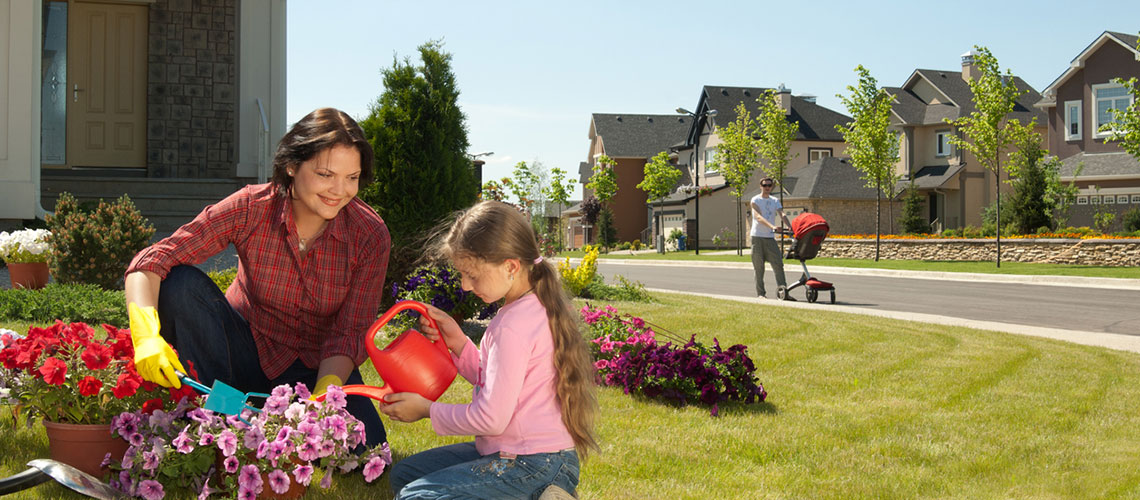 With the arrival of spring, this is a great time to take a fresh look at the outside of your house. Over time, your home's exterior can start to show wear and tear. And, unless you are critically inspecting your home every time you walk or drive up to it, you might be overlooking some of its more unsightly elements. Clutter and disrepair can easily fade into the background, like wallpaper, and become "normal." Yet simple changes, such as painting the front door or tidying up your yard, can have a big impact on curb appeal and peoples' first impressions of your home.
Whether you're planning to list your property for sale in the near future or just looking to increase your pride in the appearance of your home, here are five ways to boost your curb appeal quickly and affordably.
Refresh your front door.

Let's face it. Your front door can take a beating from heavy use, kids and dogs, temperature fluctuations, rain, sun and more. A fresh coat of paint can do wonders, and bright, contrasting (yet complementary) colors are all the rage right now. Make a statement with an eye-popping red or play it safe with a darker neutral like black or brown. If you have the budget for it, consider investing in a new front door for even greater impact. And don't forget to examine your garage doors. Paint them to match your house color - if you want them to blend in - or go bold and coordinate them to your front door. Just be sure to check with your homeowners association, if applicable, to make sure you're complying with neighborhood guidelines. After all that work, don't forget to replace your worn-out welcome mat!

Update shabby hardware. How's your mailbox looking these days? If it is beat up and an eyesore, swap it out or at least give it a fresh coat of paint. Likewise, take a look at the light fixtures on the front of your home. Could they use some updating? New lighting is relatively inexpensive but can really change the look of your home, especially if you find a design that complements your home's architectural style. Add new house numbers and door hardware, and go for a consistent finish, such as oil-rubbed bronze or brushed nickel, for a refined appearance that will wow.
Clean and declutter. Has your yard or porch become overrun with stuff? Too much clutter can diminish your home's curb appeal and even its value. Put away things like toys, bikes, boots and excess furniture that are crowding your entryway. Make everything shine by using a pressure washer to refresh your hard surfaces including the siding, walkways and driveway. While you're at it, don't neglect the windows, eaves, gutters and overhangs. Sweep (or blow off) the front porch and get rid of cobwebs.

Make repairs. It's easy to put off small fixes. But over time, things like torn window screens and damaged trim can add up and make your house look neglected. Walk around the front of your home and make a list of everything that is damaged or in need of some TLC. This might include peeling paint, damaged steps and railings, cracks in your driveway or sagging fences. With your list in hand, make a plan and timeline to address each one. Even though it might take some work, you'll feel a great sense of accomplishment when you're done. And it will look fantastic!

Improve the landscaping. First, do the obvious things like pulling weeds and trimming bushes as well as mowing, edging and fertilizing the lawn. Look at your planting beds and consider removing any shrubs that are overgrown and crowded, as these can look messy. Once that's done, see what's missing. It's nice to have a variety of heights, colors and textures to add depth and visual interest. Bring in containers with brightly colored flowers or purchase a few decorative landscape rocks. Finally, add some fresh mulch.
Now that you know what to look for, head outside and view your home from a distance. Use a critical eye to inspect it as though it was your first time seeing it. Then, make a list, organize it in priority order and get to work! Many of these tasks can be tackled in the evenings or over a couple of weekends and without putting too big a dent in your budget. You'll likely be amazed at what a difference a few cosmetic changes can make, both in how your home looks and how it makes you feel!
And, if you find yourself wanting to make bigger, more substantial changes, consider a home equity line of credit (HELOC) or cash-out refinance. Home values have increased significantly in the past couple of years, and you might be surprised at how much equity you've accrued. Connect with a Home Loan Guide who can review your mortgage and options, without any obligation to apply.
What's your Solarity story?
We're on a mission to tell the stories of our members and how they are living their best lives. Do you have a Solarity story to share?