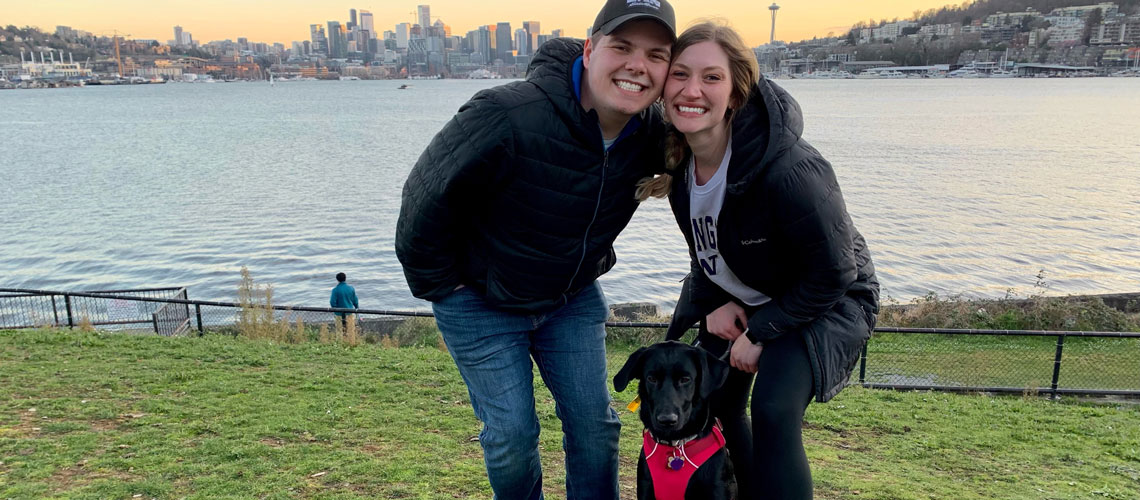 Kenzie and Riley set out to buy their first home and were so excited to settle down in Yakima.
"We both grew up in Yakima, and we just knew the place we wanted to grow as a family was going to be Yakima," Kenzie explains.
Between their travels in the Pacific Northwest, they started reaching out to lenders.
"The reason that we reached out to Solarity was because Riley has done his personal banking with Solarity forever," Kenzie says, explaining they also had family members who got a home loan through Solarity. "I just decided to call and see, and I just honestly had a really good feeling about it."
Debbie Ingle, Solarity's Vice President of Home Loans, explains, "We love working with first-time homebuyers. Financing a new home is the biggest investment most couples make, and if you've never done it before, it is like learning a new language. Solarity's Home Loan Guides explain everything step by step. It's such a joy to partner with these buyers and find options that fit their budget and lifestyle."
Solarity wasn't the couple's first lender call, but it would be their last.
"It felt like a person talking to a person versus at this time, and in the past, we've worked with some bigger banks for other things, and it's like, we're numbers on someone's spreadsheet talking to nobody, like a robot," Riley says. "So it was nice to feel so personal."
"It's crazy how fast it all happened. But Solarity has been there every step of the way," Kenzie says.
"It's just like, okay, good, we're gonna have this house, we don't have to think about our payments going way up," Riley says.
Kenzie adds, "And also, to not feel like we're paying our landlord's mortgage, you know, to be paying our own mortgage and building equity."
"Something our first-time homebuyers don't even realize is that we are really unique in the home loan business because we will always service our members' loans," Ingle explains. "They don't have to ever worry about where to send their payment. They call Solarity if they need to know anything about their loan. This is so rare in our industry – and we're so happy to be able to always help our members."
The couple can't wait to make memories in their new home.
"The whole thing is just like a huge step. And I think we're both just really thankful for how easy Solarity has made it," Kenzie says.
We are so glad we could help make your dream of homeownership a reality. Enjoy your new home, Kenzie and Riley!
What's your Solarity story?
We're on a mission to tell the stories of our members and how they are living their best lives. Do you have a Solarity story to share?