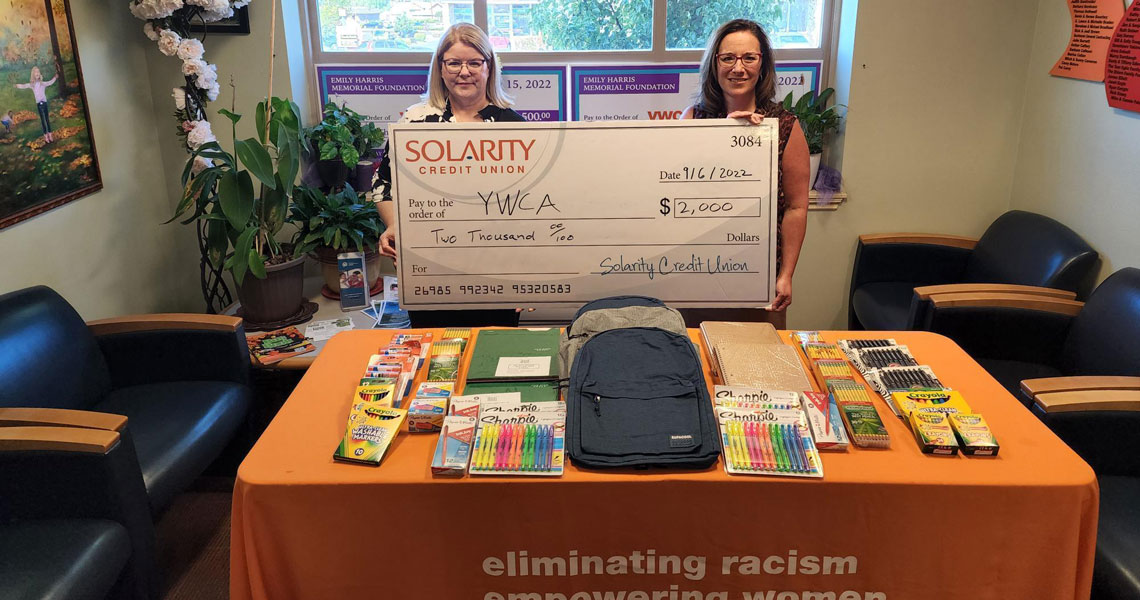 At any given time, the YWCA Yakima has between 50 and 60 kids under its roof who attend local schools, and Solarity employees donated to help give those kids a great start to the school year. Solarity Credit Union President and CEO Mina Worthington presented a $2,000 check and $500 worth of school supplies on behalf of Solarity employees.
Worthington presented the check to YWCA Yakima's Executive Director, Cheri Kilty, at the organization's headquarters surrounded by markers, crayons, glue sticks, paper, pens and backpacks.
"Solarians are so proud to support the YWCA and their mission," says Worthington. "Our team really enjoys shopping for these school supplies, knowing we are giving the kids a strong start to their school year in what is no doubt a difficult time in their lives."
Throughout the year, employees donate to Solarity's Community Partner Fund, which funds donations like this one. The YWCA Yakima shared that, as of September 1, 2022, their emergency shelter was at maximum capacity, and their transitional housing units - 16 apartments and seven off-campus homes - are all filled. The organization also houses families in hotels, as needed.
You can learn more about the YWCA Yakima here, and you can read more about how Solarity gives back here.
What's your Solarity story?
We're on a mission to tell the stories of our members and how they are living their best lives. Do you have a Solarity story to share?