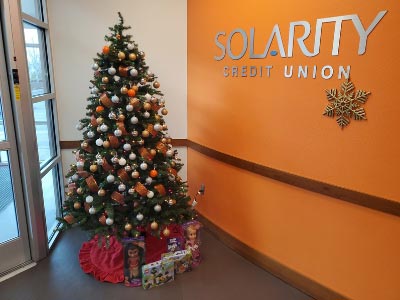 Solarity is always looking for ways to support our community by giving back, and one of the ways we do that is through our partnership with the YWCA. In the 2021 holiday season, Solarity hosted a toy drive, collecting $1,000 in toys on behalf of the YWCA that were then distributed to the children they support.
New and unwrapped toys for children of all ages were accepted at both our North 5th and West Valley branches. Members and Solarity employees placed unwrapped toys under the tree in the branch lobbies.
Each holiday season, the YWCA assesses the needs of the families its serves and provides a wish list.
What's your Solarity story?
We're on a mission to tell the stories of our members and how they are living their best lives. Do you have a Solarity story to share?