At Solarity, we believe everyone should have a place to call home. And when we learned Yakima Mom, Kristen Smith, was short on volunteer hours to build her home through Habitat for Humanity, about two dozen of our team members traded their work shift for a tool belt and got to hammering over a two-day stretch.
In all, Solarity employees donated 92 hours to help Kristen build her future home for herself and her two children with high needs. Because of the time needed to care for her children, Kristen was struggling to donate the required hours needed to be eligible for the home through Habitat for Humanity.
Habitat for Humanity is a global nonprofit organization that helps people either build or improve a place they can call home. The organization operates on the belief that "affordable housing plays a critical role in strong and stable communities." By helping to build the home, alongside volunteers, the owners are able to pay an affordable mortgage. Solarity has partnered with Habitat for Humanity before, and it is an employee favorite when it comes to giving back to our community.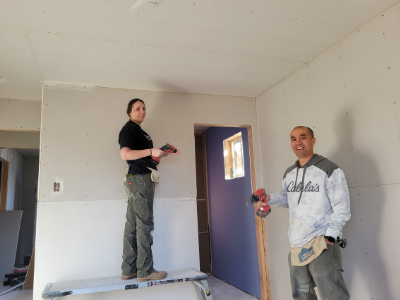 From hanging drywall to installing a fence, our team thoroughly enjoyed helping Kristen get the needed volunteer hours so she can eventually call the place home. Kristen is due to move into the home in the early Summer with her two children. We wish her the very best!
What's your Solarity story?
We're on a mission to tell the stories of our members and how they are living their best lives. Do you have a Solarity story to share?