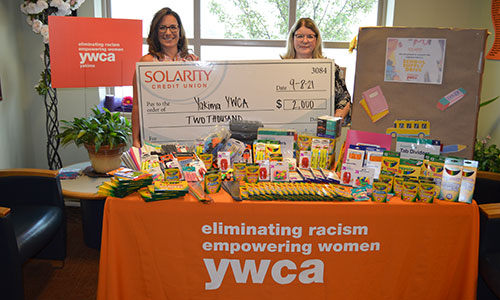 For the start of the 2022 school year, Solarity Credit Union President and CEO Mina Worthington presented boxes full of school supplies and a $2,000 check on behalf of employees to YWCA Yakima in support of its mission to strengthen our community.
Worthington presented the check to YWCA Yakima's Executive Director, Cheri Kilty, at the organization's headquarters surrounded by markers, crayons, glue sticks and other boxes of school supplies that school children will use throughout the year.
"The YWCA is an incredible organization committed to equity and lifting up families in our community," says Worthington. "Solarians really enjoy supporting the YWCA's mission. and we were thrilled to know this donation will directly help the children they serve."
Throughout the year, Solarity employees donated to Solarity's Community Partner Fund. In addition, they purchased school supplies from the YWCA wish list, and Solarity branches served as collection sites.
"We are incredibly grateful to Solarity's donation which will help support all the families we assist throughout the year," says Kilty. "Donations like this one are key to supporting and setting up our young residents for success."
At any given time, the YWCA can have nearly 50 young residents living at the YWCA Yakima, all from local school districts.
What's your Solarity story?
We're on a mission to tell the stories of our members and how they are living their best lives. Do you have a Solarity story to share?