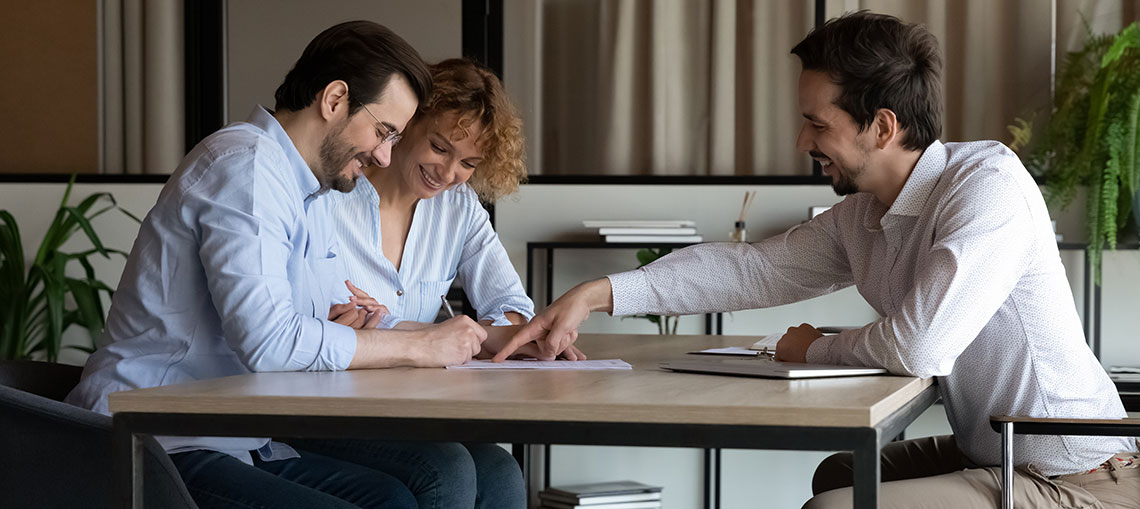 You found the perfect home and are ready to buy. Congratulations! During the process, you'll hear the term "mortgage escrow." But what does this mean? How does a mortgage escrow account work? Simplify the homebuying process by learning how escrow works.
Here's what escrow means, how it applies to a home purchase and how it helps both the buyer and seller. Know the process and feel prepared for your journey to homeownership.
Defining mortgage escrow
Escrow refers to a financial agreement in which a third party manages money or property between two parties. The transacting parties use the third party to receive and disburse the funds once contract terms are met. This third party temporarily holds the money, paperwork and other assets for the transaction.
For real estate, escrow protects both the buyer and seller. The funds or property are not released until the terms of the purchase agreement are met. Protect yourself through the entire homebuying process by utilizing mortgage escrow.
Understanding how escrow works
You made an offer on a home and the seller accepted. Now it's time to secure a home loan. Take advantage of escrow and set up an escrow account.
Typically, there are two types of escrow accounts. One protects you during the home purchase, while the other protects you throughout the life of your home loan. You can open an escrow account through a third party to hold your good faith deposit and funds for property tax and homeowner's insurance.
Protecting earnest money
How does a mortgage escrow account protect you? It ensures your money goes where it belongs when the conditions of the sale are met. Protect your good faith deposit with an escrow account. Get your money back if an appraisal falls short or major issues arise during the home inspection. Did the seller back out? Did the inspector find major foundation issues? Receive your deposit back. The third party ensures your interests are protected.
A good faith deposit, or earnest money, communicates to a seller you are serious about their property. Stand out with a good faith deposit, and place the earnest money in your escrow account. If the sale is successful, your deposit is applied to a down payment. If it falls through, you get your deposit back.
Managing property tax and insurance
Escrow accounts also hold your funds for homeowner's insurance and property tax. Open an escrow account to protect your money during the life of the loan. A third-party lender collects these monthly payments as a part of your mortgage, holds them in the account and automatically pays these bills when they're due. This way, you pay your bills hassle-free and avoid late fees or liens on your property.
Choose a trusted third party to manage your account. Shop around and compare rates. This third party analyzes your escrow account so it doesn't collect too much or too little. Most lenders require you hold two months of extra payments in your account. This ensures enough money is in your account so you won't have to increase your monthly payment to cover an escrow shortage. If you pay too much, your lender will offer an escrow refund.
Choosing a third party to manage your escrow account
Who manages your escrow account? There are a variety of third parties available. This includes an escrow company, escrow agent or mortgage servicer. This third party collects the money in the escrow account and pays these bills on your behalf. Your lender, for example, a credit union, can easily fill this role.
Simplify the process and save money by choosing a credit union as your mortgage servicer. With great rates, you keep what's yours. Reliable customer services and fewer fees make all your loan and banking needs easier. With a mortgage servicer such as a credit union taking care of your escrow account, you can rest easy. They know who to pay and when. You don't have to send in your tax or insurance bills. They take care of it.
Your lender wants to make sure your bills are paid on time. It protects them as much as it protects you. Unpaid bills mean your home can foreclose, and this can cost the lender. Or damage to your property during an insurance coverage lapse can lead to loss of home value. Your lender works hard to protect everyone from these potential outcomes.
If you live in Washington, choose Solarity Credit Union for a fast, easy and straightforward home loan process. Solarity takes care of the paperwork and guides you through the process so you can focus on creating memories. We also offer our eSigning Experience so you can close right from your phone. No matter where you are in the homebuying process, we are here to help.
Benefiting from mortgage escrow
Whether you are a buyer, seller, current owner or lender—mortgage escrow protects you.
As a buyer, you safeguard your investment with escrow. Money given directly to a seller is unprotected. If problems arise during an inspection, a seller may try to hold on to your deposit. A third party ensures this won't happen. Choose a third party to manage your deposit and keep what is yours if the terms of the purchase agreement aren't met.
As a seller, if all terms are met, the deposit is protected from a buyer simply changing their mind and backing out. An escrow account also minimizes the impact of a buyer backing out because, if they change their mind, the deposit is yours.
If you are a homeowner, you can manage your taxes and insurance with more ease. Rather than paying them in one large sum, spread the payments out with escrow. Forget having to remember additional payment dates; instead, let your mortgage servicer pay the bills on time. If the funds are short, your lender will cover the bills, and you can make up the difference later.
Buying a house is a big, exciting step. Protect your investment with a mortgage escrow account and a lender you can trust. At Solarity Credit Union, your best interests are our top priority. Start with an
online application
and pre-qualification and receive great service throughout the life of your home loan.
What's your Solarity story?
We're on a mission to tell the stories of our members and how they are living their best lives. Do you have a Solarity story to share?