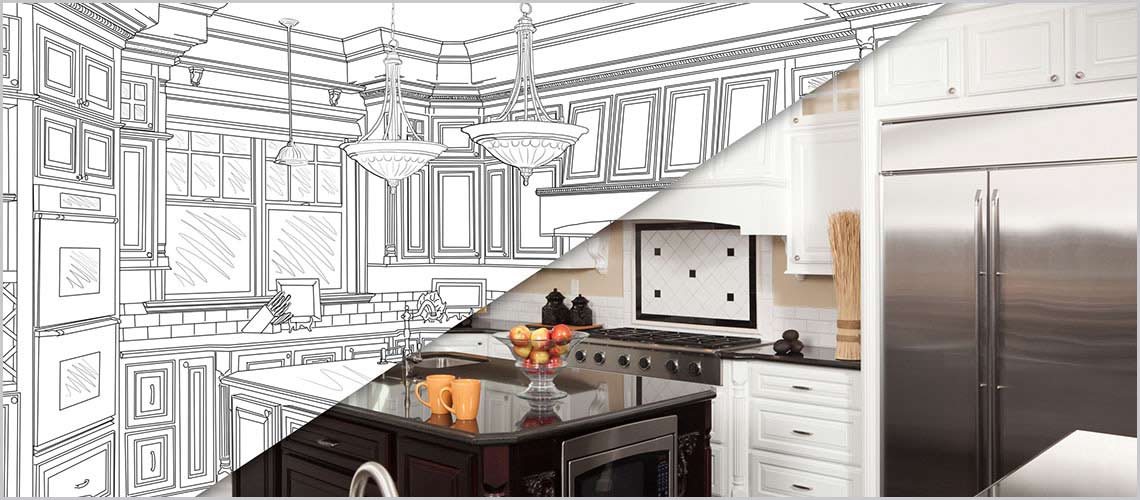 Whether you've lived in your home only a short time or for many years, you likely have a list of things you want to change, update or fix. With an older home, you might be tired of looking at dated fixtures and décor. Or perhaps your family situation is different now than it was when you first bought your home. Regardless, when your home doesn't meet your current needs, you may find yourself pondering your next move.
If the list of upgrades you want is relatively small and within your ability to tackle on your own, it might make sense to chip away at them as time and budget allow. When there are bigger gaps – such as an outdated kitchen or a space that's underutilized – it may get you thinking about making a bigger investment, either with a professional remodel or a new home that will be a better fit.
Whether you decide to take on a major renovation or start shopping for a new property depends on a lot of factors. We'll break down some of the top considerations below.
1. Cost: Obviously this is a big one. Both paths come with significant costs. If you decide to relocate, you'll incur expenses related to selling (i.e., pre-listing improvements, post-inspection repairs, real estate agent fees), buying (i.e., the purchase price, inspections, appraisals, closing costs) and moving. Plus, you'll still likely want to make changes to your new home such as painting or upgrading the flooring.

On the other hand, renovation costs can also be significant, depending on the work you need. Be clear about what you want to change and request estimates from a couple different contractors to get a true sense of the cost (RemodelingCalculator.org has a handy estimator for doing some preliminary calculations). Ask a real estate agent for an assessment of your home's current value and how much a remodel might add to that. If you're making a large investment that you won't be able to recoup in the long run, you might be better off selling and finding a new place that's closer to what you want.

2. Emotional attachment: Don't underestimate the impact this will have on your decision making. You've made memories in this home, which makes it tempting to stay. But living through a major construction project is no picnic. Be honest with yourself to evaluate your threshold for living in chaos for several weeks or even months, with dust, noise and contractors coming and going. On the other hand, leaving the home you love isn't easy and there's a lot to consider, from the rapport you have with your neighbors to proximity to extended family and your favorite activities. And unless you're building a custom home, there's a chance you still won't find a "perfect" house that checks every box on your wish list if you decide to relocate. Jot down the pros and cons of each option – including the emotional factors – to help inform how you move forward.

3. Location: When deciding whether to make a move or stay and renovate, location is another important consideration. There is comfort in the familiar, and you likely have well-established travel routes to work, schools, shopping and entertainment. If your home is in a desirable location, evaluate if you can afford to get all the features you're looking for in a new property, while staying in the same general area. Otherwise, you might have to look outside of your preferred locale to get more value for your dollar. Disruption to your routine, longer commute times and what your current neighborhood offers can all be factors that help you decide if it makes more sense to stay and invest in your current home vs. selling and relocating.

4. Timing: Moving is stressful. Before you decide to pull the plug on your current home, assess what impact a move might have on your life, work and family. Familiarize yourself with the real estate market in your area to determine if now is a good time to make a move. If home values are up, you might get top dollar for your current home, but it could cost you more when you go to buy your next home. On the other hand, you also need to evaluate what's happening in the renovation arena. Between supply chain issues and inflation, you may decide a remodel doesn't pencil out. Plus, home improvement projects can last weeks or months, which can get exhausting.

When your current home isn't perfect, you can choose to live with it, invest in making improvements or begin searching for a new home. If you decide to go the remodel route, tap into the increased value of your home with a home equity line of credit (HELOC) or cash-out refinance to help cover the costs, letting you stay in the home you love and potentially adding value in the long run. If you think a new home is a better option, Solarity can help with that, too. We have traditional fixed-rate mortgages, zero-down home loans (so you can buy without the stress of having to sell first) and bridge loans that let you use the equity in your current home as a down payment on your next home.
Connect with a Home Loan Guide to explore your options. We can help you find the right loan, whether you decide to stay and fix up your current home or find someplace new.
What's your Solarity story?
We're on a mission to tell the stories of our members and how they are living their best lives. Do you have a Solarity story to share?