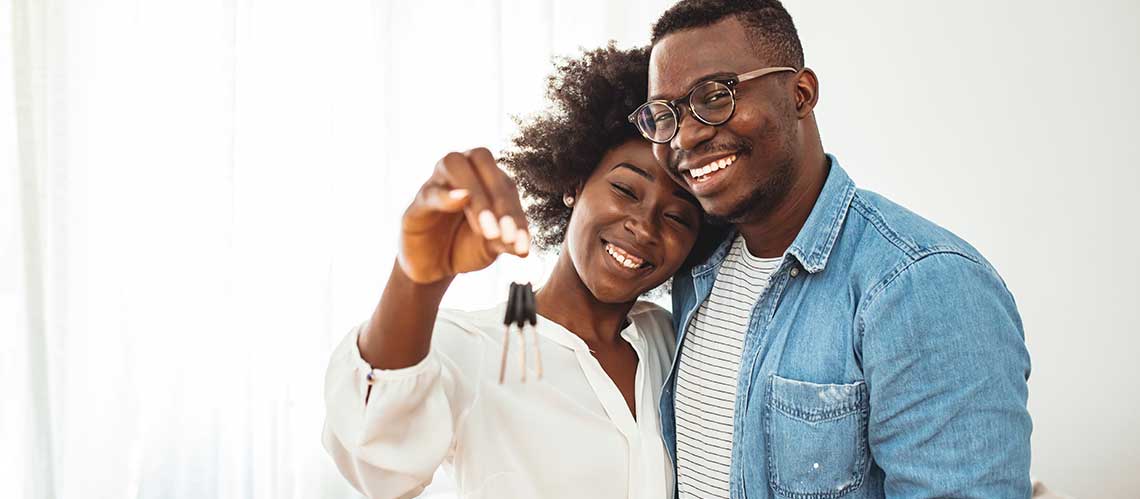 You've found the perfect house and are feeling like you're ready to buy, but will you qualify for a mortgage?
If you're currently making your way through the homebuying process, you know how much is riding on qualifying for a loan. This makes early preparation the best way to increase your chances of approval, and that starts with getting pre-approved for a home loan. But what does pre-approval even mean? What is the difference between that and pre-qualification or loan approval?
Read on to better understand what it takes to get pre-approval for a mortgage.
How pre-qualification differs from pre-approval for a mortgage
When you're looking to buy a new home, you'll find lots of self-help checklists and guides to walk you through the process. Many mention going through a pre-qualification process to get feedback from a lender before you start getting serious about buying a new home.
There's a difference between pre-qualification and pre-approval for a mortgage.
Pre-qualification takes place at an early stage. It's an estimate of what you might be able to borrow based on the information you provide about your financial status. Different lenders pre-qualify in different ways, but in general, a lender will look at:
Your credit score: Lenders perform a soft check on your credit, reviewing your credit history without the check appearing on your credit report. This will give them an overview of your history to help them determine your creditworthiness.

Your debt-to-income ratio: This percentage is calculated by dividing your total monthly debt payments by your gross monthly income. This is used as a gauge to determine if you'll be able to stay on track with your monthly expenses.

Down payment: This is the dollar amount you'll put toward the purchase price when you close. Anything below 20 percent will require private mortgage insurance (PMI), which will increase the size of your monthly payment. It may also affect which loans you qualify for.
Pre-approval takes it a step further. Instead of performing a soft credit check, the lender will go through the entire verification process, and you'll need to provide the documentation to confirm your status. If you're pre-approved, you'll be provided with a pre-approval letter that you can submit to your real estate agent and sellers as added assurance that you're able to purchase the home. This pre-approval is usually valid for up to 90 days.
How far in advance should you get pre-approved for a mortgage?
Thinking of buying a new home? It's time to start the pre-approval process. Lenders will tell you it's never too early to apply. Ideally, anywhere from six months to a year before you plan on buying a new home will give you plenty of time to make corrections.
Checking your credit score will alert you to potential problems. It'll give you a chance to clear up any issues that might prevent you from getting a home loan or that could hold you back from better terms.
Think of the pre-approval process as a financial check to ensure you qualify for a home loan. Inquiries won't have a lasting impact on your credit score unless you take out a loan.
Are you ready to move forward with the pre-approval process?
When you're ready to move forward with the pre-approval process, you'll be required to complete an application and provide important documentation. This includes:
Proof of income: You must provide W-2 wage statements and two years of tax returns. You should also submit current pay stubs that show your total year-to-date income. If you have any other income sources, such as alimony or bonuses, offer proof at this time.

Proof of assets: If you'll be using a bank or investment account to finalize the down payment or closing costs, provide evidence of these accounts.

Credit score: Most lenders require a FICO score of 620 to qualify for a conventional loan. If your score is lower, there may be other programs that you qualify for. For example, FHA loans typically require a score of 580. Lenders will usually offer lower interest rates to customers with better credit scores. If you start this process early, you can work on improving your score to take advantage of better terms and interest rates.

Employment verification: Lenders want proof that you are currently working and have stable employment from the past and into the future. Most lenders will call your employer to confirm employment and salary. If you're self-employed, the process is a little more complicated. You'll have to submit additional paperwork to prove the stability of your income, the business's financial strength and the business's ability to continue to generate your stated income.

Other documentation: To start, lenders will ask for a copy of your driver's license, your Social Security number and permission to run a credit report. They will request other documents depending on your history.
What's the difference between pre-approval and approval?
You've submitted your application, and you're ready to move forward with the loan. What's the difference between pre-approval and approval for a mortgage? Aren't you already approved?
After you submit your final mortgage application, a lender has three days to provide a loan estimate that outlines:
Pre-approved loan amount

Maximum loan amount

Terms and type of mortgage

Interest rate

Estimated payment

Estimated closing costs

Estimated property taxes

Estimated homeowner's insurance
The loan will then move to the loan underwriter, which will review your application and all your information, ensuring you meet all specific guidelines and still qualify for the loan. Once the underwriter confirms nothing in your financial situation has changed, they move forward with the loan.
Final loan approval occurs when the appraisal is complete, all documents are approved and ready for signing and the loan is approved for closing.
Are you ready to be pre-approved for a mortgage?
Getting pre-approval for a mortgage is the smart thing to do when you're in the market for a new house. It gives you bargaining power with sellers and the confidence to know you'll be able to move forward with the loan you're applying for.
Whether you're a first-time homebuyer, are upsizing to your forever home or downsizing for your empty nest, the best place to begin is to be pre-approved for a loan. Contact a Home Loan Guide at Solarity to get started today.
What's your Solarity story?
We're on a mission to tell the stories of our members and how they are living their best lives. Do you have a Solarity story to share?