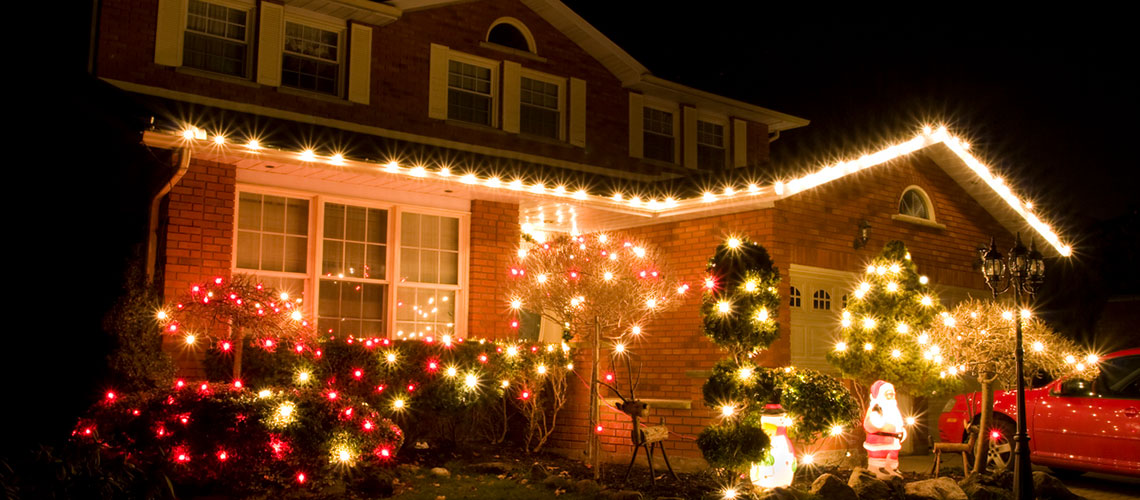 The holidays are upon us! And while it may be the happiest (and arguably busiest) time of the year, it can also create opportunities for thieves. As you prepare for the upcoming festivities, you may be more distracted, and you're likely buying more things than normal. You may also be away from home more…at parties, shopping or visiting loved ones. This can make you (and your unoccupied home) more vulnerable. Put into practice the following tips to avoid becoming a burglar's next victim
1. Light it up! Lighting is a great way to discourage would-be burglars - exterior, interior and motion-sensing lights all play a role. Use smart lights and timers to turn lights on and off at irregular intervals while you are away, giving the sense that your home is occupied. Place motion sensors in strategic locations near entry points or in extra dark places where bad guys might lurk. Schedule your porch light to come on automatically at dusk, but don't leave it on during the day, as that can provide a clue to thieves that you aren't on the premises.

You might also consider investing in a device called "FakeTV" that simulates the flickering of a television screen, adding to the illusion that you are at home. Since many people enjoy driving around looking at holiday lights, decorating the outside of your house can make it feel festive while also bringing an increase in drive-by traffic, another deterrent for thieves.

2. Install a video doorbell. If you don't already have one, now might be the time. These handy gadgets are a game-changer! Not only can you see who is standing on your porch without opening the door, in most cases you can also have a conversation with them, allowing you to assess your visitor from a safe location. Plus, ringing the doorbell is a classic way thieves check to see if someone is home. Even if you aren't onsite, you can still answer and imply that you're right inside, helping keep your home secure. Bonus: you'll be able to keep an eye out for the arrival of packages and other deliveries.

3. Call in a favor with a neighbor. Let a few trustworthy folks who live nearby know that you'll be traveling, and ask them to keep an eye on things while you're away. Trade them some holiday goodies in exchange for picking up your mail or newspaper. If there's snow in the forecast, ask if they'd be willing to shovel the walk or driveway or even just tromp around in your front yard to make it look like there is activity at your home. Offer up your driveway as overflow parking for their guests, another tactic that will help your home appear occupied (and they might appreciate having the extra parking!).

4. Don't overshare. We get it – sharing on social media is an important way of staying connected with loved ones, far and wide. However, oversharing your travel plans can alert thieves when your home will be unoccupied. You can always post those vacation pics when you get back! This is also your reminder to check your privacy settings to make sure only people you know have access to view your profile and other personal information.

5. Hire a house or pet sitter. While all these other deterrents work together to help protect your home, hiring someone to stay there could be even more effective. This is especially true if you have fur babies who won't be welcomed where you are headed. Your animals will appreciate being able to stay in their usual surroundings, and you'll have peace of mind, knowing your home isn't sitting empty. Another advantage? The house sitter can watch for other potential issues, such as leaking or frozen pipes.
Watch out for online threats, too
Of course, physical break-ins aren't the only risk to your wallet and well-being. Online criminals are also looking to wreck your holidays by stealing your personal data, including credit cards and bank account information. Stay vigilant and observe good online shopping habits including:
Use strong, unique passwords and never share your login credentials with anyone.

Keep a close eye on website URLs to make sure you're shopping on legitimate sites.

Look for "https" in the URL bar – this indicates the website has security protocols in place, which is especially important if you're entering personal information.

Watch out for fraudulent emails impersonating brands you've done business with in the past. A great tactic is hovering your mouse over links, which allows you to see the URL and determine if it's legitimate. When in doubt, don't click. Instead, use a search engine to locate and navigate to the genuine website.
Zero Liability Protection for peace of mind
Fortunately, when you use your Solarity Visa® debit and credit cards, your purchases are protected by Visa's Zero Liability policy. This means you won't be held responsible for unauthorized charges.
Monitor your accounts in real-time
Another layer of protection is available through Solarity's online and mobile banking tools. You can easily track your spending and watch for unauthorized transactions on your account. You also have card controls, which let you deactivate your debit or credit card if you misplace it. And once you find it, you can turn the card back on.
At Solarity, your security is a top priority. So, enjoy the holidays and stay safe out there!
What's your Solarity story?
We're on a mission to tell the stories of our members and how they are living their best lives. Do you have a Solarity story to share?