Autumn is so much more than pumpkin spice lattes and colorful foliage. It's an opportunity to transform your home into a warm, inviting haven that embraces the changing season. Adding a touch of fall flair to your living space is a great way to bring a smile to your face and those of your guests. Here are our top, smile-inducing fall decorating tips.
Pillow Pops: Transform your living room or bedroom with some comfy throw pillows in autumn-inspired patterns. Think plaid, leaves or even adorable pumpkins with puns. It's like putting a cozy sweater on your furniture. Don't forget to add your favorite throw blanket – or two!
Embrace Earth Tones: Instead of the usual "fall colors," think about bringing the outdoors in with earthy tones like rich browns or greens, dark oranges and cozy yellows. These colors not only evoke the essence of fall but also create a welcoming atmosphere.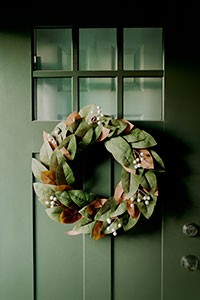 Front Door Flair: A fall wreath on your front door or a cheerful fall "welcome" sign can instantly elevate your home's curb appeal.
Nature's Bounty: Go outside and gather some fall foliage, pinecones and acorns. Place them in decorative bowls or arrange them as centerpieces. It's free, it's beautiful and it's as flexible as your weekend pants.

Seasonal Scents: Nothing beats the warm glow of candles. Opt for scented candles with notes of cinnamon, apple or even roasted marshmallow. Your home will smell as inviting as it looks.
Rustic Elegance: Bring a touch of country charm into your home and consider rustic decor elements like wooden signs and distressed accents.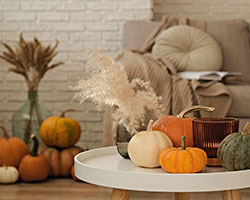 Oh My Gourd: Finally, it wouldn't be fall without pumpkins and gourds. They are a must-have for fall decorating. Get creative with your pumpkin and gourd displays, including a nice mingling of Mum flowers to go along with your display.
Remember, fall decorating is all about infusing your home with warmth and personality to capture that cozy fall spirit. Happy decorating!
What's your Solarity story?
We're on a mission to tell the stories of our members and how they are living their best lives. Do you have a Solarity story to share?