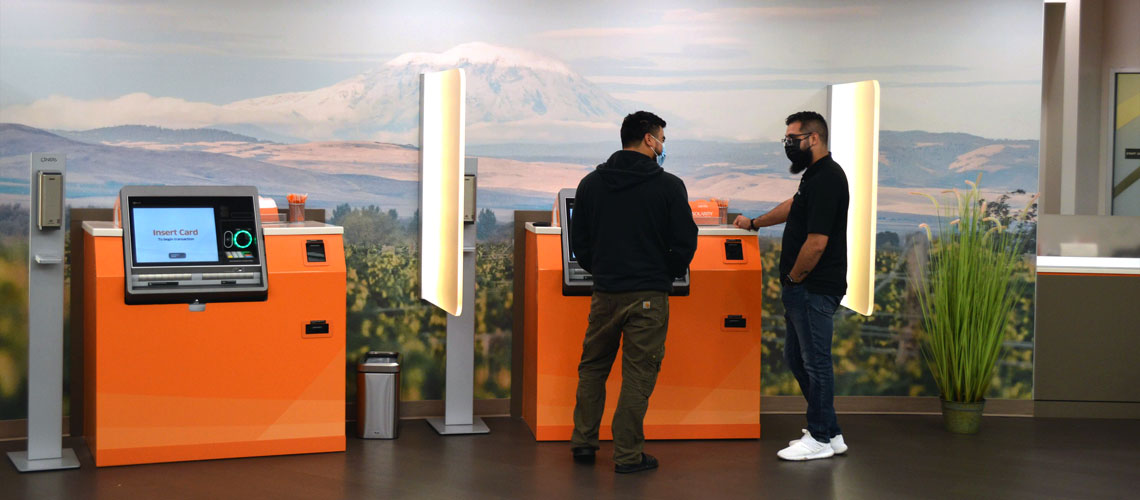 Everyone's financial situation is different, and if you're searching for a new financial institution, we'd like to invite you to consider a credit union. Credit unions are both not-for-profit institutions and local. That means you are more likely to get better services and rates with a credit union.
Solarity Credit Union has branches in Yakima and Kittitas Counties in Washington and serves members throughout the Pacific Northwest and beyond. Our goal is to provide excellent service and improve the lives of our members, employees and communities. If you're interested in becoming a member, you can start by simply opening a savings account with a $5 deposit. Yet credit unions like Solarity are about much more than just savings accounts. We offer a broad range of banking services, and it's all done with the highest-quality service focused on our members. From online and mobile banking to home loans in Yakima and beyond, Solarity can help you keep more money in your pocket.
What are credit unions, anyway?
To start, let's look at what makes a credit union different from other banking institutions. Traditional banks are for-profit institutions, often headquartered outside of the area. Banks exist to produce a profit, which is paid to their investors and stockholders. They tend to have more fees built into their accounts and higher interest rates for loans.
On the other hand, credit unions are not-for-profit entities powered and owned by their members—at Solarity, this is anyone with a $5 share in a savings account. Members can vote to elect board members who represent the membership and oversee credit union policies. Earnings made by the credit union are passed on to its members in the form of better rates and lower fees (more on this later). Whereas a bank might have its headquarters anywhere in the country, credit unions are locally focused and work for the best interests of the communities they serve.
Just as banks are insured by the Federal Deposit Insurance Corporation (FDIC) for up to $250,000 per depositor, credit unions are federally insured by the National Credit Union Administration (NCUA), which also insures deposits up to $250,000 per member.
What does all this mean for members?
Unlike a bank, a credit union won't issue stock to shareholders. This means profits get passed on to its members in the form of lower fees on accounts—or no fees at all—and lower interest rates on loans. These can include auto loans, RV loans, boat loans and motorsport loans as well as home loans in Yakima and throughout Washington. Members also benefit from higher dividend rates on checking and savings accounts. That's our business model: at Solarity, we work in your favor to provide the same services as other banking institutions while giving you better rates and lower fees.
Personalized services
Because credit unions are owned and run locally, you'll receive more personalized service to help you meet your financial goals. For instance, if you're a first-time homebuyer, homeownership might be closer than you think. Often, first-time homebuyers find a down payment to be an obstacle they cannot overcome. However, Solarity offers no-down-payment and low-down-payment options, so you may not need to put a full 20% down in order to qualify for a home loan in Yakima. You may find that if you can pay rent, you can pay a mortgage. Since interest rates may be lower at a credit union, this can make your dollars stretch a little further. A home of your own could be yours with the help of Solarity.
Mortgages and refinancing options
When you're buying a house, the home loan process can be easier than you think. At Solarity, we aim to smooth the way for you. Whether you're a first-time homebuyer, planning to upgrade, downsizing the home you have or looking for a vacation home, the process is somewhat similar. And we'll be with you every step of the way.
Start by contacting a Solarity Home Loan Guide or apply online to get pre-qualified for a home loan in Yakima or anywhere in Washington. The fun part comes next—shopping! Once you've found the perfect home and your offer has been accepted, you can eSign your closing documents. You'll be all moved in before you know it. We believe this is the way it should be: simple and fast.
If you'd like to refinance your current home, we have you covered there, too. We know that life changes, and the mortgage that worked for you a few years ago might not work for you now. You might be trying to shorten your loan term, lower your monthly payment or cash out built-up equity. We have many loan programs and can help you close quickly. To explore more, see all of our home loan rates here.
Services, benefits and perks for you
Credit unions, such as Solarity, are small enough to care about members as individuals but big enough still to innovate. We have online and mobile banking services that let you bank on your schedule, when it's convenient for you. You can check your balance, make payments, transfer money between accounts or even send funds to friends. Need to find an ATM on the go? Solarity is a member of the MoneyPass Network, with more than 32,000 surcharge-free ATMs nationwide. Can't make it to a title company for closing on your home loan? No problem. Close with Solarity's fully online eSigning Experience.
We also enjoy working for good in our communities—we partner with organizations locally and globally to change lives. Some of our favorite places to lend a hand are Habitat for Humanity, YWCA of Yakima, the Yakima Humane Society and Mercy Housing Northwest. We also help prepare young people for success in the real world by partnering with Junior Achievement of Washington to teach financial literacy and entrepreneurship.
If you're ready to start working with a credit union,
contact Solarity Credit Union today
!
What's your Solarity story?
We're on a mission to tell the stories of our members and how they are living their best lives. Do you have a Solarity story to share?