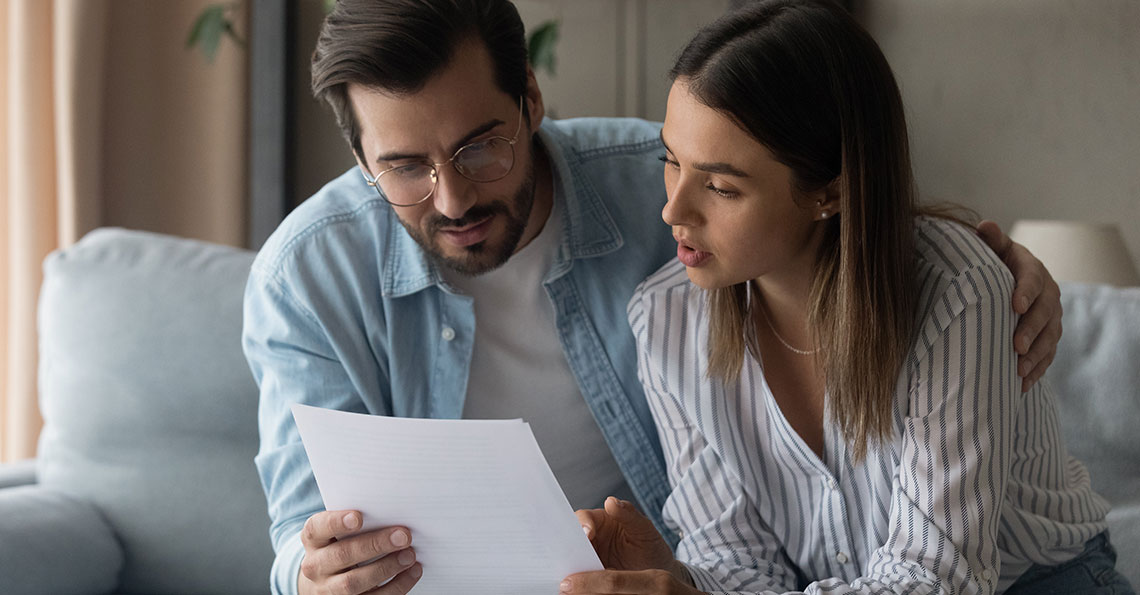 You found the perfect home and are ready to make the big move. Now it's time to line up your financing, and mortgage pre-approval is an important part of obtaining a home loan. Before a lender can approve your mortgage, they need to review a credit report detailing your credit score. You can qualify for better rates with a good credit score. The better your score, the better the terms of your mortgage.
You may be able to increase your chances of a great mortgage by first checking your credit report and correcting any errors before applying. An error on your credit report makes you look riskier to a lender, so be proactive and protect your creditworthiness by correcting any mistakes. Keep reading to learn how to fix an error on a credit report.
Errors found in credit reports
Unresolved errors affect your creditworthiness. Don't let one of these common mistakes cost you your chances of a loan, new line of credit or better terms and interest rates. Check your credit report and fix any errors.
Review your credit file. If a lender deems it insufficient or determines you don't have a credit file, find out if any of your accounts are missing. Not all creditors report credit information to credit bureaus. It's important that your credit file contains all your credit accounts. Credit history shows lenders your track record. What is your proven credit history? Will you pay your loan back on time? Insufficient history or lack of recent credit history affects your eligibility for a loan. Ask your creditors to report your credit history.
Check for these common mistakes
First, check for any clerical errors. This can include your name, address or Social Security number. Also, look for any identity errors. Does the account belong to someone else with a similar name? A "mixed file" is when two consumers' information is in one file. Verify your name and be consistent with the name you use to apply for credit. Use the same first name, last name and middle initial to reduce confusion or potential errors. If an incorrect account is listed, you will need to fix this error. In some cases, an incorrect account points to identity theft.
Your credit report may contain balance errors or misinformation on account status. These could include:
Same debt or account listed more than once

Incorrect current balance or credit limit

Incorrect reports of an account being late or delinquent

A closed account reported as open

Debt of a former spouse still listed on your report

Old, bad debt still reflected on the report; this can be removed after seven years

Closed accounts not labeled as "closed by grantor"; fix this error to clarify that you closed the account, not the lender
File a dispute with the credit reporting company
If you find an error on your report, dispute the information with the appropriate credit bureau. Identify each disputed item in your report and explain in writing what is wrong. Outline why the information is wrong, including facts and copies of documents supporting these claims. A dispute can be filed online or mailed as a letter. Make sure to certify your mail and request a return receipt.
Contact the companies that provided the information you believe is inaccurate and notify them of the dispute. According to the Fair Credit Reporting Act, an organization reporting information to the bureau must correct inaccurate or incomplete information in your credit report. A company that provides information to the credit bureau can be a bank, credit union, credit card company or even a landlord. Dispute the information with the appropriate companies.
What should you include in a dispute?
You can file a dispute online or mail a dispute request form. You can also contact a credit reporting company by phone. After detailing which information is wrong and why, request the information be removed or corrected.
Your dispute should include your contact information. Provide your complete name, address and phone number. Detail each mistake and include corrected information, such as the account number of the account in dispute. Provide a written explanation of why you are disputing the information.
Make sure to enclose copies of documents supporting your dispute, including the sections of the report you are disputing. Circle or highlight the errors in the report. Keep a copy of the dispute for your own records.
What happens next?
The credit bureau will investigate your report and send all documents to the "furnisher" (the company providing information to the credit reporting company). The credit bureau typically takes 30 to 45 days to respond to a dispute. They will then report the results of your investigation. If a furnisher corrects the disputed information, they will notify the credit bureau, and reports will be updated with corrected information.
Now that you know how to fix an error on your credit report, you're ready to apply for a mortgage. Your errors are either resolved or you can ask the credit bureau to include your statement of dispute in your credit file and future credit reports.
Once your credit report is in order, shop for a lender. Choose a credit union and get moving with great rates. With a corrected credit report and improved credit score, you're more likely to qualify for better interest rates and terms. Start the mortgage pre-approval process online – pre-approval lets the buyer know you are serious. Your credit report helps you get pre-approved for a loan, figure out how much home you can afford and stand out in a competitive housing market.
Choose
Solarity Credit Union
for a fast, affordable and easy
home loan
. No matter where you are in the homebuying process, our Home Loan Guides are here to help. Our straightforward
eSigning Experience
allows you to close online and sign right from your phone. Whether you are a first-time buyer, in the market for your next home or looking to refinance, our mortgage experts are here to help. Start the conversation today.
What's your Solarity story?
We're on a mission to tell the stories of our members and how they are living their best lives. Do you have a Solarity story to share?