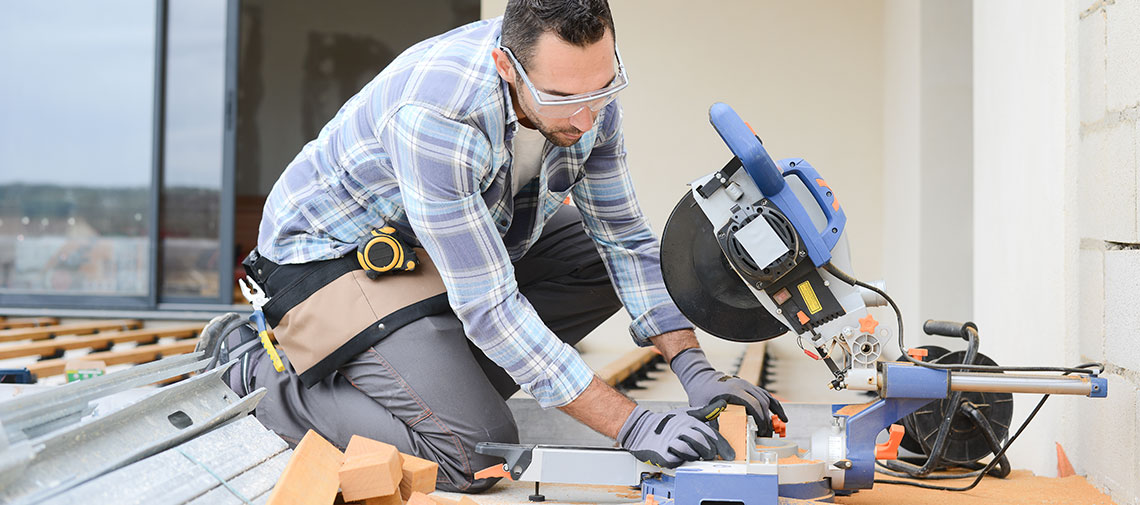 There are many reasons you might want to improve your home. You may have a project you've been putting off for a while, or maybe you want to make your home more energy efficient. Here are some great ideas for home improvements you can make this year. We've also included some information on how to refinance your house to pay for your home updates.
1. Roof repairs or a new roof
For many homeowners, the roof belongs in the "out of sight, out of mind" category of home improvements. Keeping on top of roof repairs, though, is crucial. Not only can it prevent expensive emergency maintenance in the future, but it can also make your home more energy efficient. Ill-fitting or worn flashing (the sheets of metal that cover the seams on your roof, such as next to the chimney) can allow cold air to infiltrate your home in the winter. Damaged shingles can cause leaks in the home.
You may also want to improve your roof with new materials. You could take advantage of more eco-friendly shingles or perhaps shingles that will reflect UV rays to help keep your home cooler in the summer. You may choose to increase your curb appeal with colored shingles that complement your siding. Whatever you decide, make sure to keep your roof in good repair by keeping your gutters clean and watching for cracked or worn shingles or flashing.
2. HVAC upgrades
The summers are getting hotter in the Pacific Northwest. Each year for the last three years, record-high temperatures have been set in Oregon and Washington. Is your air conditioner on its last legs? Or have you been getting by with an inefficient window unit in your bedroom while you swelter in the rest of the house? If so, upgrading your home with central air conditioning may be a great solution.
Installing central air might seem like an extravagant expense, but it will actually add value to your home when you sell it someday. And using the equity in your home to pay for the costs can be a great investment in the future. (More on this later.) You could also qualify for a tax credit of up to $300 if you add central air or if you purchase a more efficient AC unit than you have currently. Make sure to ask your HVAC contractor which units qualify for the tax adjustment.
3. Add a new deck or patio
As the weather warms, more social activities will move outside. Maybe you've imagined friends and family gathered around a grill on a big, comfy deck in your backyard. You just haven't had time to make it happen. This year is a great time to add on to your home with a deck or patio. Not only could it increase the value of your home, but it provides an entirely new way to enjoy your yard. If you're not handy yourself, contact a professional who can make sure your deck or patio is well-built and can withstand the rainy winters of the Pacific Northwest.
4. New windows
Aside from aesthetics, there are a lot of reasons to consider installing new windows in your home. Older windows can be an enormous source of air leaks, driving up your home's heating and cooling costs. New windows are also easier to clean and easier to open and close. That's important if you're living with children or anyone who has difficulty prying open a sticky window. Importantly, installing new windows is one of the best things you can do to make your home more energy (and cost) efficient. If you install an Energy Star product, you may be eligible for a $200 tax credit.
5. New flooring
Have you always wanted hardwood floors but bought a home with carpet? Or perhaps you've been thinking about adding plush carpet in your baby's room to help keep the floor warm, quiet and comfortable for playtime. Either way, new flooring can add a lot to a home. It's easy to forget how big of a part the floor plays in the look and feel of your home. Whatever flooring change you desire, we recommend hiring a professional. Make sure to read the reviews of the company you choose. You'll want to hire a company you can trust.
Covering the costs
If you have been putting off these or any other home improvements because of the expense involved, it may help to know that you have options. As we've mentioned, some of these improvements—and many others—can help you improve the energy efficiency of your home, which can lower your monthly utility bills. There are also credits available to lower your tax bill at the end of the year. The government provides Residential Energy Credits for many home improvements that increase your home's efficiency.
That means upgraded windows, new roofing and a new HVAC system are all potentially eligible for energy-related tax credits. Tax credits lower the amount of tax you owe. There are calculators online that can help you determine if your home improvement might qualify for a tax credit.
Of course, even with energy credits and tax rebates, you still need to pay for the initial costs of your home improvements. Your home's equity can help you out. Equity is the value of your home minus what you still owe on your mortgage. A home valued at $300,000 with a $100,000 mortgage balance has $200,000 equity. Homeowners can access this money in a couple of different ways, such as a home equity line of credit (HELOC) or a cash-out refinance. Utilizing a cash-out refinance to cover home improvement costs might be the better option since you'll receive a larger lump sum of money all at once.
How to refinance a house for home improvements
Refinancing means that you replace your current home loan with another loan with different terms—for example, lower interest rates, fewer years of repayment or smaller monthly payments. With a cash-out refinance, instead of replacing your loan balance dollar for dollar, your new loan is a little larger. That additional money goes directly to you to use for whatever you need, and using it to increase the value of your home is a great investment.
Ready to make some updates to your home this year? Start today! Visit Solarity Credit Union's
refinancing page
for more information and to use our refinancing calculator or start an application. Have questions? Connect with a refinancing expert. Our
Home Line Guides
are always ready to help you get the most value out of your home loan.
What's your Solarity story?
We're on a mission to tell the stories of our members and how they are living their best lives. Do you have a Solarity story to share?