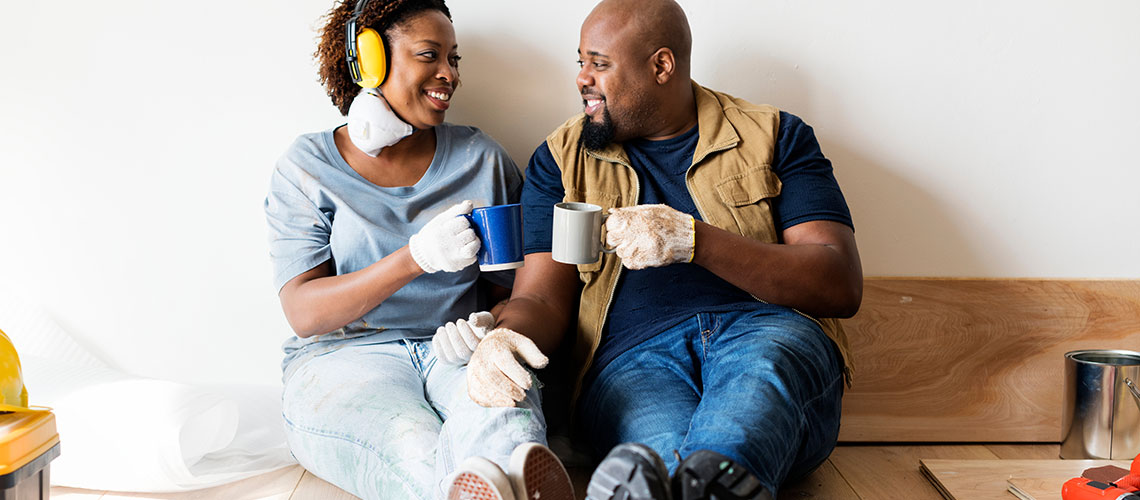 First-time homebuyers are looking for creative ways to make their first big home purchase. In today's economy, it may be necessary to think outside the box. One way to overcome the cost of purchasing a home is buying a foreclosure. The price of a foreclosure may be attractive, but it's important to know how this works. The process is different from making a standard home purchase.
You may be wondering, "Should I buy a foreclosure for my first home?" There are rewards and risks to buying a foreclosed home. Let's explore the advantages, risks and process of buying a foreclosure. Understanding the differences will help you decide if it's the right move for you.
What is a foreclosure?
Sometimes homeowners struggle to make their payments. When this happens, either the lender or the local government steps in. Foreclosure is when a lender or government acquires ownership of the property when a homeowner fails to pay property taxes or mortgage payments. The lender repossesses the property to alleviate their losses.
Through the legal process of foreclosure, the lender works to recover the amount owed on the defaulted loan. Once a lender repossesses the mortgaged property, they can then resell it to mitigate this loss.
As mentioned, buying a foreclosed home can help you get a deal on the property, but what are the risks and rewards? How does this process work? Learn the ins and outs so you can make the best decision for your budget and lifestyle. Should I buy a foreclosure for my first home? Let's find out with this helpful guide.
How do foreclosures differ?
Buying a foreclosed home means you are buying it "as-is." This means you are purchasing it in its current condition. You can still get an inspection, but the seller is not obligated to make repairs. They will also not discount the price to cover any necessary repairs. Remember, the seller is a lender making up their losses on a defaulted loan.
How does this process work? First, a homeowner receives notice. The lender has not started the foreclosure, they are simply notifying the homeowner of the pending foreclosure. Then, the lender begins the process. The homeowner is given a deadline for when they must be out, and then the lender seizes the property. If the lender doesn't need to hold the property until the market improves, they sell the property at a foreclosure auction.
What are the risks of buying a foreclosure?
Consider both the risks and rewards of buying a foreclosed home. Before discussing the advantages, let's first look at the risks. The risks vary depending on what stage of foreclosure the property is in. These include:
Undisclosed condition. There is no guarantee for the condition of the house. The lender is not required to disclose details about the property. Typically, the real estate agent lists a property on the MLS (Multiple Listing Service) where information about the property is shared. This is not the case with a foreclosure. Learn everything you can about the property before moving forward.

Major repairs needed. Consider passing on a foreclosed property if it has major damage. Remember, the seller is not obligated to compensate for necessary repairs. If there is extensive damage, it may not be worth it. Calculate the cost of repair; if it's expensive, then it may not be a good deal.

Lots of competition. Many investors bid cash on these homes to use as investment properties. If you are buying this as your first home, you will have to compete with real estate investors who buy without contingencies.
What are the rewards?
Of course, there are advantages to buying a foreclosed home. Let's look at the potential rewards:
Great deals. Do your homework, and you can find great deals below market value. Not all need extensive work. If you find the right foreclosure with minimal repairs needed, you can buy a home for less money than a standard listing. Purchase your first home below market value and save.

Add equity. Do repairs yourself over time and save money. This "sweat equity" can add real equity and increase profit.

Less competition with foreclosed HUD homes. Sometimes a property is acquired by the Housing and Urban Development (HUD) if there is a foreclosure on an FHA-insured mortgage.
How do you buy a foreclosure?
If you are considering a foreclosure, what are the steps?
Look for a house. Search for foreclosure listings online or enlist the help of a real estate agent specializing in foreclosures.

Get pre-approved. Work with a great lender for financing and get a pre-approval letter.

Research local foreclosure market. What are the recent sales transactions of foreclosed homes in your area? Use comparable homes to know what price you should bid.

Bid on a home. There are several ways to bid on a home: bid in a public foreclosure auction alongside others (including investors), negotiate with the seller and lender while the foreclosure is pending (this saves a bank foreclosing expenses) or make a strong offer before the property goes to auction.
Should I buy a foreclosure for my first home?
Weigh your options and decide if a foreclosed property is the right move for your circumstances. Consider the advantages and risks, how the purchase works differently than a standard listing and compare costs. The right home is waiting for you!
When it comes time to finance your new home,
Solarity Credit Union
is here to help. No matter where you are in the process, we make home loans simple, fast and affordable. Apply online today and start the conversation with our expert
Home Loan Guides
. Get moving with great rates and flexible loan terms. With Solarity, homeownership might be closer than you think.
What's your Solarity story?
We're on a mission to tell the stories of our members and how they are living their best lives. Do you have a Solarity story to share?