We don't just talk about change; we make it happen

At Solarity, we believe in action, not just words. That's why we are proud to present our inaugural Community Impact Report – a testament to our unwavering commitment to the communities of Yakima and Kittitas Counties, as well as the surrounding areas we proudly serve.
From providing our members with keys to their forever homes to supporting critical causes through donations and sponsorships, our journey this past year was all about making a positive difference. But that's not all. Our incredible staff also dedicated their time and energy to volunteer initiatives that warmed hearts and brightened lives.
We look forward to sharing the remarkable stories and achievements that define Solarity's role as a force for good in our neighborhoods for many years to come.
Our leader says it best

As an organization, we are committed to making the Yakima Valley a better place to live and work through our support of causes that have meaningful impact on people's lives.

Solarity president and CEO
Read more about how we're making an impact in our communities
Sasquatch Campaign raises $4,060 for Yakima Humane Society
Aug 10, 2023, 17:18 PM by User Not Found
Solarity Credit Union has had hundreds of sasquatch sightings this summer and raised more than $4,000 to benefit the Yakima Humane Society!
With hundreds of sasquatch sightings over the past few months, Solarity Credit Union raised more than $4,000 for its valued community partner, the Yakima Humane Society (YHS). Throughout the months of July, August and September, members took home an adorable sasquatch stuffed animal for a $20 donation to YHS. Solarity's President and CEO Mina Worthington presented a check to YHS in October.
"We've had a lot of fun watching our members and staff get involved with this campaign," said Worthington. "We are happy, once again, to support the Yakima Humane Society."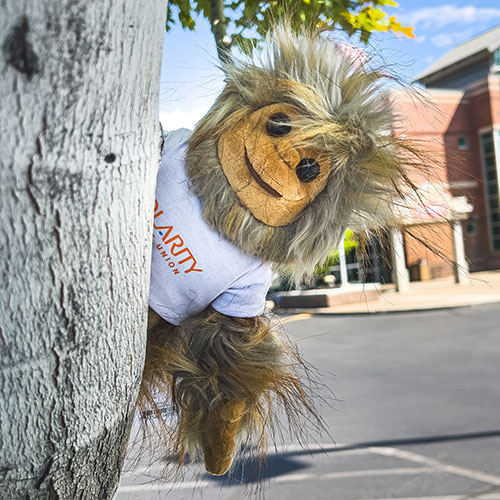 The YHS shelter has been at capacity for some time. Donations help support their mission of ending animal suffering and cruelty, reducing animal overpopulation and educating the community on responsible pet ownership. Hundreds of furry friends are still looking for their forever home, and Solarity is honored to do our small part to help these animals. Solarity has been a community partner with YHS for many years, donating more than $21,000 (including this most recent contribution) to support the organization since 2021.
"We are so appreciative of this generous donation. These funds will go a long way to helping us provide food and care for the over 150 animals that currently reside at our adoption center," said Jeff Boyd, Executive Director at YHS. "Our team has really enjoyed seeing the adorable stuffies around the community, knowing it's helping our animals."

Those who got a Solarity Sasquatch were encouraged to take the little guy on their summer adventures and tag Solarity on any photos posted on social media. A Solarity Sasquatch was also sent to everyone who financed an RV or boat with Solarity to celebrate summer and all the adventure ahead.
Continue watching for sasquatches! There are still a few stuffies hanging out at Solarity branches, and we invite the community to come and get one to support the Yakima Humane Society.

Membership is open to everyone
Joining Solarity is easy and we're here to help! When you become a member, you unlock savings on a vast range of products and services that make doing your banking faster, easier and better. Open an account today to become a member and experience the Solarity difference for yourself.